Happy Memorial Day weekend, friends!  I hope you're planning a fun few days filled with family, friends and most importantly food.  After all, what would a Memorial Day celebration be without delicious, delicious food?  Whether it's barbecued meat you have on the menu or a picnic feast, Memorial Day food is some of the best holiday food, at least in my humble opinion.
Personally the thing I'm looking the most forward to this weekend is the dessert. Maybe it's my sweet tooth talking, but there's just something about patriotic desserts that makes my mouth water.  I love the look of them, the taste of them… I love it all.  Red, white and blue cupcakes… check.  Quintessential All-American apple pie… check.  Fresh blueberry cobbler… check.  I'm pretty sure I'm going to spend my entire holiday weekend camped out at the sweets table, and I'm not the least bit ashamed about it!
If you're anything like me and are obsessed with holiday desserts, you're going to want to check out this amazing recipe for triple berry shortcake that I'm sharing with you all below.  It's been a fan favorite on RecipeLion.com for a while now and I figured with Memorial Day this weekend, what better time to dust off this popular pastry recipe?  Whether you're heading out to a potluck or party this weekend or are just enjoying time with your family at home, go ahead and make this awesome berry treat!  It's super simple to put together and so incredibly delicious, I can't even begin to tell you!
Triple Berry Shortcake Recipe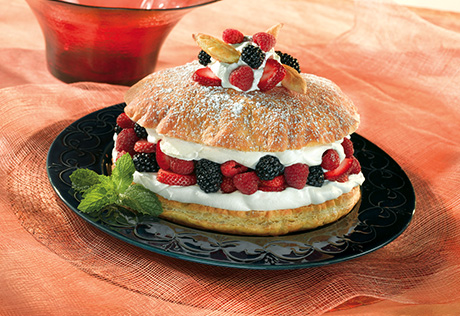 Serves: 8
Preparation Time: 15 min
Chilling Time: 40 min
Cooking Time: 15 min
Ingredients:
1 17.3-ounce package Pepperidge Farm® Puff Pastry Sheets (1 sheet), thawed according to package directions
2 cups heavy cream
1/3 cup granulated sugar
3 tablespoons orange-flavored liqueur
1 teaspoon vanilla extract
3 cups sliced fresh strawberries, blackberries and/or raspberries
Confectioners' sugar
Instructions:
Preheat the oven to 400 degrees F. Line a baking sheet with parchment paper.
Unfold one pastry sheet on a lightly floured surface. Roll the sheet into a 10 x 10-inch square. Cut off the corners to make a 10-inch circle. Place the pastry circle on the prepared baking sheet. Reserve the pastry trimmings.
Cut the reserved pastry trimmings with a knife, making oval or spade-shaped leaves with stems. Using the back of the knife, score the pastry leaves to make "veins". Place the pastry leaves on the baking sheet.
Bake for 15 minutes or until the pastries are golden brown. Remove the pastries from the baking sheet and cool on a wire rack. Split the pastry circle into 2 layers.
Place the cream, granulated sugar, liqueur and vanilla in a medium bowl. Beat with an electric mixer on high speed until soft peaks form. Reserve 1/4 cup for garnish.
Spread half of the cream mixture on the bottom pastry layer. Top with 2 1/2 cups of the fruit, the remaining cream mixture and the remaining pastry layer. Garnish with the reserved cream, pastry leaves, remaining fruit and confectioners' sugar.
Recipe Tip:
Parchment paper keeps the pastry from sticking to the baking sheet and also makes for easier cleanup. If you don't have parchment paper, you can spray the baking sheet with cooking spray instead. However, cooking spray may cause the bottoms of the pastries to brown more quickly, so begin checking for done-ness 5 minutes early.
If you enjoyed this recipe, be sure to check out more dishes you're sure to love from the folks at Campbell's Kitchen.
What are your plans this Memorial Day?
Latest posts by RecipeLion
(see all)