Print This Post
I just love camping season. My fondest childhood memories from summer include making (more like accidentally burning) campfire s'mores and sleeping in a tent. Even as a kid, I knew there was something special about leaving behind my daily routine and technology, which at the time consisted of a Sega Genesis — very cutting edge. There was also something magical about the campfire itself. It was mesmerizing to look at, but campfire food also seemed to taste 100% better than regular meals. I mean, why else would people want to eat food out of tin foil packets unless it was delicious? Well, I can think of one more reason: easy cleanup.
These are all no-fuss recipes that you can make the next time you find yourself sleeping under the stars with your family. These camping foods require only a few utensils or plates. Most of them are cooked in aluminum foil so all you have to is roll up the foil when you're done! They're easy meals that take the stress out of feeding your family and friends. You'll spend more time fishing, hiking, or playing games instead of prepping and cleaning up food. It's a win-win situation, so try these easy camping recipes this summer!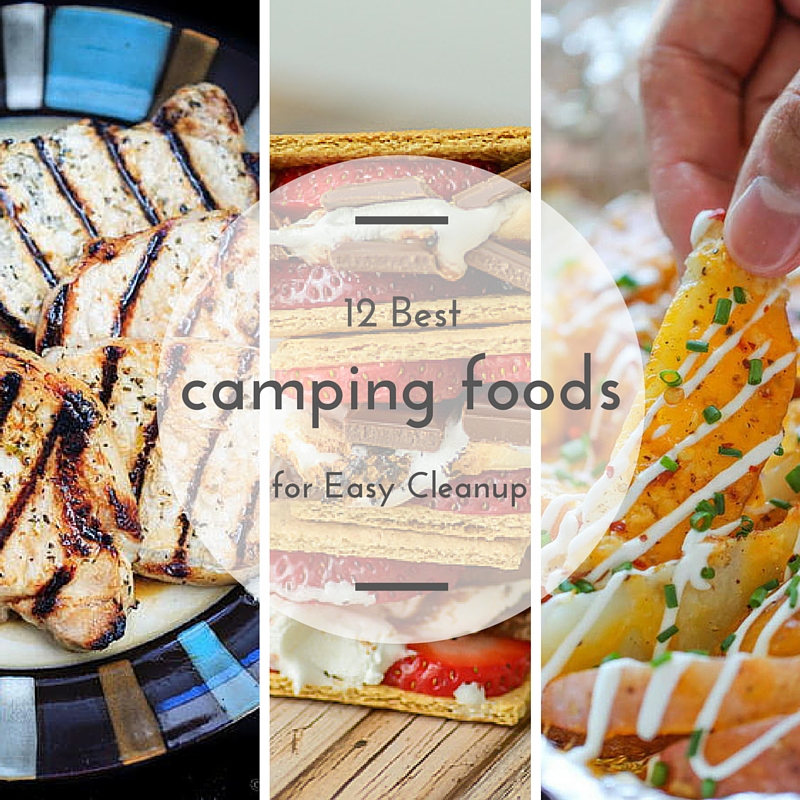 12 Best Camping Foods for Easy Cleanup
Tin Foil Camping Recipes
Cheesy Garlic Fries in Foil Packets
Garlic Parmesan Broccoli and Potatoes in Foil
Skillet Camping Recipes
Easy Honey Lime Grilled Pork Chops
Hobo's Favorite Potato Hash Skillet
Chocolate Covered Strawberry S'mores
3-Ingredient Grilled Stuffed Peppers with Pulled Pork
Have a favorite meal to make around the campfire? Let us know in the comments below!
RecipeLion is dedicated to the best recipes and cooking tips. From quick and easy dinner recipes to new and exciting dessert recipes, we find and deliver the best recipes from all over the web. Plus, we feature free product reviews and giveaways of all the latest and greatest products including cooking gadgets, cookbooks, food, and more. RecipeLion is a wonderful online resource for cooks of all skill levels.
Latest posts by RecipeLion (see all)
Print This Post