I think The Pioneer Woman represents everything I want to be in life. She's creative, she knows how to appreciate the simple things, and her recipes are absolutely incredible. Leave it to Ree Drummond to capture our hearts with her wonderful dishes! Yet out of all those recipes in her arsenal, it is perhaps her dessert recipes that I enjoy most. From her infamous "knock you naked" brownies, to her whiskey-enhanced bread pudding, it's no doubt that The Pioneer Woman knows how to take a classic recipe and give it a unique twist. Whether you're a cinnamon fanatic or a caramel queen, you're bound to find a dessert recipe from The Pioneer Woman that you fall in love with.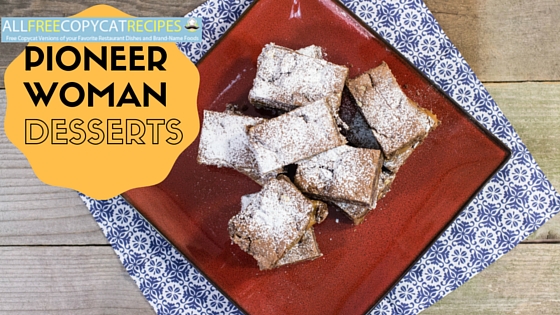 I've picked out what I think are The Pioneer Woman's most iconic dessert recipes. After all, you deserve a break from the ordinary every now and then, and there's no better way to get inspired than by borrowing some celebrity copycat recipes from the best of the best. Filled with rich, decadent flavor, each of these recipes are sure to become a new favorite.
1. Copycat Knock You Naked Brownies
These gooey caramel chocolate brownies will stop you in your tracks. They are so indulgent and delicious that they will astound you.
2. Pioneer Woman Pumpkin Sheet Cake Copycat
This moist and heavenly Pioneer Woman Pumpkin Sheet Cake Copycat was inspired by one of the Pioneer Woman's delicious desserts. This has a pumpkin cake base and a sweet cream cheese frosting.
3. Copycat Pioneer Woman's Cinnamon Rolls
There's nothing like waking up to a freshly baked batch of homemade cinnamon rolls. The Copycat Pioneer Woman's Cinnamon Rolls are sweet, gooey, soft, and impossible to resist.
4. Pioneer Woman Inspired Salted Caramel Brownies
No brownie is truly complete without a layer of gooey, delicious caramel. This recipe for Salted Caramel Brownies was inspired by The Pioneer Woman's fantastic homemade salted caramel brownies.
5. Just Like Pioneer Woman's Tres Leches Cake
The Tres Leches Cake is a classic Mexcican dessert. It has a sponge cake base, which is poked with holes, like a poke cake, and filled with a sweet and creamy three-milk mixture.
6. Pioneer Woman Inspired Italian Cream Cupcakes
These delicious Pioneer Woman-Inspired Italian Cream Cupcakes gives you a new way to make one of the best Pioneer Woman recipes for dessert. These cupcakes are a lighter version of Pioneer Woman's Billie's Italian Cream Cake.
7. Just Like Pioneer Woman's Apple Tart
Here is another one of our great copycat Pioneer Woman recipes. This recipe for Just Like Pioneer Woman's Apple Tart is loaded with great flavors such as cinnamon, brown sugar, and apples, all inside a flaky pastry.
8. Copycat Pioneer Woman Bread Pudding with Whiskey Sauce
Here's a marvelous bread pudding recipe for you to try. It's a healthier version of the Best Ever Bread Pudding found on the popular Pioneer Woman food blog.
For more delicious copycat dessert recipes, be sure to download our free eCookbook here. Your sweet tooth will thank you!
What's your favorite recipe from The Pioneer Woman? Tell us in the comments!
Latest posts by AllFreeCopycatRecipes
(see all)