Even though we're right smack dab in the middle of pumpkin and apple flavor season, I've been really craving non-fall dessert recipes lately. I know, I know. That's pretty much treason. But I can't help myself. I overloaded a bit on recipes with apples and some tasty pumpkin dessert recipes within the past two weeks that I really just needed something simple to cleanse my palate.
So, I got to thinking. What is the simplest, most classic dessert that has ever existed? That's when it hit me: homemade chocolate chip cookies. Needless to say, I became obsessed with finding the perfect chocolate chip cookie recipe that would satisfy my craving and pretty much press the reset button for my taste buds.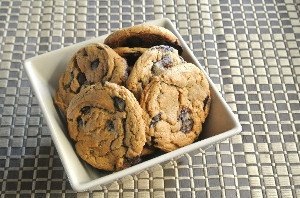 In my search for the tastiest homemade chocolate chip cookies, I came across so many wonderful recipes that it was hard to choose not only which ones I thought would taste the best, but also which one or two recipes I actually wanted to make. While I won't tell you which one(s) I decided to bake for myself, I will share with you a few of the recipes that I believe make for the absolute best homemade chocolate chip cookies.
So, whether you feel a bit apple and pumpkin'd-out, love to make chocolate chip cookies at any time of year, or are looking for some great recipes for homemade chocolate chip cookies to make sometime in the future, I would definitely recommend that you check out a few (or all) of these recipes. You won't be sorry.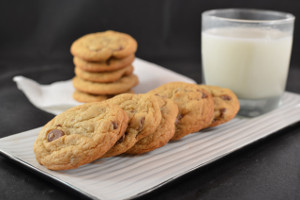 The secret ingredient makes all the difference in these cookies. Trust me on that.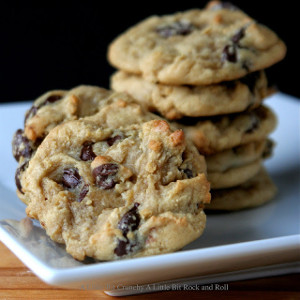 Let the dough "marinate" overnight and your cookies will be as flavorful as can be.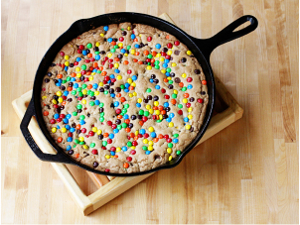 Double the chocolate, double the fun. Plus, everything tastes better in a skillet!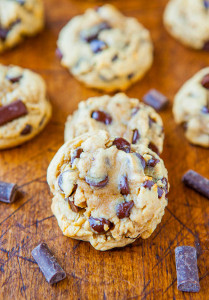 These are so incredibly soft that you'll never make another batch without cream cheese ever again.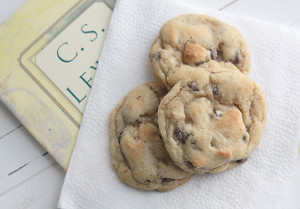 When the recipe says "Never Flat," it definitely means it. These are almost too good to be true.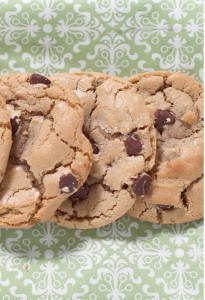 No butter, no problem. They're so good, you honestly won't notice that the butter is missing!

Oh, I almost forgot…

While I was going through my chocolate chip cookie craving/obsession, I came across the Awesome Cookie Company and their awesome Ghirardelli Double Chocolate Chip Cookies. They are so delicious that I practically ate the whole jar by myself. I'm not even kidding.
Because I love these cookies so much, I want to share them with you and give you the opportunity to eat an entire jar of your own! From now until November 3rd, you can enter to win your very own jar of Awesome Cookie Company's Ghirardelli Double Chocolate Chip Cookies. Make sure to check out our review to see exactly what makes these cookies so awesome because, whether or not you're one of our two winners, you'll definitely want to order yourself a jar. Or two. Or five. Good luck!

What do you love best about homemade chocolate chip cookies?
Latest posts by TheBestDessertRecipes
(see all)