During the summer months, there isn't always an easy way to beat the heat. The days where there are record highs make you want to sit inside and not move just to stay cool. It's even harder to find things for the kids to do that are fun, safe, and also keeps them from getting over-heated. We have found the answer to these problems, and have the best summer projects that are both fun and delicious. Summer is a time for fun, so relax and laugh with these great summer recipes and cool summer projects.
The best part is that these summer projects are all affordable and easy to make. The crafts projects do not require a lot of materials and the summer food recipes require no oven or unheard-of ingredients. The simpler these projects are, the better. To find more fun recipes and projects to do this summer, visit FaveHealthyRecipes.com and FaveCrafts.com.
2013 Best Summer Projects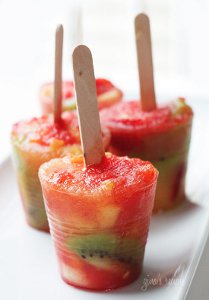 Frozen Fruit Pops
Healthy and delicious, this summer recipe cannot get any better. With only five ingredients, you can make an all-natural popsicle that is refreshing and filled with vitamins. It's even more satisfying than high-calorie and high-sugar ice cream. It is a cool summer recipe that will make you and the kids happy. This colorful treat is so good that you will eat it so fast it won't even have a chance to melt in the summer's heat.

Homemade Bubble Machine
There is nothing more fun than playing with bubbles outside on a beautiful day. Now you can create your own Homemade Bubble Machine and play with bubbles any time you want. This easy machine is made out of water bottles and is easy enough for kids to make. This fun summer project will be used all throughout the summer. Enjoy the outside with these bubble machines.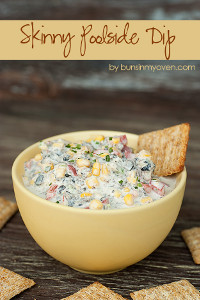 Poolside Dip
This dip is more refreshing than taking a dip in a pool. This Poolside Dip is the filled with freshly cut veggies and is bursting with flavor. It is a great way to have fun this summer. This summer recipe will get your pool party started. This fresh appetizer is sure to be a crowd favorite. It is also healthy so you can enjoy this great summer recipe guilt-free. It's so good you will want to make it for your next snack.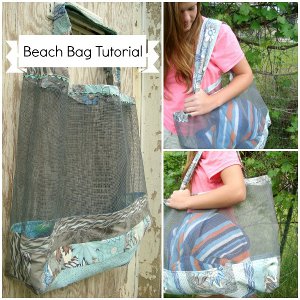 Mesh Beach Bag
Take all your kids' favorite beach toys and towels to the beach with this easy-to-use Mesh Beach Bag. Going to the beach or pool is fun to do, especially when the sun is blazing. Make it easy on yourself and bring one large bag of your sun lotions, towels, and toys. It is the perfect size and easy to carry. You will not have to worry about forgetting anything because this summer project is the solution to any pool or beach outing.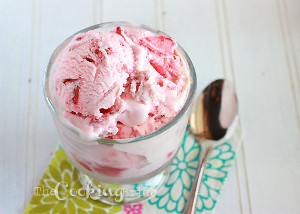 Creamy Strawberry Ice Cream
You scream, I scream, we all scream for homemade ice cream! You cannot beat this cool summer recipe. The Creamy Strawberry Ice Cream is easy and delicious and it's healthy enough to enjoy in large scoops. You simply blend a few simple ingredients together and you will get a great family-friendly frozen dessert.  Cool off with one of the tastiest ice cream you can make.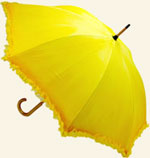 Ways to Make a Parasol
There is no better way to stay cool and still enjoy the hot summer day than having a parasol that blocks the sun. SPF plus this parasol is the best sun protection you can have. They are fun to make and you can choose the color you would like. This summer project will save you from the harsh UV rays from the sun and give you cool shade so you don't have to waste a beautiful day inside.
What's your favorite summer project  or recipe to make to beat the heat? Let us know in the comments below!
Latest posts by FaveHealthyRecipes
(see all)