We know our readers love old fashioned recipes, and we're always looking for innovative ways to present them to you. We're excited to announce a brand new recipe from AllFreeSlowCookerRecipes.com's Test Kitchen! It might be hard to believe, but one can "bake" old fashioned pineapple upside down cake using cake mix… and using the slow cooker! We tackled the seemingly impossible feat of a slow cooker pineapple upside down cake recipe this past week in our Test Kitchen and it was delicious! In fact, I ate two slices (shhh!).
Slow cooker baking is quite easy, and a helpful technique during summer months when you don't want your oven to heat up the house. In fact, we have an entire free eCookbook devoted to slow cooker cake mix recipes: Slow Cooker Cake Mix Recipes: 16 To-Die-For Recipes with Cake Mix.
Below, we'll give you a preview of the slow cooker pineapple upside down cake we prepared this past week:
Betty's Slow-Cooker Pineapple Upside Down Cake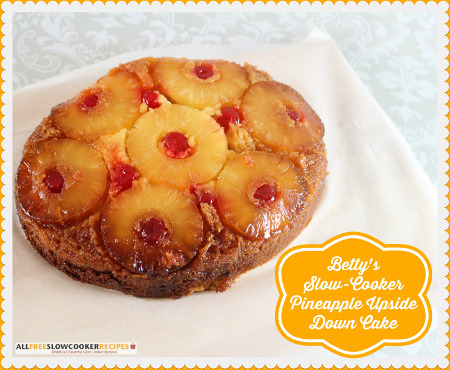 It's clunky to leave out a lot of appliances in the kitchen. As many of us use blenders during the summer to prepare smoothies, and even ice cream, a blender might be something that's already hanging out on your counter. As such, instead of using a hand mixer to blend the cake batter, I tested out Blendtec's Designer 725 High-Speed Blender, which we'll be offering as a GIVEAWAY on AllFreeSlowCookerRecipes.com from June 08, 2014 through July 05, 2014.  Scroll down below to learn more about this awesome blender!
Serves: 12
Chilling Time: 15 min
Slow Cooker Time on HIGH: 2 hr 30 min
Cooking Vessel Size: 6-quart slow cooker
Ingredients:
1 cup packed brown sugar
1/4 cup butter, melted
1 (20-ounce) can pineapple slices in juice, drained; juice reserved
10 maraschino cherries without stems, drained
3/4 cup sweetened coconut flakes
1 box Betty Crocker SuperMoist yellow cake mix
vegetable oil and eggs, as advised on cake mix box
Instructions:
To get the instructions and the remainder of this recipe, check on our full recipe for Betty's Slow-Cooker Pineapple Upside Down Cake on AllFreeSlowCookerRecipes.com.
Win this $750+ Prize!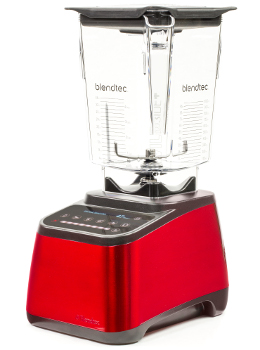 From June 08, 2014 through July 05, 2014, readers have a chance to enter to win a Blendtec Designer 725 High-Speed Blender with a Twister Jar & a Wildside Jar, with a total value of more than $750. To learn more about this high-tech blender, check out our review.
So, be sure to enter to win this amazing blender! This blender is great for preparing smoothies, juicing, grinding coffee beans, whipping cream, making nut butters, grinding grain, preparing soup, or even beating batter for a cake. The possibilities are endless with this Blendtec Blender.
What is your favorite dessert?
Latest posts by AllFreeSlowCookerRecipes
(see all)