We are in the midst of blueberry season, and, personally, I can't get enough of these juicy fruits. Luckily, I've found tons of delicious blueberry recipes for breakfast to satisfy my need for the berry. I actually found some blueberries on sale the other day, so that may be another reason why I've gone crazy for blueberry recipes. Get ready, I'll be taking you through the best blueberry pancakes, muffins, and other breakfast favorites.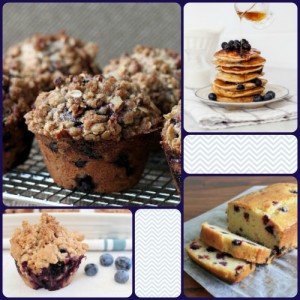 My top three favorite blueberry pancake recipes
I have officially determined that pancakes are my weakness. If it was socially acceptable to eat pancakes morning, noon, and night, I think I would.  When I want to make my mornings a little bit more special, these blueberry pancakes are my go-to breakfast recipes.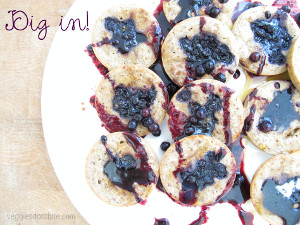 2. Banana & Oat Pancakes with Blueberry Syrup
3. Blueberry Muffin Pancakes (pictured above)
My top three favorite blueberry muffin recipes
Many times, muffins turn out dry and boring. Many people tend to eat only the muffin tops because they find the muffin bottoms rather uninspiring.  Well, with these delicious blueberry muffin recipes, you will happily gobble up the entire breakfast treat.  These blueberry recipes will be sure to put a smile on everyone's face.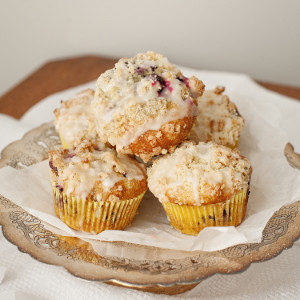 1. Blueberry Coffee Cake Muffins
2. Blueberry & Lemon Muffins (pictured above)
Other breakfast favorites
When people think of breakfast, they immediately think of pancakes, eggs, and waffles.  But, I don't want you to forget about the other classic breakfast favorites.  These blueberry recipes will be great for any morning.  If I know that I have my blueberry bread or make-ahead blueberry breakfast bake sitting in the kitchen, I'll leap out of bed like a kid on Christmas morning.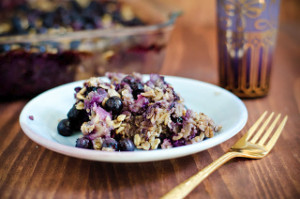 1. Lemon Blueberry Bread
2. Blueberry Baked Oatmeal (pictured above)
3. Blueberry Walnut Breakfast Bake
My top three favorite blueberry desserts
Okay, I know that dessert isn't typically served for breakfast. It'd be slightly crazy of me to group brownies and pies with pancakes and waffles. But, I believe that dessert can be enjoyed at any time of the day (of course in moderation). My Grandma always said that fruit is healthy; therefore, desserts that include fruit must be good for you. Because of this, I'm going to pass along my absolute favorite blueberry dessert recipes.  I strongly encourage you to eat these delicious blueberry treats for breakfast.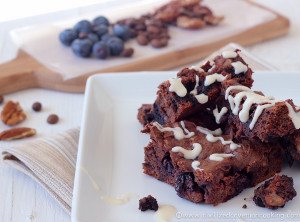 1. Blueberry Espresso Brownies (pictured above)
What are your family's favorite blueberry recipes?
Latest posts by FaveGlutenFreeRecipes
(see all)