This past weekend, July 25-27, the editors of AllFreeCasseroleRecipes and AllFreeSlowCookerRecipes had the pleasure of attending BlogHer '13 in Chicago. We had an incredible time. We spent our days meeting bloggers, visiting companies at the EXPO hall, and learning valuable tips at the various sessions; and our nights mingling with more bloggers and attending blogger parties. Since we're based in the Chicago suburbs, we didn't have to travel far, but we met many people who did. Everyone was friendly and easy to get along with, which made it an incredible experience.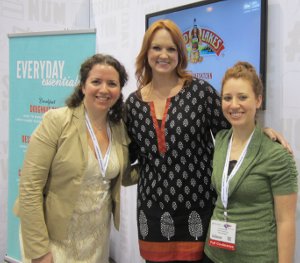 We were lucky enough to hear some amazing women speak at the BlogHer '13 Conference this year.  First up was The Pioneer Woman, Ree Drummond. She spoke about her journey from city girl turned country girl, to starting a blog and eventually getting a TV show on the Food Network. Later that night, we saw Queen Latifah host The Voices of the Year Keynote. That night was amazing because one, we were 20 feet away from Queen Latifah, and two, we heard inspiring bloggers read their award-winning blog posts.
The following day, we heard Facebook COO and author of Lean In, Sheryl Sandberg, and Walking Dead producer, Gale Anne Hurd. Both women gave empowering talks which were well-received by the thousands of women in the audience. Besides listening to these speakers, we also attended the Lean Cuisine Honestly Good Luncheon (blog post to follow), where we heard from the chefs who created Lean Cuisine's new product line, Honestly Good, and sampled the selection.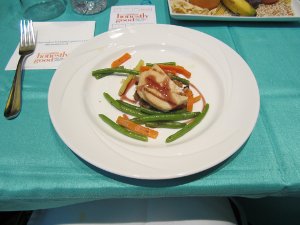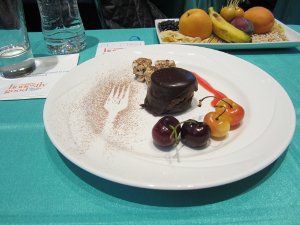 We met so many wonderful food and craft bloggers at BlogHer '13, as well as mommy and lifestyle bloggers. It was fun to meet people we've worked with in the past, and we can't wait to start working with the new bloggers we just met. If you were at BlogHer this year, drop us a line on Twitter at @AllCasseroles or @SlowCookRecipes. We'd love to hear from you!
Giveaway
We received so much swag at BlogHer '13 that we couldn't keep it all ourselves. We want to share it with you! We're giving away a Swag Bag filled with everything you see in the photo. This includes a cookbook, t-shirt, mug, tote bags, drinks, cleaning products, headphones, food coupons, and more.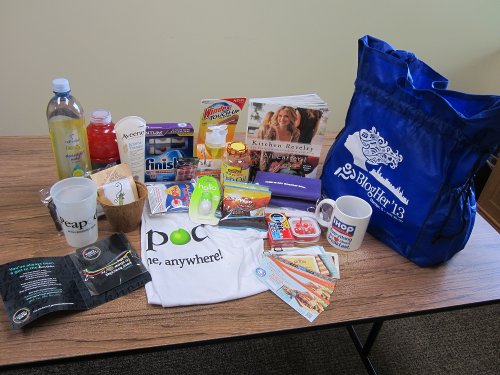 The Fine Print:
Contest open to US and Canada residents 18+.
Leave a comment on this blog post answering the question below to enter.
One comment per person, please answer the question below.
Contest is now closed.
The winner will be posted on RecipeChatter.com on August 12, 2013 and notified by email.
Congratulations Kathy G! You have been chosen as the winner of our swag bag  giveaway. Please check your email for further instructions.
In your opinion, which city has the best food?
Latest posts by AllFreeCasseroleRecipes
(see all)