Snapchat, Podcasts and … Sarah Michelle Gellar!
Last Friday-Saturday, I attended BlogHer Food 2015 at the Hyatt Regency in downtown Chicago with two other Prime Publishing editors, Jenny and Arielle. (Jesse here.) The most important thing you need to know about this conference is that Sarah Michelle Gellar was there. I know. Buffy. I'll let you settle down. Are we good? Moving on…
SMG was there because she co-founded a new food venture that touches on her passion for food and education. Foodstirs sells baking kits and other products to engage your kids in the kitchen. You'd think it would be easy for her to become an entrepreneur, being a celebrity, but she talked about facing the same barriers that non-celebrity women in other industries face.
We see a lot of celebs that put their name on stuff but I wanted more than that – I wanted to be involved in every aspect and be part of new content and new creators. I know already that being a female [entrepreneur] the odds are stacked against us. – Sarah Michelle Gellar
Super relatable for lady food bloggers! (Psst. Find out how you can win a swag bag from BlogHer Food 2015 below.)

Sarah Michelle Gellar is passionate about her new business.

Here are some quotes and notes I jotted down from the lovely Sarah Michelle:
"Food is the common denominator that brings people together."
"I see kids at the supermarket on an iPad and it's such a missed learning opportunity. Give your kid a grocery list … Make them part of the process and let them know that food doesn't come out of a machine."
SMG's mom would grow herbs on her fire escape.
"Everything in moderation… there's no reason kids can't have sweets."
"Cooking (toys) are aimed at young girls, but most of our famous chefs are men. Where are those toys for my son?"
She wants to have her own cooking channel for food bloggers.
Jenny and I actually got to meet her briefly right after her talk for a quick photo. I congratulated her on her new food venture, managing not to freak out… until afterward. As I walked out of the conference, I was so glamoured by the encounter that I walked directly into a door. Call it the SMG effect. 🙂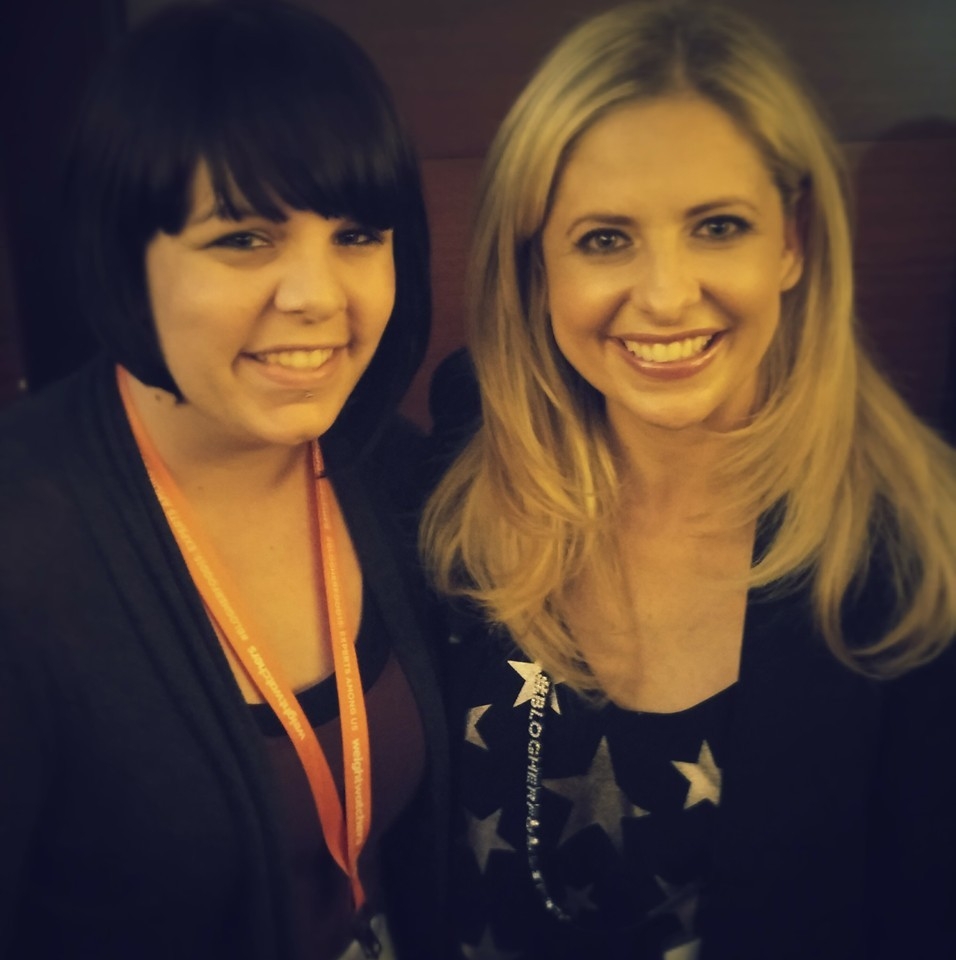 Somehow keeping my chill for approx. 45 seconds.
Snappin' your recipes
In her talk, Sarah Michelle mentioned one of the top trends at the conference: Snapchat. Apparently the food blogger community is ~in love~ with Snapchat! I can understand why – I use it in my personal life, and it's so low-pressure. The video's gonna disappear, so it doesn't have to be perfect. At 10 seconds max, they're short and to-the-point, too. If you're a food blogger, you should give this trend a try!
Throughout the conference, speakers were geeking out over Snapchat. There was another app of note: Periscope. Periscope allows you to live vicariously through someone else with live, streaming video. It's super intimate, and the community for that app is growing steadily.
I actually saw one speaker Periscoping just before her session: Lucrecer Braxton from Hello Friend, who was there to talk about podcasting.
Podcasts are the future…
One of the most arresting facts I learned at BlogHer Food is that podcasts had 25 million listeners in 2009… and 75 million listeners in 2014. Those numbers are pretty hard to ignore! This is another intimate way to reach people – you're literally the voice in their ear.
Just like the internet revolutionized print by allowing anyone to publish, now anyone can be a radio star by creating their own podcast. Braxton gave some amazing advice on getting started, like "Don't Vader on the mic" and "Be selective in who you allow to access your listeners. They trust you."
There was so much more to learn and see at this conference, and our team from Prime Publishing had a great time networking with other bloggers and companies. Thanks for a great weekend, BlogHer and SheKnows!
Win a Swag Bag from BlogHer Food 2015!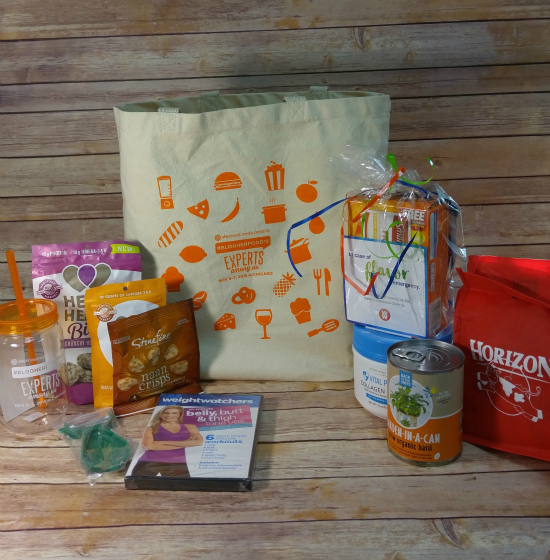 Didn't get a chance to check out BlogHer Food 2015? We brought back one swag bag full of souvenirs for one lucky winner!
Prize includes:
BlogHer Food Tote Bag
BlogHer Food Mason Jar Cup
Manitoba Harvest Hemp Heart Bites
Manitoba Harvest Hemp Hearts Raw Shelled Hemp Seeds
Back to the Roots Garden-In-A-Can Grow Organic Basil
Weight Watchers 10-Minute Belly, Butt and Thigh Tone-Ups DVD
Weight Watchers snacks gift pack
Vital Proteins Collagen Peptides
Potato peeler
Horizon organic dairy snack pack
And the winner is… Chris Blair!
Chris commented: "Hands down,Gordan Ramsey."
Chris, we will contact you about your prize!
What celebrity chef would you like to meet?

Latest posts by RecipeChatter
(see all)