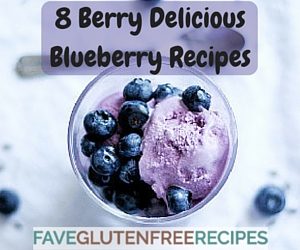 First off, am I the only one who thinks blueberries aren't all that…blue? They look pretty purple to me. "Purpleberry" is quite a mouthful, though.
Anyway, strawberries often seem to get all of the press in the summer, but beautiful blueberries are also in season. As the opposite-color cousin of a strawberry, blueberries are tiny little bites that are filled with flavor. Oh yeah, and they're a superfood. They are chock-full of antioxidants and potassium and also have anti-inflammatory properties.
So why do strawberries get all of the credit?! I vote to bring the blueberry back into the limelight and highlight all of the delicious desserts that we can make with this tart-sweet berry.
8 Berry Delicious Blueberry Recipes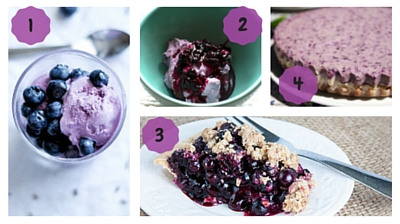 1. Blueberry Lavender Ice Cream – This impressive ice cream seems fancy because of the lavender, but it's a simple recipe made with fresh ingredients—what more could you want?
2. Wild Blueberry Fool – You'd be a fool to not try this creamy dessert. With just a few ingredients, this combination of fresh blueberries and homemade whipped cream is hard to beat.
3. Brilliant Blueberry Crumble Pie – Homemade pie crust and tart blueberries come together for this delicious dessert—it won't last long, so you might want to make a double batch!
4. Raw Blueberry Cheesecake – 2 words: Make. Ahead. 2 more words: No. Bake. What more could you possibly want from a fruit dessert?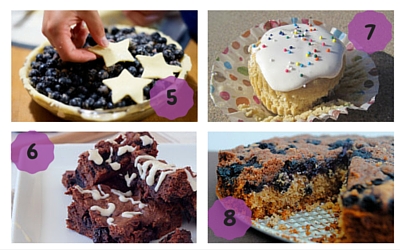 5. Blueberry Pie – Tried and true, the flavor of the blueberries pops against the homemade gluten free pie crust.
6. Blueberry Espresso Brownies – I know what you're thinking—blueberries, chocolate, and espresso? Trust me, it works. Antioxidant and caffeine boost? Sounds like a win!
7. Blueberry Marshmallow Buttermilk Cupcakes – Mini marshmallows go into the batter whole and melt as the batter cooks…can you say delicious?
8. Blueberry Buckle – (Almost) naturally sweetened with just applesauce and the blueberries, it's healthy enough to eat for breakfast, too!
What's your favorite blueberry dessert? Let us know in the comments!
Latest posts by FaveGlutenFreeRecipes
(see all)