There are few sweet treats (or even savory treats) that are as delicious as carrot cake. At least, that's how I feel. Carrot cake just has such a warm and inviting flavor that's not too sweet but just sweet enough to curb an insatiable sweet tooth. Needless to say, I'm 100% a fan of carrot cake.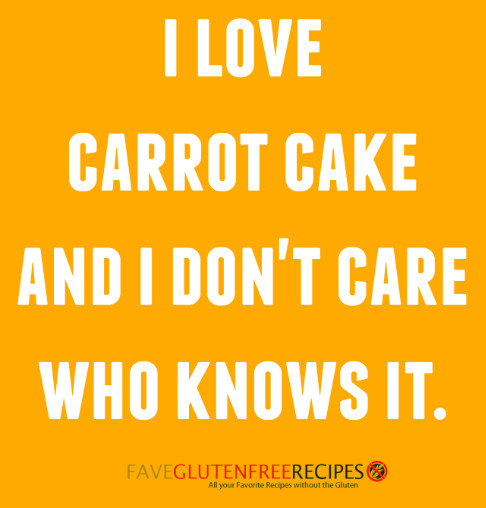 One of the only things I like better than
a good carrot cake recipe
is a
homemade bread recipe
. You really just can't beat it. Homemade bread recipes are perfectly fluffy and, if you cut into it right after it comes out of the oven, ohmygoodness it's so warm and delicious. I can't resist a batch of homemade bread.
So, needless to say, I'm almost overqualified in introducing this homemade bread recipe from Bob's Red Mill to you. This Carrot Bread with Coconut and Cardamom tastes like a denser and more comforting version of your carrot cake recipe. Coconut and coconut oil add a bit of extra sweetness while cardamom adds a really warm and inviting flavor depth.
This is the perfect homemade bread recipe for spring but, honestly, tastes amazing at all times of the year. Believe me when I say that you don't want to pass up this delicious "carrot cake" recipe!
Carrot Bread with Coconut and Cardamom
Bob's Red Mill Everyday Gluten-Free Cookbook by Camilla V. Saulsbury, p. 267
Makes 12 slices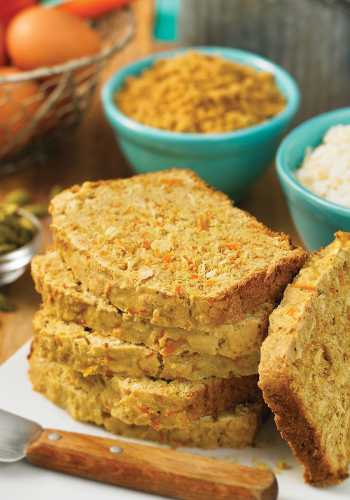 Ingredients
2/3 cup sorghum flour (150 mL)
2/3 cup millet flour (150 mL)
2/3 cup potato starch (150 mL)
2 tsp GF baking powder (10 mL)
1 tsp ground cardamom (5 mL)
1/2 tsp baking soda (2 mL)
1/2 tsp fine sea salt (2 mL)
1 cup packed light brown sugar (250 mL)
2 large eggs
1/2 cup melted virgin coconut oil (125 mL)
2 cups shredded carrots (500 mL)
1 1/4 cups unsweetened flaked coconut (300 mL)
Instructions
Preheat oven to 350 degrees F (180 degrees C).
Grease a 9×5 inch (23 by 12.5 cm) metal loaf pan. Set aside.
In a large bowl, whisk together sorghum flour, millet flour, potato starch, baking powder, cardamom, baking soda and salt.
In a medium bowl, whisk together brown sugar, eggs and coconut oil until well blended.
Add the egg mixture to the flour mixture and stir until just blended. Gently fold in carrots and coconut.
Spread batter evenly in prepared pan and loosely tent pan with foil.
Bake in preheated oven for 80 to 90 minutes or until top is golden and a tester inserted in the center comes out clean. Let cool in pan on a wire rack for 20 minutes, then transfer to the rack to cool completely.
Tip
An equal amount of olive oil or melted unsalted butter can be used in place of the coconut oil.
Storage Tip
Store the cooled bread, wrapped in foil or plastic wrap, in the refrigerator for up to 3 days. Alternatively, wrap it in plastic wrap, then foil, completely enclosing bread, and freeze for up to 3 months. Let thaw at room temperature for 4 to 6 hours before serving.
Bonus!
If you like this recipe, just wait until you get your hands on a copy of Bob's Red Mill Everyday Gluten-Free Cookbook! From now until Sunday, March 1st, 2014, you can enter for your chance to win a copy of this cookbook! It's chock-full of great everyday gluten-free recipes that the whole family will enjoy, regardless of they stick to a gluten-free diet or not. So, what are you waiting for? Enter now!
Do you think carrot cake is better with or without some coconut?
This recipe courtesy of Bob's Red Mill Everyday Gluten-Free Cookbook by Camilla V Saulsbury, 2015 © www.robertrose.ca Reprinted with publisher permission. Available where books are sold.
Latest posts by FaveGlutenFreeRecipes
(see all)