This guest blog post today comes from Kim Cooper, who is the author and creator behind the Feed Me, Seymour blog!
What are the elements of a great dessert? That might mean something different to each person. For some, it is a creamy cheesecake with luscious raspberry sauce drizzled on top. For others, it is a dark, rich chocolate cake or a strawberry dunked in dark chocolate. There are those who are happy to eat just bowl full of berries with a dollop of cream. Then, there are those dessert lovers that just long for the classics. Chocolate chip cookies, yellow cake with thick buttercream, brownies. There is never anything wrong with reaching for a great, classic dessert. Or three.
Some people, too, like to take a classic and flip it on its head a little bit. Add a burst of modernity to a timeless tradition. The blondie is one such burst, showing up in droves over the last few years. Essentially, a blondie is a brownie without the chocolate. I know, I know. You're thinking "No chocolate, no go." But a blondie is, dare I say, better? A blondie has the same moist texture, the same great flavors, the same warmth. But what sets it apart from its chocolate counterpart is the immense versatility.
A blondie can be brown sugar, peanut butter, browned butter. Stuffed with nuts, dried fruits or candies. You can top it with frozen yogurt, ice cream, caramel sauce. Think of a blondie as a blank canvas that you can work with and play with until you achieve that ultimate flavor combination you desire.
Here, we took the blank canvas and loaded it full of chocolate-coated caramel candies. They melted into a gooey, caramel bar of joy. For a real treat, top them with a little chocolate ice cream or a swipe of salted caramel.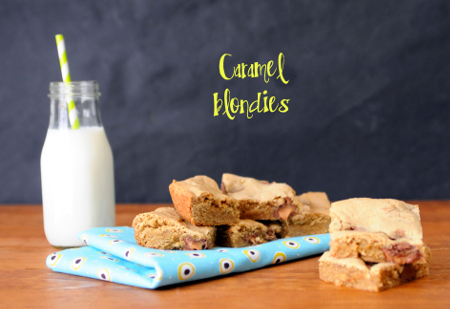 Rolo-Stuffed Caramel Blondies
Ingredients:
1/2 cup unsalted butter
2 cups brown sugar
2 eggs
1 tsp. vanilla extract
2 1/2 cups all-purpose flour
1 tsp. baking powder
1/4 tsp. baking soda
1 cup chocolate-covered caramel candies (such as Rolos)
Preheat the oven to 350 degrees. Line a 9 x 13 inch pan with aluminum foil and spray it with non-stick spray and set aside.
In a saucepan over medium, melt butter and brown sugar together. Stir until smooth. Remove from heat and set aside to cool.
In another bowl, whisk together flour, baking powder and baking soda. Set aside.
Add the eggs, one at a time, to the butter mixture and whisk well. Stir in vanilla.
Pour the butter mixture into the bowl with the flour and stir until smooth. Fold in candies.
Pour the batter into the prepared pan and smooth on top. Bake for 25-30 minutes until cooked through. Allow to cool before slicing.
Serves 6 to 8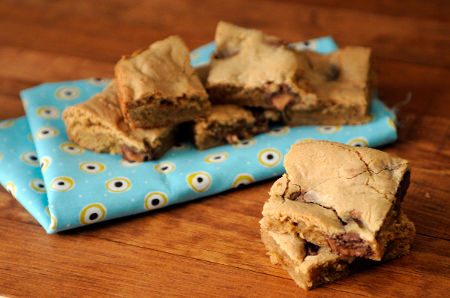 When it comes to desserts, are you a classics lover? Or would you rather have something modern and edgy?
Kim Cooper is the creative mind behind the blog Feed Me, Seymour. She loves creating new recipes and playing with different ingredients. You can find out more about Kim Cooper on her Featured Foodie profile!

Latest posts by TheBestDessertRecipes
(see all)