Bread pudding is one of those desserts that you tend to forget about. Then, someone serves it to you and you're thinking, "I must eat this EVERY DAY." Unfortunately, bread pudding is kind of an underdog so you just forget about it until that happens all over again. It's okay. Bread pudding still loves you.
The great thing about bread pudding recipes is that there's a surprising variety. Bread pudding lends itself to many flavor combinations, from fruity to chocolatey. There's even a Krispy Kreme bread pudding casserole! We're a little bit obsessed with that one. I dream of that chocolate drizzled on top.
These easy dessert recipes are appealing because they're warm, gooey and satisfying. It's really hard to stop once you start digging into a sweet bread pudding. Even though they're normally cold weather desserts, bread pudding is a comfort food and it's great as an after-dinner dessert anytime.
Time to share a memory: My favorite bread pudding of all time was from Old Country Buffet restaurant. They supposedly made it to use up old cinnamon rolls, but it was completely amazing! I still think about it. This Cinnamon Roll Bread Pudding is pretty similar.
At AllFreeCasseroleRecipes.com, we have lots of bread pudding varieties you'll go crazy over.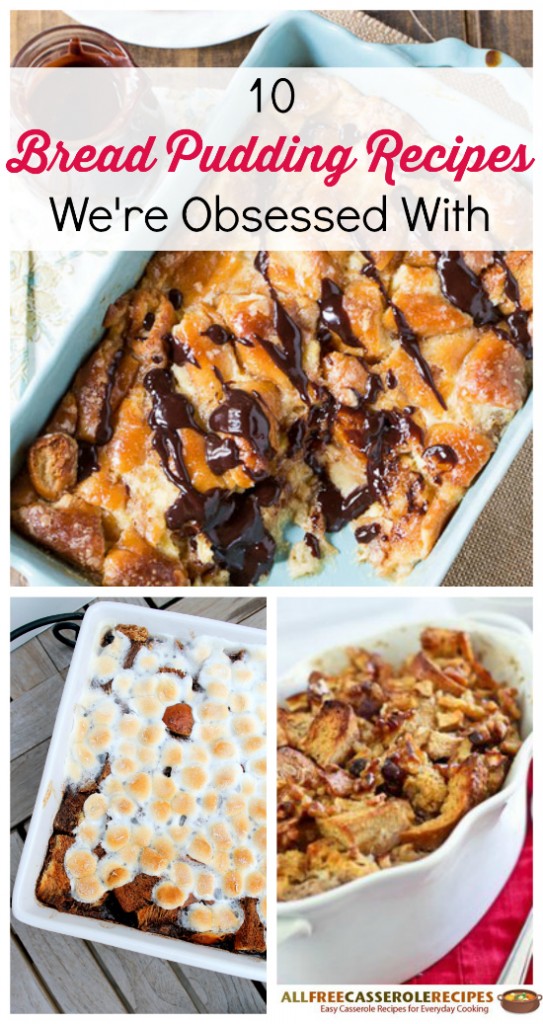 10 Bread Pudding Recipes We're Obsessed With
Which bread pudding recipe do you want to try?
Latest posts by AllFreeCasseroleRecipes
(see all)