Casserole recipes are an absolutely amazing choice for any meal. Filled with only the best ingredients, casseroles are a hearty and delicious meal choice. Whether you are looking for a breakfast casserole, healthy casserole, or even a tater tot casserole, I guarantee there is a recipe out there. In fact I know they're out there, because I'm putting the best of the best inside of this post, and there is something for everyone. There are Paleo casserole recipes, gluten-free casserole recipes, and even vegan casserole recipes. So what are you waiting for? Scroll on down and take a look. You'll be drooling by the end.
2 Free Breakfast Casserole eCookbooks + Bonus Breakfast Casserole Recipes
Breakfast casseroles are the perfect choice for large brunches or weekday breakfasts with the family. Most of these casseroles can be made overnight so they are ready for you and your hungry clan whenever you wake up. There are egg casseroles, bacon casseroles, and even French toast casseroles so no matter what that morning craving is, there is a casserole to satisfy.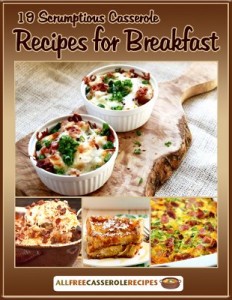 12 Overnight Breakfast Casseroles for Christmas Morning eCookbook
19 Scrumptious Casserole Recipes for Breakfast eCoobook
Simple French Toast Casserole from SimpleGreenMoms.com
Slow Cooker Quinoa Breakfast Casserole from CrockpotGourmet.com
Healthy Casserole Recipes
So someone started this nasty rumor that all casserole recipes are bad for you. I'm here to put that rumor to rest. These delicious casseroles are great tasting and great for you. Using ingredients like quinoa and zucchini, these casserole recipes curb your hunger while giving you a nutritious and balanced meal.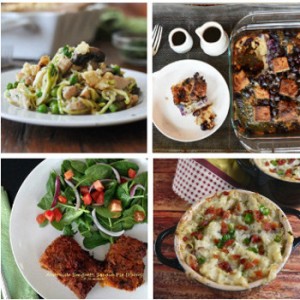 Simple Nutritious Quinoa Casseroles
Caprese Quinoa Casserole from DomesticateMe.com
Chicken Tetrazzini with Zuccini Noodles from Inspiralized.com
More Great Casserole Recipes
Potato casseroles are some of the easiest  and tastiest recipes out there, so I couldn't help but give you 16 of them. Each casserole recipe is better than the next, and are perfect for gatherings. More amazing casserole recipes include Doritos casseroles, chicken ranch casserole, and enchilada casseroles. Try these casserole recipes out ASAP, because they are good, good, good.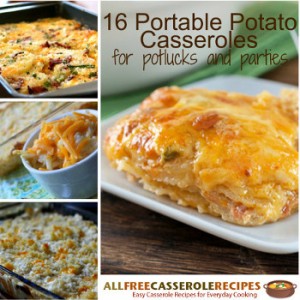 16 Portable Potato Casserole Recipes for Potlucks and Parties
11 Doritos Casseroles That Will Change the Way You Look at Junk Food
King Ranch Chicken Casserole from ScarlettaBakes.com
Enchilada Baked Casserole from ScrumptiouslySkinny.com
BONUS Free Tater Tot Casserole Recipes eCookbook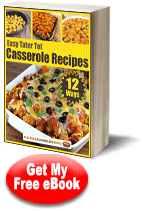 12 Easy Tater Tot Casserole Recipes
For even more great casserole recipes be sure to check out AllFreeCasseroleRecipes.com!
What is your favorite food to eat for breakfast?
Latest posts by RecipeLion
(see all)