Print This Post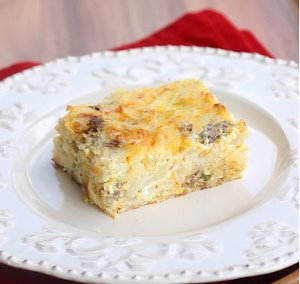 Nothing says comfort food like a warm casserole fresh out of the oven. Loaded with a ton of delicious hearty ingredients they're a great way to use left overs or to create one tasty dish that can feed an entire family. Just in time for Easter, we gathered some of our favorite breakfast casserole recipes for brunch that will have the family sprinting towards the dinner table, or in this case, the breakfast table.
Easter is a time for families to get together and celebrate. From the time they wake up until the special Easter dinner, there's always a collection of food that makes everyone happy. People say that breakfast is the most important meal of the day, so what better way to start off Easter than with a delicious breakfast casserole that will set the tone for the rest of the day?
These mouthwatering breakfast casseroles have a little bit of everything. If you are a fan of cheesy, meaty casserole recipes we found a collection that will hit the spot. If you prefer a sweeter dish for breakfast we also found  breakfast casseroles that are right up your alley. So, get the coffee ready, the orange juice poured and get ready for a delicious breakfast casserole. There's only one way to start of the day right, and that's with a breakfast casserole recipe. Plus, if you have a hearty breakfast it will tide you over until the big Easter dinner. How convenient is that? Happy Easter and enjoy!
Casserole Recipes for Easter Brunch
Classic Breakfast Strata & Breakfast Mac n Cheese
Amish Breakfast Casserole & Potato and Bacon Breakfast Bake
Pecan Sticky French Toast Casserole & Cinnamon Roll French Toast Casserole
(Make-Ahead) Eggs Benedict Casserole & Cheesy Potato Hash Breakfast Casserole
RecipeLion is dedicated to the best recipes and cooking tips. From quick and easy dinner recipes to new and exciting dessert recipes, we find and deliver the best recipes from all over the web. Plus, we feature free product reviews and giveaways of all the latest and greatest products including cooking gadgets, cookbooks, food, and more. RecipeLion is a wonderful online resource for cooks of all skill levels.
Latest posts by RecipeLion (see all)
Print This Post