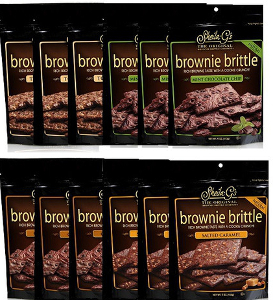 We love Brownie Brittle. It's as simple as that. We love the way that it has all of the wonderful chocolate flavor of a full-fledged brownie with the texture and crispness of the world's favorite part of a brownie: the edges.
Sure, the soft, moist center pieces of a batch of brownies is definitely delicious. We would never say that we would turn down middle pieces. However, we always actively choose pieces that have that crispy, crunchy edge because it adds so much flavor to brownies.
But let's back up for a minute. For those of you who have never heard of or seen packaging for Brownie Brittle, it's essentially a snack-worthy treat that tastes like a homemade brownie but has the texture of a crunchy cookie. In other words, it tastes like all of the edges of a pan of brownies have been reformed into square crunchy pieces. Not only that, but there are quite a few flavors of Brownie Brittle to enjoy because, let's face it, there's more to life than just classic chocolate brownies. It's kind of difficult to explain just how tasty Brownie Brittle is without actually tasting it.
That's why we're running a big Brownie Brittle giveaway (which also happens to be our biggest giveaway ever)!
Our Brownie Brittle Ultimate Sampler Pack Giveaway gives you the opportunity to enter to win a large prize pack that has a variety of Brownie Brittle flavors. We are giving away one case of Brownie Brittle, which includes twelve bags in a variety of award-winning flavors (including Chocolate Chip, Mint Chocolate Chip, Salted Caramel, and Toffee Crunch), to each of our twelve fortunate winners. Plus, our grand prize winner will receive a few extra treats.
This giveaway just started this morning and runs through Sunday, April 27th at midnight. You can enter the giveaway daily for more chances to win.
So what are you waiting for? Enter to win your own Brownie Brittle Ultimate Sampler Pack!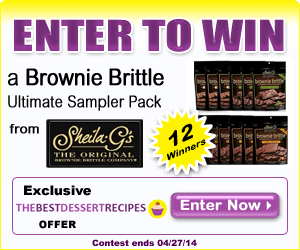 Have you ever tried Brownie Brittle? What's your favorite flavor?
Latest posts by TheBestDessertRecipes
(see all)