Have you tried Sheila G's Brownie Brittle? The crunchy treat has taken the snack world by storm. We got to try it out last week, and let me tell you, it's delicious! Imagine taking a pan of brownies, ditching the soft middle, and having a whole pan full of just the crispy edges. That's the magic of Brownie Brittle, a snack with the rich chocolaty taste of brownies and an amazing crunch. If you think it can't get much better than that, think again. Sheila G's has partnered with Cookies for Kids' Cancer to create a free eCookbook with recipes that turn Brownie Brittle into various delicious creations. In an effort to raise money to help eradicate children's cancer, Sheila G's will donate $5 to Cookies for Kids' Cancer for each cookbook downloaded. With RecipeLion.com's new giveaway, you can enter to win a case of Brownie Brittle!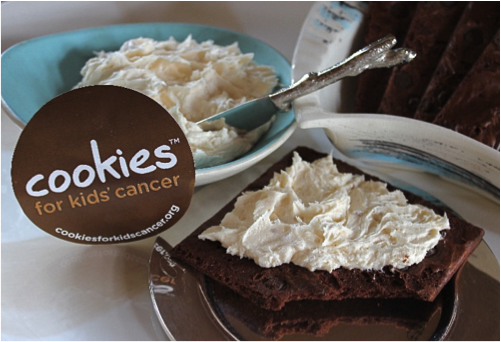 The cookbook includes delicious recipes for Faux-reos, Chocolate Coconut Triangles, and more. So by simply filling out a short form and downloading the recipes, you can create awesome "Brittled" desserts while also helping give back to the organization.
Reading about the efforts of Gretchen Holt-Witt, founder of Cookies for Kids' Cancer, is enough to tug at your heart strings and make you want to help out. Gretchen and her husband Larry lost their son Liam to pediatric cancer when he was only 6 years old. Sheila G met Gretchen while her own step son was battling a rare form of pediatric cancer. The two women had a connection they wish they didn't share, and together are helping make a difference for an amazing cause.
Sheila G's is also providing other opportunities to join in their efforts to support Cookies for Kids' Cancer. In addition to downloading the cookbook, you can purchase one of their new Cookies for Kids' Cancer Goodie Boxes. It contains one of each flavor of Brownie Brittle, a cookbook, and a spatula. Whether you choose to give it as a gift or enjoy it for yourself, the goodie box includes everything needed to spend time with family and develop a love for baking while you're at it!  All of the proceeds from these goodie boxes go directly to Cookies for Kids' Cancer.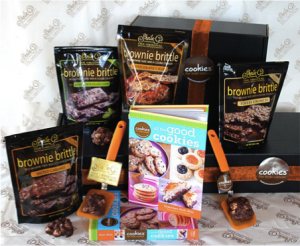 RecipeLion is excited to team up with Sheila G's for a Brownie Brittle Giveaway!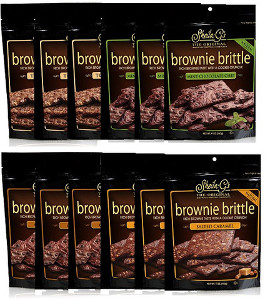 Twelve (12) lucky winners will receive one case of Brownie Brittle! The case includes 12 4-oz bags, so you'll be able to taste each of their four flavors: Chocolate Chip, Mint Chocolate Chip, Salted Caramel, and Toffee Crunch.
Bonus: One of our 12 winners will be the grand prize winner of an additional $50 gift card to Bed, Bath & Beyond and a $50 gift card to Toys "R" Us!
Enter to win big today! Your chance to enter this amazing gift from Sheila G's ends on December 1, 2013. Good luck!
What's your favorite part of a pan of brownies – the crispy edges or soft middle?
Latest posts by RecipeLion
(see all)