As the editor of AllFreeCasseroleRecipes, I find it exciting to see new trends in the casserole world. Casseroles have been around for ages, and they've evolved over time. Today's tuna noodle casserole is not the same as the one in the 50s (though we do still enjoy making vintage recipes).
In the past few months, I've discovered the "bubble-up" trend. Bubble-up casseroles are made with refrigerated biscuits that "bubble-up" during the baking process. They're becoming more and more popular, and I can see why. I love biscuits, and they taste great in casseroles. Bubble-up recipes are especially fun because you don't know how the casserole is going to look in the end. Typical casseroles basically look the same before and after the cooking process. Bubble-up casseroles, on the other hand, look much different. You can't even see the biscuits when you put the casserole in the oven, but when you take it out, you can see they've popped up all over.
I was anxious to try a bubble-up casserole, and I was happy about the results. So happy, in fact, that I decided to make a second a few weeks later. You can find both recipes on AllFreeCasseroleRecipes.com.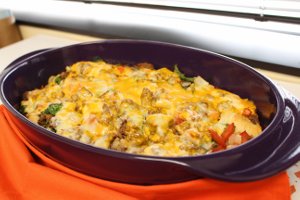 Bubble-Up Hamburger Casserole is very much a deconstructed hamburger. The biscuits take the place of buns, and the rest of the casserole consists of your typical hamburger components: ground beef, tomatoes, onions, spinach (in place of lettuce), and cheese. This recipe was very simple to put together. After you cook the ground beef, add the tomatoes, onions, and spinach and let that simmer for a bit. Pour the mixture over the biscuits and bake! It's as simple as that.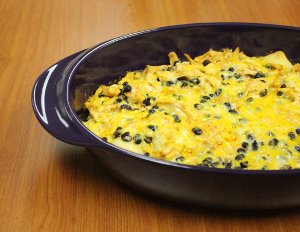 I decided to go Mexican with my second bubble-up casserole. Bubble-Up Chicken Enchilada Casserole was just as tasty (and maybe even more so!). I boiled the chicken so it was easier to shred. Plus, it retained a bit more moisture than if I had baked it in the oven before putting it in the casserole. Once the chicken is cooked, add enchilada sauce, black beans and onions, and mix it all together. The finished product was delicious. If you don't want to take my word for it, then let me tell you that the casserole was gone within ten minutes. Success!
View all of our Test Kitchen recipes, including Orange Chicken Chinese Casserole.
Behind the scenes in our Test Kitchen: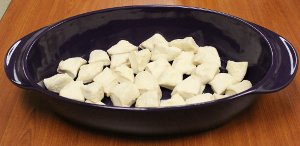 Both bubble-up casseroles begin with a layer of quartered refrigerated biscuits.
Enchilada filling (left) and hamburger filling (right)
Have  you ever made a bubble-up casserole? If so, what kind?
Latest posts by AllFreeCasseroleRecipes
(see all)