Print This Post
I bet you all know pasta Alfredo, the most common pasta shape to be Alfredded being fettuccine. But I bet hardly anyone knows that the original sauce (called al burro in Italy) is nothing but butter and Parmesan – non-aged type which melts easily into the butter. That's right, no cream, garlic or shrimp. And that's how it's been in Rome since 1892.
But as foods migrate away from their birthplace, they either lose the heat (Thai green curry), become easier to handle (hard shell tacos), get adorned with avocado and special mayo (sushi) or acquire plenty of toppings, dressings and extra ingredients (pizza! parmigiana! pasta!).
Of course it's not to say that we should all be super-purists and never let a slice of pineapple go near a pizza pie (or stop calling it a 'pie'). Food is a migrant best traveled and always welcome; and if we throw a fortune cookie in with our dinner of chop suey or chow mein (all largely American inventions), make chicken parm without any aubergines or add cream to Alfredo, we simply create a new version of the old and there's no need to frown.
I'm offering the 'new' classic with cream and all, rest assured, and have added a bit of greenery to it: pasta with spinach is irresistible. It's a dead simple trick of cooking the green veg with the pasta, adjusting the cooking time according to the type of veg and desired cookedness. Here – just a minute or less. Bucatini are also a deviation from the classic but the sauce clings to that fat spaghetti beautifully so I'll say: if it tastes that good, it can't be that bad.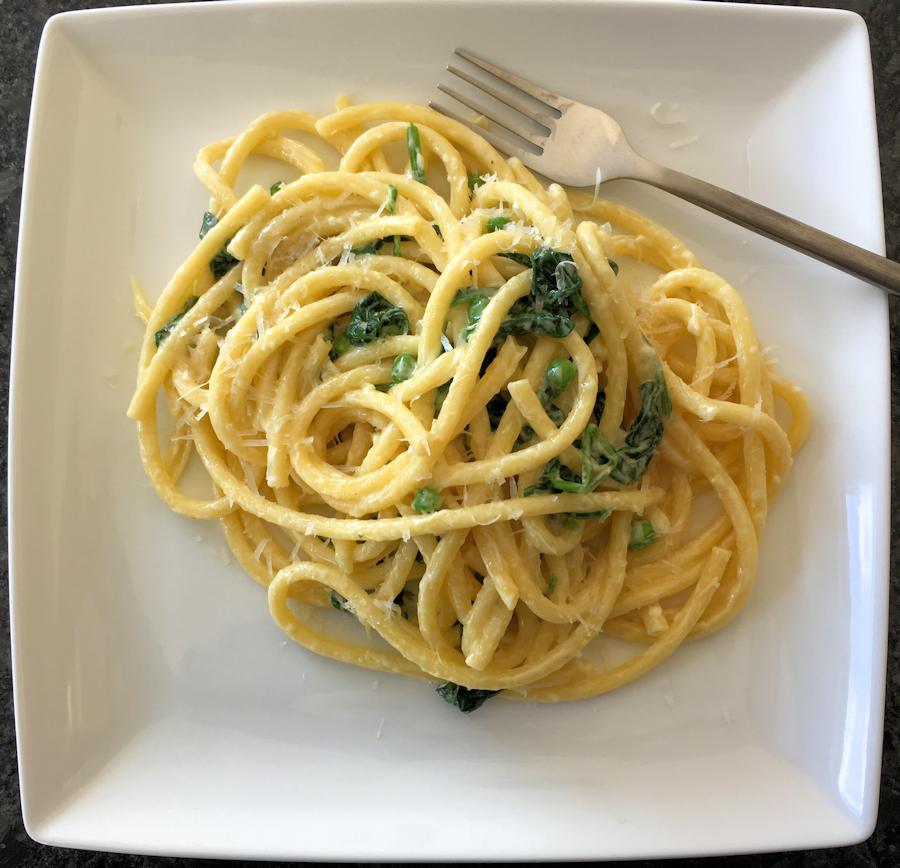 INGREDIENTS
Serves 2
80g (3 oz.) bucatini pasta per person
salt
2 tbsp. butter
1 tbsp. olive oil
1 garlic clove, pressed
¼ tsp white pepper
½ tsp mustard powder
200ml (1 cup) double cream
1 tbsp. cream cheese (optional)
30g (⅓ cup) freshly grated Parmesan
½ cup frozen peas, thawed
50g (2oz.) baby spinach, rinsed
METHOD
Put a large pan of water with plenty of salt on to boil. In a skillet or a shallow pan melt the butter; add the olive oil, garlic, the white pepper and the mustard powder. Let it cook for a minute, then pour in the cream and add the cream cheese, if using – it makes the sauce a little creamier, nothing else.
Let it bubble for a couple of minutes while you cook the pasta according to the package instructions, minus 2 minutes – you want it very much al dente as it will finish off cooking in the skillet.
Add two thirds of the Parmesan to the sauce and let it bubble until thickened and slides smoothly off the sides of the pan.
Just before the end of cooking, add the peas and the spinach leaves to the pasta pan. Drain reserving ½ cup of the cooking water.
Add the pasta with the peas and spinach to the sauce and pour in the cooking liquid.
Turn the heat down and swirl the pasta around in the sauce using tongs until almost all of the liquid has disappeared and the pasta is nicely coated in the sauce.
Divide between serving plates and serve with the remaining Parmesan to sprinkle on the plates.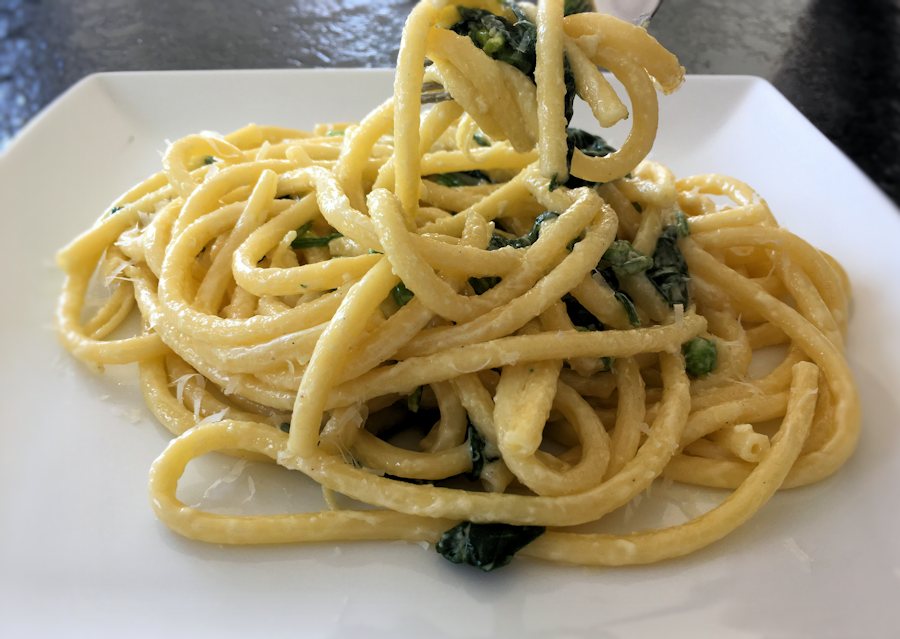 What's your favorite pasta dish?
Anna, aka Cuisine Fiend, lives in the south of England, UK where the climate is dire and a lot of people don't know how to cook even though they watch lots of cookery programmes.
CuisineFiend was born two years ago, from Anna's obsession with food. She didn't get into serious cooking until later in her life, so it's possibly also the product of her midlife crisis. That's right: there are more exciting things one can get up to at that stage in their lives. But Anna's friends and family sure appreciate hers.
The recipes on CuisineFiend are tried and tested in many cases, in some they are the first attempt that turned out fantastic. Anna doesn't have a preference for specific cuisines although she tends to cook predominantly modern European food with fascination towards the Far East. But she makes the Finnish festive loaf, the Moroccan lamb, the Ethiopian bread and the like.
She dislikes modern-day faddish and delusional food trends. Vegetarianism and serious allergies aside, why should we deprive ourselves of good things in moderation? Life's more worth living with bacon in it.
Print This Post