When it comes to spending, Halloween is no Christmas. You don't have to buy ingredients for full meals or expensive presents, which is definitely a good thing because doing that twice a year would be really difficult (especially on your bank account).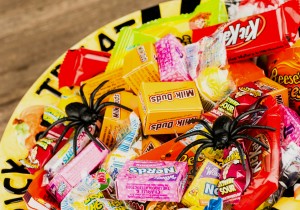 However, you do have to buy costumes, decorations, pumpkins, and candy (among a list of other things). It's just so hard not to spend a ton of money in the days leading up to Halloween because of all of the cute things stores have on their shelves. That, and fall is so gorgeous and comforting that it makes us all want to buy a ton of fall things (like candles. Tons and tons of candles.) It's no wonder that Halloween is the second most expensive holiday (just behind Christmas).
Now, we're in no way trying to scare you or make you fear your bank account balance. We love spending our money on Halloween frivolities and treats as much as the next person. That's why we want to share with you a few of our tips and tricks on getting the most for your money when it comes to buying Halloween candy! You may not need to buy costumes, decorations, or pumpkins, but everyone needs to buy Halloween candy!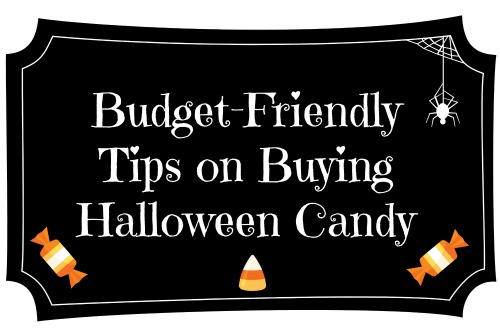 Pay attention to the price per piece of candy.
This point may be a bit self-explanatory, but, if you're looking to get the most bang for your buck, be sure to take note of how many pieces of candy are in the bags you're buying and not just how much each bag costs. Sure, some bags may appear more inexpensive than others but their candy count may be far less than a bag that's about a dollar or so more. Don't be afraid to bring a calculator with you to the store (or to use your phone's calculator function) in order to figure out how much each piece of candy in a bag costs. Simply divide the price of the package by how many pieces are inside (cost/# of candy pieces).
Opt for fun-size candies instead of full-size bars.
Sure, the house that's giving out full-size candy bars is bound to be super popular and frequented on Halloween by everyone in the neighborhood, but giving out full-size candy bars is expensive. Think about it, the more popular your house, the more bars you have to give away, which means that you have to spend more. Buy bags of fun-size candy bars instead! They're perfectly portioned and can be quite a bargain, especially compared to larger candies. Plus, no kids will ever complain about receiving fun-size candy bars. It's a win-win for everyone.
Buy off-brand candies.
They're just as good as recognizable brands. Really. Most off-brands taste exactly the same as their name brand counterparts. They're just more way more affordable. Off-brand candy bags can be dollars less than name brand bags. Plus, they may even include more candy pieces per bag. Kids will take pretty much every kind of candy that you try to give them (except for maybe Bit O' Honeys because, as a kid, nobody knew what that was or was willing to try it). It doesn't matter if they're M&Ms or coated chocolate candies. They'll eat them all the same.
Buy in bulk and/or use coupons.
Buying in bulk is generally one of the cheapest ways to shop, so it shouldn't be a surprise that we recommend you do so when buying Halloween candy. Stores like Costco and Sam's Club always have large bags of candy that are a pretty good deal for how many pieces each bag. Combined with coupons, this is definitely one of the most budget-friendly ways to shop for your Halloween candy.
Take a trip to the nearest Dollar Store or Aldi.
Need only a few bags of candy? Check out the Dollar Store or Aldi! They're bound to have affordable options that fit your needs. For instance, we bought a good-sized bag of caramel apple salt water taffy from the Dollar Store a few weeks ago and it was only $1.00. While these stores may not be the best for buying in bulk, they're a good way to add in a bit of variety to your candy hoard.
Make a point of buying all of your Halloween candy at once.
Every October, my mom will pick up a bag or two every time she visits the grocery store. She's done this since I was a kid. There are a few problems with this. First, she's definitely over-spending on Halloween candy. A bag or two here and there usually adds up to more bags than she actually needs to buy, which means she's spending more money on Halloween candy than she should (especially if she forgets her candy coupons). Not that I ever complain about leftover Halloween candy, but sometimes we just have too much. Another problem is that you might buy a bunch of the same kind of candy because you can't remember what kinds you bought before. If you make a plan to buy all of your candy at once, you'll be saving yourself a lot of time and money.
Buy candy that you like!
Realistically, you're bound to have leftover candy. It happens, especially if you're trying to buy enough bags so that you don't run out. So, instead of wasting your money on candy you don't like and might be stuck with, buy sweets that you'll eat. That way, you won't be stuck with bags of unwanted candy after the night is over. Instead, you'll have candy for grazing in November when the holiday isn't all about sweet treats anymore. This brings us to our next point…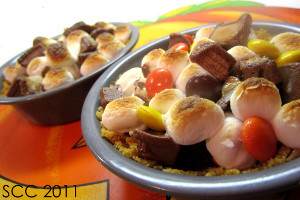 Don't let your Halloween candy go to waste. There are tons of dessert recipes with leftover Halloween candy that you can make!
Can't possibly eat all of that extra candy you'll have laying around after Halloween? Bake it into something delicious instead! There's a wide variety of desserts that you can make with all of the candy that you bought for trick or treaters, including cookies, cheesecakes, and pies! Not to brag, but we have quite a large collection of recipes using leftover Halloween candy that you should check out. Baking with leftover Halloween candy is like recycling, except much more delicious.
If all else fails and you're really strapped for cash, buy clearance candy at the end of the season.
Stores always put a lot of their Halloween candy bags on sale come November 1st. They just don't sell all that many of those kinds of bags after Halloween. So, when they're on sale, go ahead and pick up a few. In general, candy really doesn't go bad all that quickly. A lot of the kinds that you can find on clearance will actually stay good until next Halloween. Just be sure to do a bit of research on which candies stay the best so that you're not stuck with bad candy by the time next Halloween rolls around.
(We also suggest checking to see if Halloween candy is on clearance the day before or the day of Halloween at your local stores as well. Many times, they are cheaper at that point because stores figure that people have already bought their fair share.)
According to QuickenLoans, the average American spends about $44 every year just on Halloween candy. Hopefully we'll be able to save you a bit of money with these budget-friendly tips on buying Halloween candy!
What budget-friendly tips do you have when it comes to buying Halloween candy?
Latest posts by TheBestDessertRecipes
(see all)