Hello fellow food enthusiasts. Thanksgiving is coming up next week. Are you excited?! I can't wait. Green bean casserole, stuffing, mashed potatoes…oh my! I have not hosted Thanksgiving myself yet, so I've never had the joy/burden/daunting task of making the turkey. That has always been left to the pros – and by pros, I mean my parents and grandparents. But, I have to learn someday.
Recently, I had the pleasure of attending a cooking class at Sur la Table entitled Ina Garten's Simply Delicious Thanksgiving. We learned how to make four dishes for a Thanksgiving feast: Roasted Butternut Squash with Warm Cider Vinaigrette, Roast Turkey with Truffle Butter, Mashed Potatoes with Homemade Gravy, and Pumpkin Banana Mousse Tart.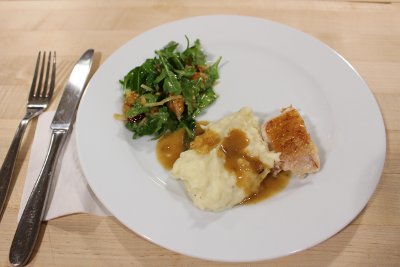 I enjoyed the class very much. I'm sure you already know how to make a turkey and mashed potatoes, so I'm going to share the other two recipes today (found below). The first is a roasted butternut squash salad with a warm vinaigrette dressing. The tender butternut squash added a real nice flavor and the texture contrasted the arugula nicely. This salad has a fall touch, and I think it would be a nice one to serve at Thanksgiving this year. The second recipe is dessert. I don't know about you, but I love dessert. Like the salad, this recipe also has a fall touch. Pumpkin Banana Mousse Tart is lighter than a pumpkin pie and I found it to be extremely delicious. If you can fit another dessert at your Thanksgiving table, I recommend this one.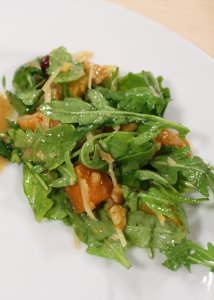 Roasted Butternut Squash with Warm Cider Vinaigrette
*Recipe courtesy of Ina Garten
Yield: 4 servings
1 (1 -1/2 pound) butternut squash, peeled and 3/4-inch diced
olive oil
2 tablespoons pure maple syrup
Kosher salt and freshly ground black pepper
3 tablespoons dried cranberries
3/4 cup apple cider or apple juice
2 tablespoons cider vinegar
2 tablespoons minced shallots
2 teaspoons Dijon mustard
4 ounces baby arugula, washed and spun dry
1/2 cup walnut halves, toasted
3/4 cup freshly grated Parmesan cheese
Preheat the oven to 400 degrees F.
Place the squash on a sheet pan. Add 1 tablespoon olive oil, maple syrup, 1 teaspoon salt, and 1/2 teaspoon pepper and toss. Roast the squash for 15 to 20 minutes, turning once, until tender. Add the cranberries to the pan for the last 5 minutes.
While the squash is roasting, combine the apple cider, vinegar, and shallots in a small saucepan and bring to a boil over medium-high heat. Cook for 6 to 8 minutes, until the cider is reduced to about 1/4 cup. Off the heat, whisk in the mustard, 1/2 cup olive oil, 1 teaspoon salt, and 1/2 teaspoon pepper.
Toast walnuts in a dry saute pan over medium-low heat for 4 to 5 minutes , tossing frequently until lightly browned.
Place the arugula in a large salad bowl and add the roasted squash mixture, walnuts, and grated Parmesan. Spoon just enough vinaigrette over the salad to moisten, and toss well. Sprinkle with salt and pepper and serve immediately.
This salad was very good and full of fall flavors. The warm, roasted butternut squash paired well with the cold arugula. This salad  would fit in well at a holiday dinner.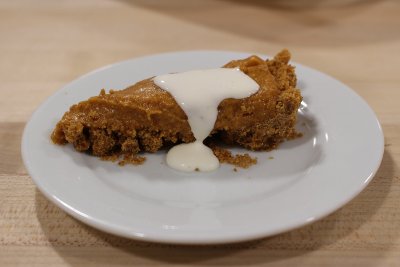 Pumpkin Banana Mousse Tart
*Recipe courtesy of Ina Garten
Yield: 10 servings
For the crust
2 cups graham cracker crumbs (about 14 crackers)
1/3 cup sugar
1/4 teaspoon ground cinnamon
1/4 pound (1 stick) unsalted butter, melted
For the filling
1/2 cup half-and-half
1 15-ounce can pumpkin puree
1 cup light brown sugar, lightly packed
3/4 teaspoon kosher salt
1/2 teaspoon ground cinnamon
1/4 teaspoon ground nutmeg
3 extra-large egg yolks
2 packages (4 teaspoons) unflavored gelatin
1 ripe banana, finely mashed
1/2 teaspoon grated orange zest
1/2 cup cold heavy cream
2 tablespoons granulated sugar
For the decoration
1 cup (1/2 pint) cold heavy cream
1/4 cup sugar
1/4 teaspoon pure vanilla extract
orange zest (optional)
Preheat the oven to 350 degrees F.
Combine the graham cracker crumbs, sugar, cinnamon, and butter in a bowl and mix well. Pour into an 11-inch tart pan with a removable bottom and press evenly into the sides and then the bottom. Bake for 10 minutes and then cool to room temperature.
For the filling ,heat the half-and-half , pumpkin, brown sugar, salt, cinnamon, and nutmeg in a heat-proof bowl set over a pan of simmering water until hot, about 5 minutes. Whisk the egg yolks in another bowl, stir some of the hot pumpkin into the egg yolks to heat them, then pour the egg-pumpkin mixture back into the double boiler and stir well. Heat the mixture over the simmering water for another 4 to 5 minutes, until it begins to thicken, stirring constantly. You don't want the eggs to scramble. Remove from the heat.
Dissolve the gelatin in 1/4 cup cold water. Add the dissolved gelatin, banana, and orange zest to the pumpkin mixture and mix well. Set  aside to cool.
Whip the heavy cream in the bowl of an electric mixer fitted with a whisk attachment until soft peaks form. Add the sugar and continue to whisk until you have firm peaks. Pipe or spook the whipped cream decoratively on the tart and sprinkle, if desired, with orange zest. Serve chilled.
This pumpkin mousse tart was delicious and is a great alternative to pumpkin pie. The banana flavor is almost undetectable. It had more influence on the texture rather than the flavor. The flavor of the orange zest, however, was undeniable. The tart was loved by both pumpkin lovers and non-pumpkin lovers. Pumpkin lovers enjoyed the pumpkin mousse, and non-pumpkin lovers were distracted by the orange flavor to notice the pumpkin. 
 Do you ever make new Thanksgiving recipes or do you stick to the same ones every year?
Latest posts by AllFreeCasseroleRecipes
(see all)