Simple fall flavors come together in one quick and easy dessert! These Butterscotch Pecan Cake Mix Cookies are soft, chewy, and absolutely perfect for the season!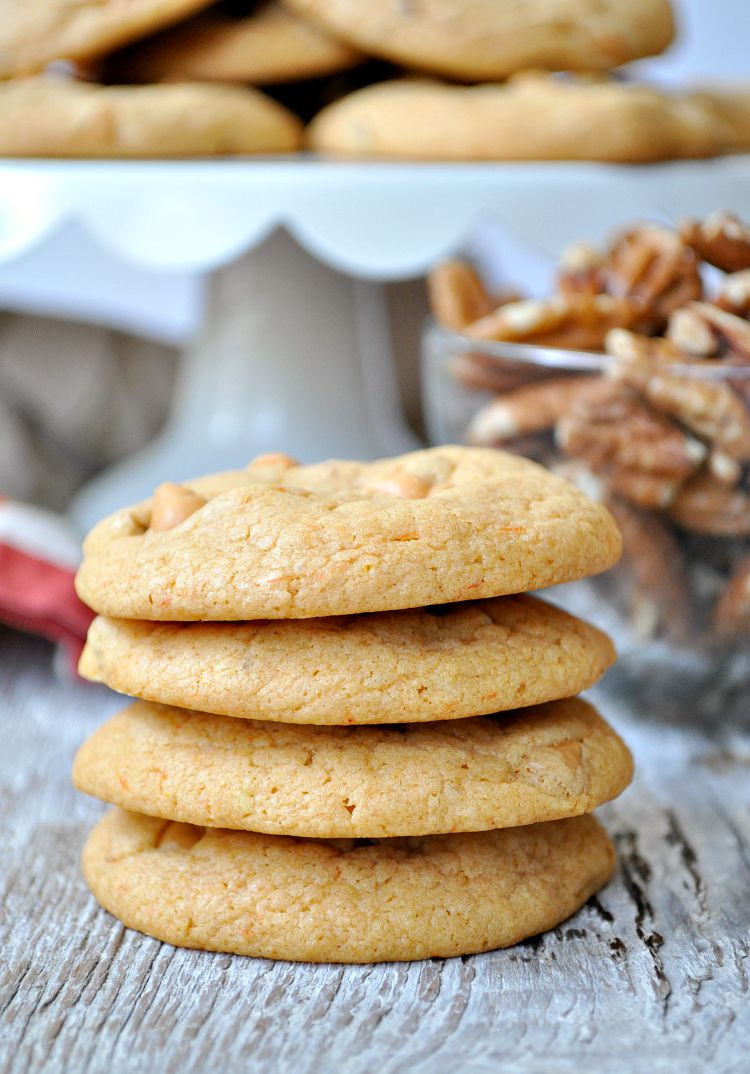 Hi, friends! I'm so glad to be visiting again this week from The Seasoned Mom with another delicious fall treat!
Who doesn't LOVE a soft, tender, and chewy cookie? And how about one that you can enjoy warm from the oven in less than 30 minutes? Thanks to some help from a couple of short-cuts, these sweet little gems are quick and easy to prepare, and they turn out perfectly every time.
When I think of fall, apples and pumpkins obviously come to mind. But so do pecans and butterscotch! I'm not sure why, but the two flavors seem cozy and warm to me…and they pair perfectly together.
It's a flavor combination that I wouldn't necessarily deem kid-friendly, but my boys always surprise me. In fact, while I was shooting some photos of these cookies, my younger two boys were playing in the living room. In the blink of an eye, Spence swooped in, grabbed a cookie, and snuck a bite before I knew what had happened.
He was very pleased with himself (and with the taste of the cookie), so he grabbed another and took off running!
I was too busy laughing (and taking pictures) to get upset! Once he realized that this was okay, big brother Casey grabbed one two. This boy will never miss an opportunity to eat a cookie!
All 3 of my young boys (plus my husband) devoured these cookies. The entire batch was gone in two days, and I'm thinking that it's about time to whip up some more. If you happen to have a spare cookie or two leftover, they will also freeze well…but I wouldn't know that from experience!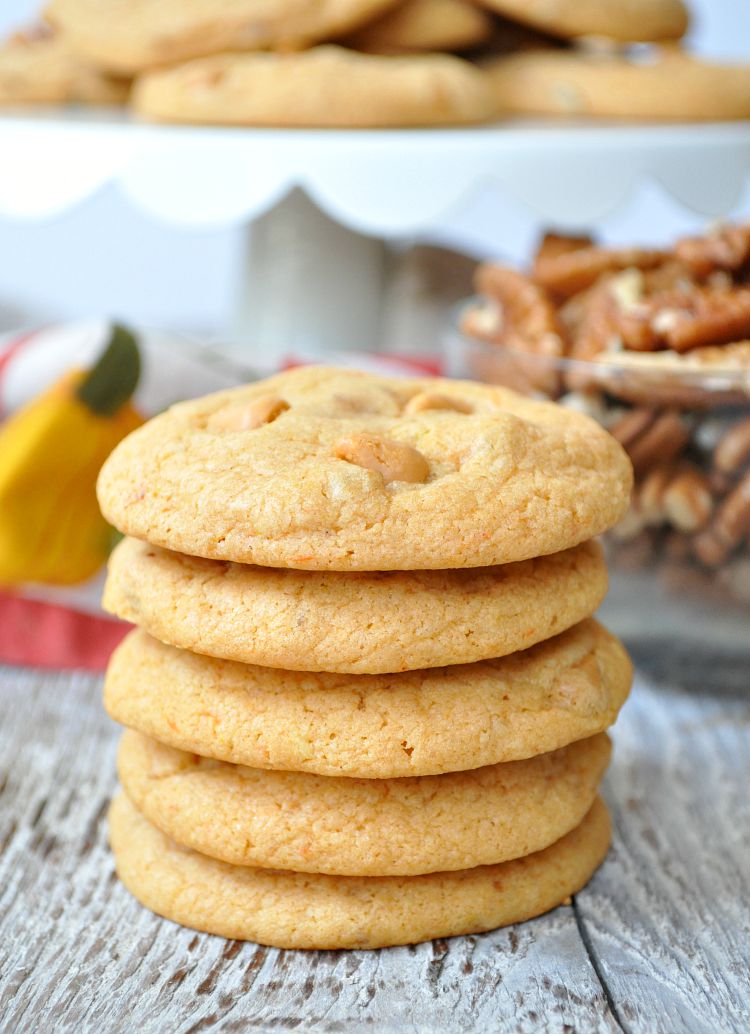 Butterscotch Pecan Cake Mix Cookies
Prep: 10 minutes
Bake: 10 minutes
Yield: Approximately 36 cookies
Ingredients:
1 yellow cake mix
1 (3.4 ounce) package Butterscotch Instant pudding mix (just the dry mix)
2 eggs
½ cup canola oil
1 Tablespoon milk
½ cup finely chopped pecans
½ cup butterscotch chips
Instructions:
Preheat oven to 350 degrees F.
Line baking sheets with parchment paper or spray with cooking spray and set aside.
In a large bowl, whisk together cake mix and pudding mix. In a separate bowl, whisk together eggs, oil, and milk. Add wet ingredients to dry ingredients and mix on medium speed until just combined and a thick batter forms.
Gently fold in pecans and butterscotch chips.
Drop batter by teaspoons onto prepared baking sheets.
Bake for approximately 10 minutes. The cookies should still be soft when you remove them from the oven (they will firm up as they cool, but will still remain soft and chewy).
Allow cookies to cool completely on wire racks.
Looking for more delicious fall treats? Try Mom's Favorite Butterscotch Pecan Muffins, Glazed Honey Bun Breakfast Cookies, or this Old-Fashioned Apple Spice Cake.
Have you ever tried cake mix cookies?
Latest posts by Blair Lonergan
(see all)