I'll fess up…I love sweet coffee drinks. It's almost impossible for me to sip on a mug of hot black coffee. I'm a girl who needs some serious cream and sugar. Therefore, it's only fitting that I'm a lover of all things Caramel Macchiato, and let me tell you…these Caramel Macchiato Cookies are absolutely divine. They are so rich, so creamy and wildly easy to make. They're gorgeous too, so your friends and family will immediately be impressed.
The holidays will be here before you know it—just four more months, if you can believe it! Cookie exchanges are something you should definitely start doing with your friends and family if you haven't had one already. It's a wonderful chance to get together, laugh, and tell old stories over a mug of hot cocoa and a plate of sweet cookies. For your cookie exchanges and holiday get togethers, be sure to bring over a batch of these Caramel Macchiato Cookies! They're too easy to not make and too good to not enjoy. See for yourself with the recipe below!
Caramel Macchiato Cookies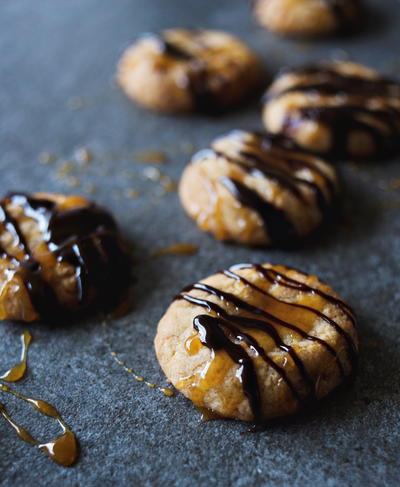 Ingredients:
2 teaspoons instant espresso powder
1 tablespoon hot water
1 (17.5-ounce) bag sugar cookie mix

1

/4 cup all-purpose flour

1

/2 cup unsalted butter, melted
2 teaspoons vanilla extract

1

/4 teaspoon salt
1 large egg
1 (12.25-ounce) jar caramel sauce
1 (11.75-ounce) jar hot fudge sauce
Instructions:
Preheat the oven to 350°F. Coat two baking sheets with cooking spray. Set aside.

In a small bowl, dissolve the espresso powder into the hot water.

In a large bowl, combine the cookie mix and flour. Stir in the espresso mixture, butter, vanilla, salt, and egg until a soft dough forms.

Roll the dough into 1 1/2-inch balls. Place on the baking sheets and bake for 8 to 10 minutes. Transfer to wire racks and cool completely. Lightly drizzle with caramel sauce and hot fudge. Place the cookies in the fridge for 5 to 10 minutes before serving to set the drizzle. Serve.
What is your favorite kind of cookie to make for cookie exchanges? Let us know below in the comments!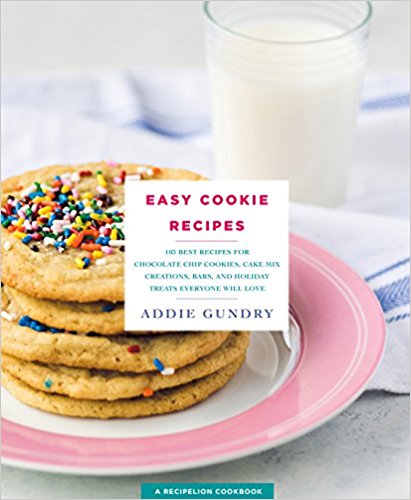 This recipe for Caramel Macchiato Cookies is from RecipeLion's 103 Cookbook series, Easy Cookie Recipes:103 Best Recipes for Chocolate Chip Cookies, Cake Mix Creations, Bars, and Holiday Treats Everyone Will Love. Be sure to order yourself a copy from Amazon to create sweet & delicious cookies for your holiday cookie exchanges!
Latest posts by MrFoodTestKitchen
(see all)