Bacon. Out of all of the great recipes on our site, the casseroles with bacon seem to be some of our favorites. There's just so much to love about bacon. The way it smells while it's cooking, its smoky flavor, the way it adds a bit of crunch to every meal… Well, you get the idea. But the best thing about bacon is that it's so versatile. While it is traditionally a breakfast food (one of the best, if we do say so ourselves), it can also be a great addition to dinner recipes, and even desserts (Maple Bacon Blondies, anyone?). I mean, if you just type "bacon" into AllFreeCasseroleRecipes.com, you'll get more than 100 results of delicious casseroles with bacon. After all, casseroles are some of the easiest meals to whip up and bacon is just plain delicious. Put these two things together and you've got some of the best meals you will ever taste. Seriously people, what's not to love?
So, we here at AllFreeCasseroleRecipes.com decided to share with you some of our favorite casseroles with bacon. Yes, about half of them are breakfast casseroles, but be sure to check out our dinner casseroles with bacon as well. We have a feeling you might just love them as much as we do.
Breakfast Casseroles with Bacon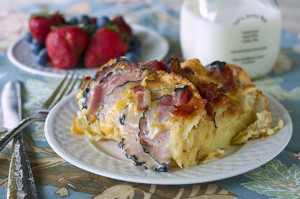 Bacon, Ham, and Cheese Breakfast Bake (shown above) — Spoiler alert: This recipe uses french bread too, so it's like a breakfast sandwich but better.
The Best Breakfast Casserole — It's everything you ever wanted in a breakfast casserole and more. After all, we don't call it the "best" for nothing.
Bacon, Egg, and Cheese Casserole — This recipe makes enough for one serving so feel free to be selfish with your bacon. If somebody else wants some, they can make their own.
Make-Ahead Baconage Casserole — What's "baconage," you ask? It's sausage and bacon. Combined. Yes, it's just as great as it sounds.
Dinner Casseroles with Bacon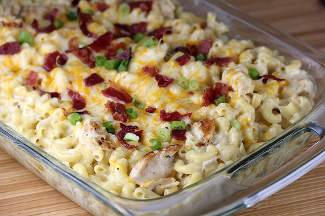 Chicken Bacon Ranch Mac and Cheese (shown above) — Chicken bacon ranch is a winning combination on its own, but when you add mac and cheese, it's the heavyweight champion of the world.
Loaded Potato Buffalo Chicken Casserole — Everyone knows that the best part of a loaded baked potato is the bacon. This chicken casserole recipe is no different.
Classic Cheddar Bacon Macaroni and Cheese — This casserole with bacon includes two of the best comfort foods in one dish. Enough said.
Bacon Ranch Potatoes — Even though it's just a side dish, this casserole with bacon is so good you'll probably end up eating it as your main course. Don't say we didn't warn you.
Bacon Pesto Pasta Bake — FYI, this one is our absolute favorite!

While you're at it, check out these tasty casseroles with bacon from other bloggers:
Steak and Bacon Pasta Bake
Cheesy Potato Bacon Brown Betty
What are your favorite casseroles with bacon? Drop us a line in the comments below!
Latest posts by AllFreeCasseroleRecipes
(see all)