Deep dish pizza. Garrett's Popcorn. Chicago-style hot dogs. There's nothing quite like Chicago food. While our eats may look pretty average to the rest of the country (and possibly the world), we have some of the best food here in the Windy City.
While I'm always proud of my favorite city, I'm always the most excited for Chicago when special events throw us into the spotlight. It's a time for us to put our best foot forward and really revel in all of the buzz. In my opinion, our best foot happens to be Chicago food.
Insurgent, the second film in the Divergent trilogy, hits theaters this Friday and I couldn't be more excited. Not familiar with the film? Here's the most recent Insurgent trailer for reference:
Based on the novel by Veronica Roth,
Insurgent
takes place in a future, semi-post-apocalyptic Chicago. In fact, Chicago is really a character in and of itself in the story. Familiar buildings and landmarks serve as the background for all of the intense action and there are even a few Chicago foods mentioned every once in a while (I swear there's a
Portillo's chocolate cake
reference!).
In anticipation of seeing our beautiful city on the silver screen once again, I thought it would be fun to round up all of my favorite Chicago food recipes for all of you who don't have the luxury of just hopping in your car or on a train to grab some classic Chi-town eats. I guarantee that these easy recipes are as close as you can get to eating actual Chicago food! They're sure to make you want to start singing "Sweet Home Chicago"!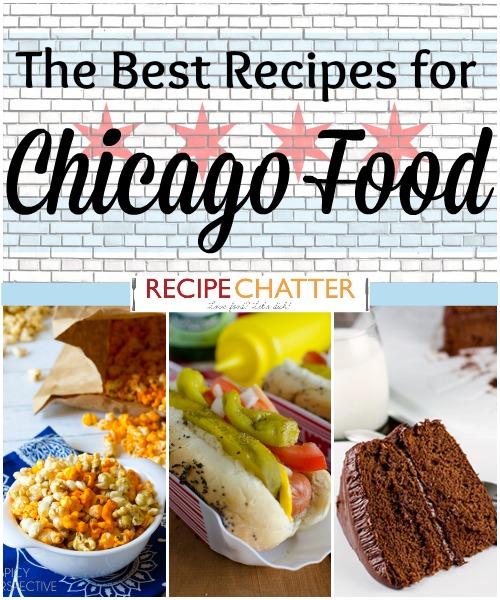 Savory Chicago Mainstays
Gino's East Deep Dish Pizza
Chicago Style Italian Beef Sandwich
Chicago-Style Chicken Vesuvio
Chicago-Style Italian Roast Beef
Chicago-Style Hot Dog – No ketchup allowed!
Copycat Old Chicago Pepperoni Rolls
Chicago-Style Barbecue Ribs
Copycat Portillo's Chopped Salad
Chicago Deep Dish Pizza
Sweet Home Chicago Foods
Copycat Garrett's Chicago Mix Popcorn
Refreshing Chicago Lemonade
Homemade Portillo's Chocolate Cake
Homemade Dunkin' Donuts Munchkins
Copycat Portillo's Chocolate Cake Shake
What's your favorite classic Chicago dish?
Latest posts by AllFreeCopycatRecipes
(see all)