May is known as National Vinegar & National Salad Month, and even though there are only a few days left, we wanted to take advantage of them and celebrate it! Now that the weather has finally warmed up, a nice salad sounds absolutely refreshing – especially since many of us are trying to shed that excess polar vortex weight.
We made a salad with spinach leaves, peppers and cherry tomatoes, and topped it off with a delicious poppy seed dressing, using two of Pompeian Olive Oil's top-selling products: their Extra Virgin Olive Oil and Pomegranate Infused Red Wine Vinegar. The dressing was a heavenly combination of sweet and tangy, and it was the perfect way to jazz up this salad. There's no healthier, delightful way to welcome the summer!
Read below for the full poppy seed dressing recipe, and comment below this post for a chance to win a Pompeian Olive Oil & Vinegar prize set!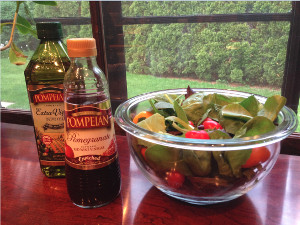 Pompeian Poppy Seed Dressing
Ingredients:
1 Tbsp. poppy seeds
1/2 tsp. prepared mustard
1/4 cup Pompeian Pomegranate Infused Red Wine Vinegar
1/4 tsp. coarsely ground black pepper
1/4 tsp. salt
2 medium garlic cloves, minced
2 Tbsp. Pompeian Extra Virgin Olive Oil
3 Tbsp. sugar or pourable sugar substitute, such as Splenda
Preparation:
Combine all ingredients in a bowl and whisk well. Or, combine ingredients in a jar, secure with a tight-fitting lid and shake vigorously.
Win a Pompeian Olive Oil & Vinegar Prize Set!
We are giving away Pompeian Olive Oil & Vinegar prize sets to three (3) lucky winners. You can make all sorts of salad dressings with them, and they'll really hit the spot on a hot summer day. All you have to do is answer the question below this post!
The Fine Print:
Contest open to US and Canada residents 18+.
Leave a comment on this blog post answering the question below to enter.
One comment per person, please answer the question below.
You have until 11:59pm ET next Friday, June 6, 2014 to enter the contest.
We'll be picking three winners, so be sure to check your email frequently to see if you're one of them!
What is your favorite salad dressing?
Latest posts by FaveHealthyRecipes
(see all)