Yesterday, TheBestDessertRecipes.com and FaveGlutenFreeRecipes.com teamed up to celebrate Harry Potter and author J.K. Rowling's birthdays in style. We decided to whip up one of the best Harry Potter recipes around: Just-Like-Hogsmeade's Butterbeer from The Pastry Affair. Just look at how delicious this butterbeer recipe looks. Is your mouth watering yet? Ours certainly was.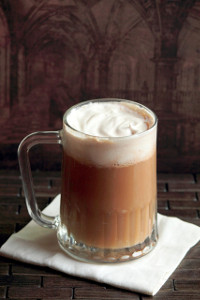 You may remember seeing this particular Harry Potter butterbeer recipe on our "Introducing… TheBestDessertRecipes.com!" blog post a little over a week ago. One of the reasons why we chose to make this butterbeer recipe is because of how easy it is to whip up. We already had most of the ingredients in our pantry, and those that we needed to shop for were very easy to find. We also chose this recipe because it's honestly as close as you can get to buying a mug of butterbeer from The Wizarding World of Harry Potter in Universal Studio's Islands of Adventure. Plus, it just happens to be gluten free, so even those with a gluten intolerance can enjoy a mug of butterbeer. We couldn't believe how much this drink tasted exactly like we thought it would.
This butterbeer recipe has just the right amount of sweetness, thanks to a homemade brown sugar syrup that you can make right on your stove. We haven't had a chance to go out and buy a candy thermometer yet, so we were really pleased that the butterbeer recipe also gave directions for those of us who were thermometer-less. After we made the brown sugar syrup, whipped up the butterbeer whipped cream, and opened our cream soda, all we had to do was pour the drink into cups for everyone!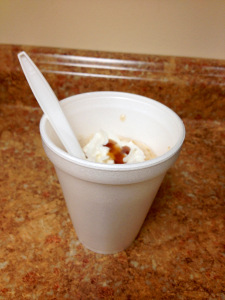 The syrup mixed really well with the cream soda, creating a pleasant and slightly butterscotch-like flavor. The addition of the whipped cream on top made us feel like we were drinking a frothy cream soda float. We had a little bit of the syrup left over after pouring glasses for everyone, so we decided to put a little drizzle on top of each serving. Unfortunately, we didn't have pint glasses or even pretty glasses to share the final product of the butterbeer recipe, but you can still see it's warm, golden color. Just looking back at our pictures makes our mouth water and our craving for butterbeer come back in full force.
Even though Harry's birthday was yesterday, we encourage you to whip up this easy and delicious butterbeer recipe today. After all, he's "The Boy Who Lived." Even his un-birthdays are definitely worth celebrating!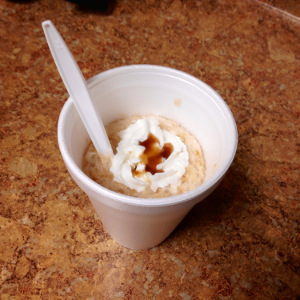 What's the best butterbeer recipe that you've ever tried?
Latest posts by TheBestDessertRecipes
(see all)