I just finished making Copycat Cracker Barrel Hash Brown Casserole in my new Chantal oval baking dish. I don't know which one I love more! So, before I decide, I'll tell you the big news. This October, we will be giving away 3 (three) Chantal oval baking dishes. Keep on reading to learn more about this great baking dish (valued at $55) and how you can win one for free.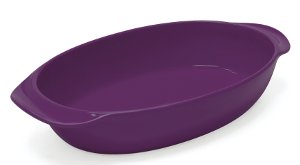 The Chantal Classic Oval Baker is a terrific addition to any kitchen. It measures 14″ x 10″ x 2.75″ and has a 4.5 quart capacity. Its ergonomic handles make it easy to grip the dish and carry it from place to place. When I picked up the dish to put it in the oven, I noticed the different design and really enjoyed it. It's a small change, but it felt so comfortable and natural.
The Chantal bakeware collection produces even baking because the products are made from high quality stoneware. I can attest to this, since my hash brown casserole heated evenly. Another benefit of the Classic Oval Baker is that it is dishwasher, oven, microwave, and freezer safe. I love hearing that. It's extremely useful to have dishes that are everything-safe, especially when it comes to casseroles.
Our giveaway is not running until October, but I wanted to write this post early for a special reason. The Classic Oval Baker is part of Chantal's MEMORY Collection, which benefits the Alzheimer's Association. September is World Alzheimer's Month, so what better time to talk about this special collection. Chantal is going to donate five to ten percent of sales on the MEMORY Collection Classic Oval Baker to the Alzheimer's Association. Chantal's founder and CEO, Heida Thurlow, has a husband living with the disease, so the issue is near and dear to her heart. You've probably noticed this casserole dish is a beautiful shade of purple. Purple happens to be the official color of the Alzheimer's Association. Coincidence? I think not.
Giveaway
We will be giving away 3 (three) Chantal Classic Oval Bakers at the end of October. You can find more information on our Upcoming Giveaways page as the date approaches. Like our other giveaways, you will be able to enter once daily throughout the two weeks.
If you can't wait until October or would like to support the Alzheimer's Association, visit Chantal's website to buy a product from their MEMORY Collection today.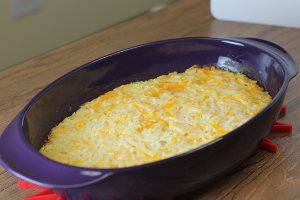 P.S. Here's that hash brown casserole I wrote about earlier! The office loved it and devoured the cheesy potatoes within ten minutes. Get the recipe for Copycat Cracker Barrel Hash Brown Casserole. This 5-ingredient casserole was super simple to make. There is little prep work to do, and most of the time is spent baking in the oven.
What would you make in the Chantal Classic Oval Baker?
Latest posts by AllFreeCasseroleRecipes
(see all)