With the new year upon us, we thought we would take the time to bring you some of our favorite cheap eats that will have you saving money and eating great. If you're like us, you have quite a few resolutions to do this year. They may be to eat healthier, to cut out some sweets from your diet, or to finally stay on a budget. And if you're even more like us, you've probably already cheated once or twice, and splurged.
At RecipeLion, we've come to notice that it's easy to stay on a budget and still eat great food if your frugal recipes are absolutely delicious. And there is one ingredient that is great all year round, cheap, and absolutely delicious – cabbage.
The Benefits of Cabbage
Some of you may be thinking, "ew, cabbage," but you really do have to believe us that getting past the smell of cooked cabbage is the hardest part.
Cabbage is not only inexpensive, but is also loaded with nutrients and vitamins. Cabbage is abundant in vitamin C, even more so than oranges, meaning that it is a great anti oxidant that helps fight off the common cold. So, if you make yourself a pot of cabbage soup while you are sick, you're not only fighting the cold, but also eating on a budget.
Low in sodium and  calories, cabbage recipes do more than just save you money, they also keep you healthy. A serving size of cooked green cabbage is 1/2 cup with only 16 calories, 6 mg of sodium, and 1.4 g of your daily dietary fiber. Plus, cabbage detoxifies the body from toxins and purifies the blood. It's a great way for you to start your year off clean.
Cabbage Recipes for the New Year
With all of the benefits of cabbage, we knew that we had to put together a collection of some of our best cabbage recipes. Great for the new year, stay true to your resolutions with the help of cabbage.
Easy Cabbage Soup Recipes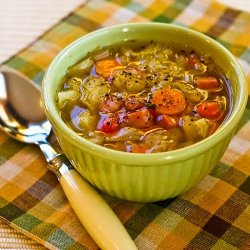 Ham and Cabbage Soup with Red Bell Peppers – Loaded with fresh vegetables, it is a great bowl of comfort soup.
Weeknight Cabbage Soup for Two Loaded – Ready in minutes it s a cabbage soup recipe perfect for a busy day.
Ham and Potato Cabbage Soup – A great Campbell's Soup recipe that is loaded with quick ingredients the family will love.
Ultimate Healing Soup – Great when you are feeling under the weather.
Simple Cabbage Recipes for Dinner
Old Family Cabbage Roll Recipe – Cabbage is wrapped around ground beef and rice and topped with a tangy tomato sauce.
Asian Cabbage Noodle Salad – Light and refreshing, it is a perfect dish for lunch.
Easy German Hot Pot – A great cabbage recipe made in one pot for an easy clean up and a great taste.
Chicken and Cabbage A quick dish made with red cabbage that will have you coming back for more.
Slow Cooker Cabbage Stew – Toss it in the slow cooker and let it work its magic.
Cabbage Casserole – This is an easier version of stuffed cabbage… perfect for busy weeknights!
We hope that you enjoy all of these great recipes and keep on track this new year. If you are looking for more budget recipes, be sure to check out our "Frugal Recipes: 26 Easy Ground Beef Recipes for Dinner" free eCookbook. Enjoy!
What was your New Year's Resolution?
Latest posts by RecipeLion
(see all)