Aaahhh, cheesecake. Though it's hard choosing a favorite dessert, I think I can safely say that cheesecake is in my top 5. I love the creamy yet firm texture and all the flavors it can take on. If I could eat cheesecake for breakfast without putting on the pounds, I would. And speaking of cheesecake for breakfast, I had the pleasure of attending Eli's Cheesecake Social Media Breakfast last week. I listened to Eli's Cheesecake Company President Marc Schulman talk about the company, met vendors who supply products to Eli's, did a chocolate taste test, and decorated a cheesecake. It was a fun-filled morning and, as National Cheesecake Day was July 30, very appropriate.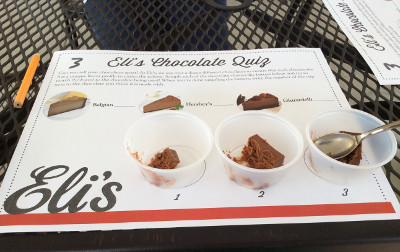 The Eli's Cheesecake Co. Bakery Cafe and Retail Store & Corporate Office is located in Chicago. I think it's so great that their whole company is located in one area. Having the factory and corporate office in the same place makes communication and the overseeing process much easier. Plus, it made our tour easier : ) We sat on the cafe's outside patio for the chocolate taste test. It was fun but harder than it sounds. We tried three chocolate cheesecakes – made with Belgian, Hershey's, and Ghirardelli chocolate – and had to decide which was which. I only got one correct. Actually, out of our whole group, only two people matched all three correctly. See, harder than it sounds.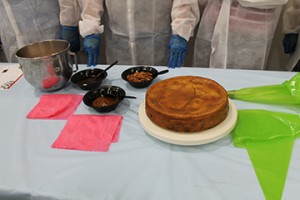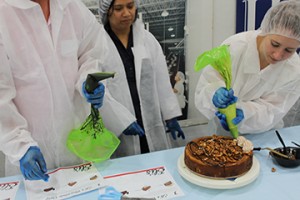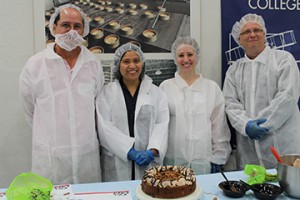 Our next activity was decorating an Eli's Cheesecake! After watching the pastry chef decorate a turtle cheesecake, we decorated our own the same way. My team didn't win, but we still made a beautiful cheesecake that a team member got to take home. All in all, it was a great day at Eli's!
Our most popular cheesecake recipes:
Other Cheesecake Recipes:
Blogger Cheesecake Recipes We Love:
Mint Chocolate Chip Cheesecake from Pip and Ebby
Chocolate Chip Cookie Dough Cheesecake from Amy's Healthy Baking
What's your favorite type of cheesecake?
Latest posts by RecipeLion
(see all)