The Chicago Gluten and Allergen Free Expo was held last weekend, April 20-21, and I had the good luck to get ahold of a ticket.   As an editor of FaveGlutenFreeRecipes.com, I was interested to see what local companies could offer up in way of gluten-free products. I wasn't sure what to expect when I walked into the Schaumburg Renaissance Convention Center on a warm Sunday morning, but what I found was a delightful mix of people all dedicated to the same thing: healthy food that tastes good.

The convention celebrated local and national food companies that produce food products and services that are allergy friendly.  These progressive companies, in short, are hard at work developing delicious foods that are free of some of the more unfortunate additives most companies fall back on when making their products.   As I walked through the brightly colored booths, I was pleasantly surprised by the variety and quality of the foods being offered.  Almost all of the companies had brought samples of their products, and I happily helped myself to bite after bite of tasty gluten free foods.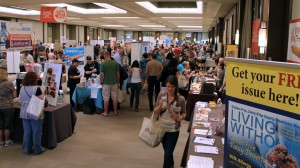 At each booth I stopped and chatted with the company representative, and, after meeting several different people, I started to notice a pattern.  Everyone was wildly enthusiastic to be in at the Expo, and everyone was incredibly enthusiastic about their products.  They could tell me what local stores had their products, and the numerous virtues of the high quality, often non-GMO, ingredients used in everything from chips to cookies.  The future of the gluten free community seems to be in good hands!  If there's one thing I learned at the Expo, it's that these people care about their food and how it tastes.
I can't believe how many gluten-free companies showed up for the Expo!  I did my best to stop at every booth.  There were an incredible number of people who attended the expo, and I was so happy to see so many people interested in the gluten-free lifestyle.  I left the conference with the happy knowledge that the gluten-free community is full of wonderful people, and with a huge swag bag for you, our readers!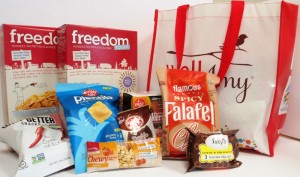 We're giving this lovely swag bag to one of our lovely readers.  It contains everything you see in the picture below, and more (really).  You'll get three tote bags, tons of gluten-free samples, and a fat stack of coupons for all of your favorite gluten-free products.
The Fine Print:
Contest open to US and Canada residents 18+.
One comment per person, please answer the question below.
Contest closes Monday, May 13, 2013 at 11:59p CST.
Leave a comment on this blog post to enter.
The winner will be posted on RecipeChatter.com and notified by email.
 What's your favorite gluten-free recipe?
Latest posts by FaveGlutenFreeRecipes
(see all)