Pot pies are one of the best kinds of comfort foods because they offer a full meal in one dish. Just as the flaky crust covers the top and bottom of the pie filling, as if giving it a hug, so too will this meal hug you and fill you with warmth. Below, you'll find chicken pot pies and other pot pie recipes from AllFreeCasseroleRecipes that will warm you down to your bones. Can you think of anything better on a cold winter's night?
Chicken Pot Pies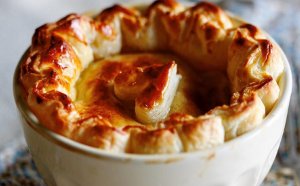 These three chicken pot pies are so good, you won't know which one to eat first. Amanda's Chicken Pot Pie is a simple and delicious dinner. Feel free to use a store-bought pie crust in order to save time and energy in the kitchen. Its filling consists of chicken, peas, carrots, and potatoes, though if you're making it after Thanksgiving, you could easily substitute turkey. Cheesy Chicken Pot Pie also has a yummy filling, consisting of chicken and a vegetable medley. What makes this recipe awesome is the biscuit crust. Just place the biscuits on top of the filling and bake according to the package directions. It's a fun topping and takes less time to make than a real crust. Finally, we have Chicken and Chorizo Pot Pie (pictured), which could be called majestic. The filling of this savory pie consists of chicken thighs and drumsticks that have been poached until the meat falls off of the bone. Chorizo sausage, bay leaves, cloves, and peppercorns are also included in this phenomenal dish.
Other Pot Pie Recipes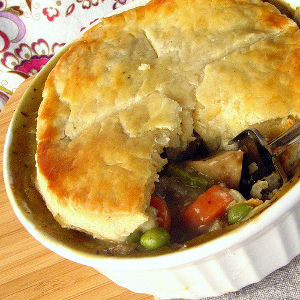 Not all pot pie recipes have to be chicken pot pies. The first two recipes here use mushrooms and there's not a chicken in sight. Steak and Mushroom Pot Pie has a savory filling of stewing beef, mushrooms, and veggies. A beautifully golden-brown puff pastry tops off this magnificent dinner. White Wine Mushroom Pot Pie (pictured) is a vegetarian meal. Mushrooms, such as cremini or button, peas, carrots, celery, and onion make up the filling while a homemade crust or puff pastry covers the top. It can be prepared ahead of time and even freezes well, so you can easily enjoy it on a weeknight. Finally, I'd like to spotlight Broccoli Cheddar Pot Pie from the blog, Oh My Veggies! This pot pie has a cheesy broccoli filling that sits underneath a sheet of puff pastry and is super easy to make. The next time you're craving some winter feel-good food, pull out these recipes and make a comforting pot pie.
What is your favorite type of savory pie?
Latest posts by AllFreeCasseroleRecipes
(see all)