Aahh, chili. Today, I think chili is fantastic. As a picky eater growing up, that was not always the case. I'm so glad I've finally jumped on the chili bandwagon because it's such a great dinner. It's easy to make, it's a filling meal, and you can freeze it for later. RecipeLion just updated this chili recipe collection, 20 Best Easy Chili Recipes, with new recipes and new photos. You'll find a variety of chili recipes – one for every palate. Plus, learn how to win $500 Swiss Diamond cookware set, which includes a soup pot you can make chili in.
The first time I ate chili, I was kind of forced into it. I was having dinner at my college professor's house one evening (I was her teacher's aid for a government class), and she made Obama's Favorite Chili. I'm sure you've been in a situation like this before. You're at a dinner party and the host made something you don't like (or didn't think you liked). You can't just not eat it. So, you dig in. I was a little apprehensive at first, but by the time I finished my bowl, I was hooked!
Now, I make chili often. I like making a big pot and freezing half to eat later. I just made a big pot of Autumn Harvest Chili (similar to this slow cooker chili recipe) last week. Below is a preview of recipes you'll find in our chili recipe collection. Enjoy!
Take Your Pick…
Beef Chili Recipes
Cowboy Chili
By: Reeni from Cinnamon Spice & Everything Nice
This hearty bean and beef chili recipe is packed full of delicious ingredients and simmered for maximum flavor.
Elizabeth Taylor's Favorite Chili
By: Angie from Angie's Southern Kitchen
This is a copycat recipe of chili from Chasen's in West Hollywood, which was a favorite of Elizabeth Taylor.
Chicken Chili Recipes
Working Mom's Chicken Chili
By: Sherron Watson from Simply Gourmet Photography
When you're in a pinch to get dinner on the table, turn to this quick and easy recipe for chili.
Slow Cooker Chili Recipes
Two Bean Slow Cooker Chili
By: Kim from Today's Creative Blog
Made with kidney and pinto beans, ground beef or turkey, and tomatoes, this chili recipe is a hearty dinner. Brown sugar and V-8 juice are two surprise ingredients that make this recipe different from the rest.
Plus…
Swiss Diamond 9-Piece Cookware Set Giveaway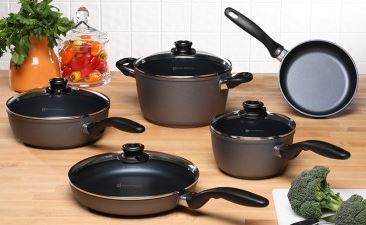 We are giving away a Swiss Diamond 9-piece cookware set ($500 value)  to one very lucky winner. The giveaway ends 11/30/14, so enter today!
Giveaway includes:
– 8 inch Fry Pan (20 cm)
– 10.25 inch Fry Pan with lid (26 cm)
– 2.2-quart Saucepan with lid
– 3.2-quart Saute Pan with lid
– 5.5-quart Soup Pot with lid
What are the ingredients in YOUR favorite chili?
Latest posts by RecipeLion
(see all)