Hi there! Holly here from Club Crafted with a black forest-like chocolate cherry dump cake recipe that makes your dessert making much easier.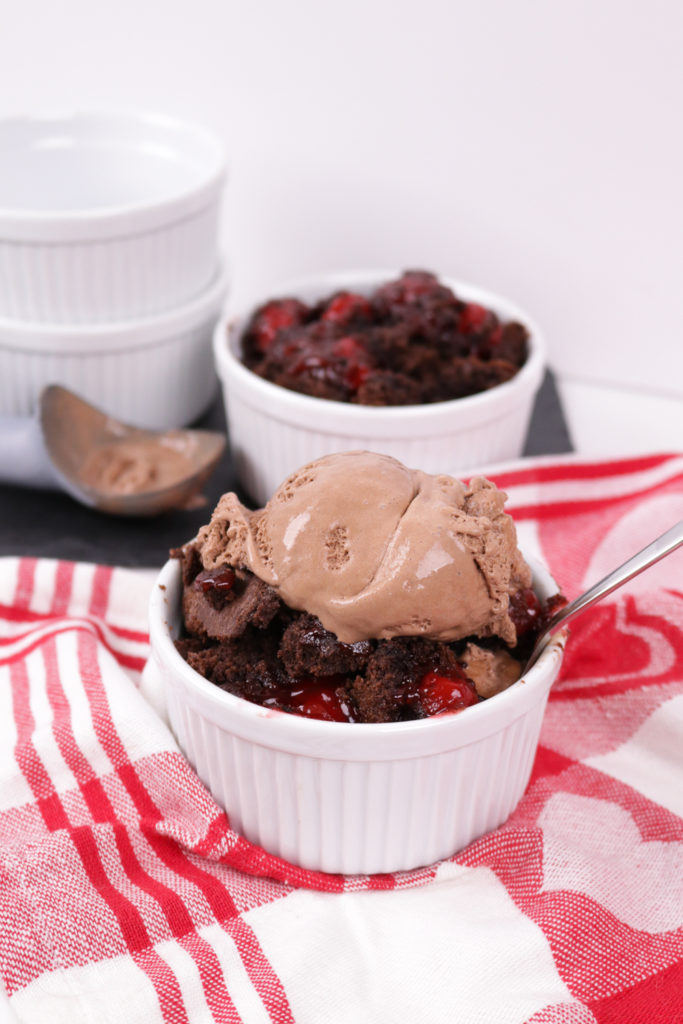 Baking a cake can be a lot of work when you have so much else to do, but dump cakes a great way to achieve the delicious flavor of cake without the hassle. Plus, because dump cakes are generally made with fruit instead of frosted with buttercream, you could even argue that they are healthier.
This chocolate cherry dump cake can be made with as few as three ingredients, but you can make it more decadent by sprinkling the top with chocolate chips that melt into the cake when baked. There is absolutely no mixing required, so there are very few dishes, and it scoops out easily into bowls for serving.
1 can cherry pie filling
1 box devil's food cake mix
3/4 cup butter, melted
Preheat the oven to 350 degrees and lightly coat a casserole dish or 9 x 9 in baking pan with cooking spray.
Spread the can of cherry pie filling into the bottom of the pan. Top with dry cake mix. Pour melted butter evenly over the top of the mix and spread with the back of a spoon so the top of the cake mix is wet.
Bake for about 55-60 minutes until the top appears baked through. It will appear dry and patchy, but that's normal for a dump cake.
Allow to cool for at least 15 minutes before scooping into dishes. Top with ice cream, whipped cream or other toppings if desired. Ice cream is definitely the best choice, in my opinion!
Latest posts by Holly Wade
(see all)