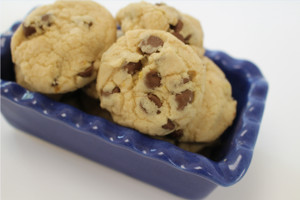 August is right around the corner, and, if you haven't noticed, the temperatures are starting to get obnoxiously hot. Currently, the humidity is wreaking havoc with my hair, but that's beside the point. I'll just have to deal with having a frizzy mess on top of my head because I'm definitely not ready for winter yet. I like the sun too much to wish it away! So, I have a way in which you can harness the heat and make delicious chocolate chip cookies.
This chocolate chip cookie recipe doesn't use the oven, so you won't be heating up your house. Instead, these Summer Dashboard Chocolate Chip Cookies use the heat in your car to bake. This recipe is insanely easy to make. It's also a great experiment to do with your children or grandchildren. If you don't have any available kids to experiment with, you can grab a stranger's kid (kidding) or make these chocolate chip cookies for yourself. They're just so much fun to make that you can't pass it up!
I'm going to walk you through my experience. If you want to try it for yourself, check out the chocolate chip cookie recipe HERE.
 11:15 am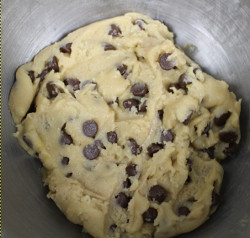 Here's what my batter looked like. It took me only 15 minutes to grab all my ingredients and mix them together.  You could probably do it much quicker. I'm rather pokey in the kitchen.  Although my chocolate chip cookies turned out good, I think I added too much flour.  The moral of the story is to read the instructions fully before tossing things into the mixer.
11:30 am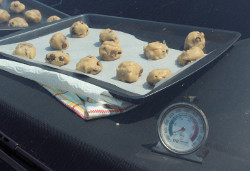 The cookies are in the car!  I put my cookies in around 11:30, and it was already 83 degrees Fahrenheit outside.  While situating everything, I opened my door dozens of times, and it was still over 100 degrees in my car!  Side note: I recommend using an oven thermometer to ensure that your car reaches the necessary temperature (160 degrees Fahrenheit) to safely eat the cookies. Knowing the exact temperature of your car helps to convince people that you aren't trying to poison them or spread Salmonella.
 12:45 pm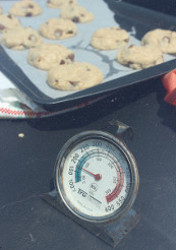 You need to check on these cookies pretty often.  This picture was taken at 12:45.  I wasn't expecting my car to be that hot, nor was I expecting the cookies to look like cookies.  I guess that's why this is called an experiment!  If you can't read the oven thermometer, my car was currently 175 degrees Fahrenheit.  Wowza!  I never knew that my car could get that hot.  When you hop in your car on those hot summer days, you seriously are hoping into an oven!
 1:55 pm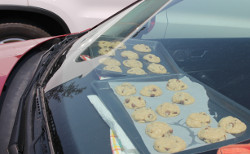 Here are the cookies at 1:55.  The car is still at 175 degrees Fahrenheit.  The chocolate chip cookies are almost done! I popped into my car to check on them, and my car smelled delicious! While in the car, I checked the bottom of the cookies to see if they had cooked all the way through.  I would like to say that I knew exactly when they'd be done, but honestly, I guessed that they needed 20 more minutes. I figure that if you say anything with conviction, then people will believe you and think that you know what you're doing.
 2:30 pm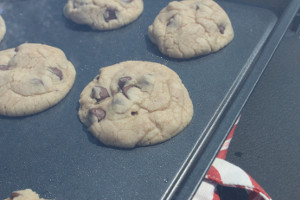 The cookies are done!  Look how pretty they look on my dashboard.  As amazing as they look in my car, I think I'd prefer them to be on my plate or in my stomach. Luckily, that part is coming up next.  The car is still 175 degrees Fahrenheit, the outside temperature reached high 80s/low 90s, and I took the cookies out 3 hours after I put them in my car.
 2:45 pm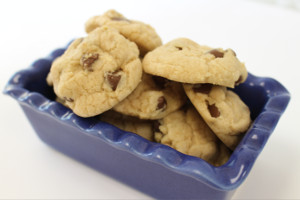 Although these chocolate chip cookies took much longer to bake in the car than the oven, I would definitely make this cookie recipe again.  This experiment was fun. Plus, it gave me a reason to enjoy this sweltering day.  I hope you enjoy making your own Summer Dashboard Chocolate Chip Cookies. Currently, this is a gluten free recipe, but if you aren't gluten free then just substitute the gluten free flour for your favorite all-purpose baking flour.
Do you have any fun, experimental recipes?
Latest posts by FaveGlutenFreeRecipes
(see all)