Chocolate is probably the most universally liked dessert. I know there are those people out there who claim they don't like the stuff, but frankly, I don't believe them. I mean, how could you not like the rich, deep cocoa flavor and luscious texture of chocolate? Plus, there are just so many variations of chocolate desserts out there to enjoy. From fluffy chocolate cakes to silky chocolate mousse pies to chewy chocolate cookies to moist chocolate brownies… I could go on and on, but I think most of you are with me, right?  Let's get to the good stuff, which are the 12 dream-worthy chocolate dessert recipes that I promised you in the title of this blog post.
As one of the most fervent cocoa lovers out there, I've gone ahead and collected some of the most decadent, mouthwatering chocolate treats I could find… so you don't have to!  Sweet, right?!  So, without further ado, I present to you my list of 12 dream-worthy chocolate dessert recipes. Make any one of these treats… heck, make 'em all!… and then try and tell me that chocolate isn't the single greatest ingredient on the planet. I double dog dare you!
SPECIAL BONUS! 
Don't miss out on RecipeLion's great new giveaway!  Between now and December 1st, you can enter to win the Ultimate Chocolate Giveaway.  Scroll down for more info on how to enter…
My Top 12 Dream-Worthy Chocolate Dessert Recipes: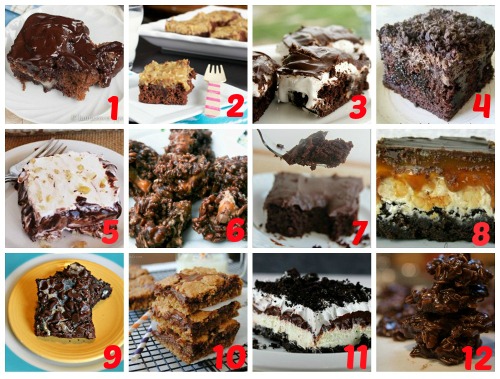 Remember that awesome giveaway I mentioned?  Well, all you chocolate lovers pay attention because RecipeLion has partnered with Sheila G's Original Brownie Brittle Company and is offering the Ultimate Brownie Brittle Sampler Pack to twelve lucky winners!  What does that entail, exactly?  Well, each lucky winner will take home an entire case of delicious Brownie Brittle in their four award-winning flavors: Chocolate Chip, Toffee Crunch, Salted Caramel or Mint Chocolate Chip. That's one chocolaty prize pack!  Oh, and one lucky grand prize winner will take home a $50 gift card to Bed, Bath & Beyond and $50 gift card to Toys R Us in addition to the case of Brownie Brittle… how awesome is that?!
Never had Brownie Brittle before? Let me tell you a little bit about this magical treat. Imagine taking a pan of brownies, ditching the soft middle, and having a whole pan full of just the delicious, crispy edges. That's Brownie Brittle in a nutshell, but you really have to taste this treat to get the full experience of just how delicious it really is. To give you a little more of an idea of how addictive the snack can be, let's just say that when the sample pack arrived at RecipeLion headquarters, our staffers were grabbing at the bags before the box was barely opened!  Here's the whole story…
Want to win a case for yourself?  Just fill out an entry form between now and December 1st!  That's it… easy peasy. Good luck!
Brownie Brittle has graciously shared some of their favorite recipes to make with the treat, including a Brittled Ice Cream Sandwich, Brownie Brittle S'mores and Brownie Brittle Chocolate Popcorn. Check out the recipes here!
What's your favorite dessert to make with chocolate?
Latest posts by RecipeLion
(see all)