People always say that breakfast is the most important meal of the day. Okay, fine. But how many healthy breakfast recipes do you know of that are not only delicious but also portable?
While I love healthy breakfast casseroles, pancake recipes, and egg dishes, I'm a complete sucker for muffins. I could make and eat muffins all day everyday. However, not all easy muffin recipes are healthy muffin recipes. More than that, though, not all healthy muffin recipes are good.
This chocolate muffin recipe defies everything I've ever known to be true when it comes to healthy breakfast recipes. They're good for you and taste great. Not only that, but taste chocolatey.
I'm definitely a fan of this healthy muffin recipe. Give it a try and you will be too!
Heavenly Chocolate Muffins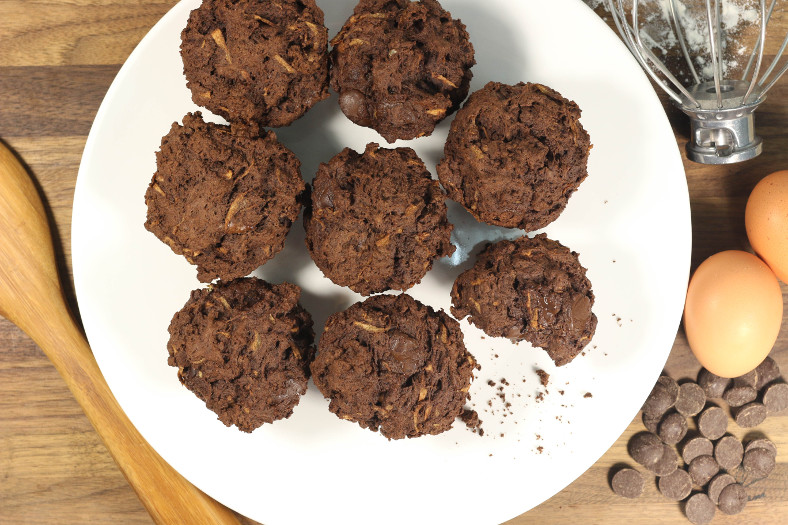 By Natvia
Makes 10 muffins
Ingredients
1 stick unsalted butter, melted & cooled
3 Tablespoons Natvia sweetener
2 Free Range eggs
1 apple, peeled and grated
1/3 cup buttermilk (or milk soured with 2 teaspoons lemon juice)
2 teaspoons vanilla extract
2 cups self-raising flour
1 Tablespoon baking powder
1/2 teaspoons each of mixed spice and ground cardamom
1/2 cup cocoa powder
3/4 cup dark chocolate bits
Instructions
Preheat oven to 350 degrees F.
Line muffin tray(s) with muffin liners (or spray with non-stick baking spray)
In a large mixing bowl, whisk together the melted butter, Natvia, eggs, apple, buttermilk, and vanilla until well-combined.
In a separate bowl, sift together the flour, baking powder, spices, and cocoa. Mix thoroughly.
Pour the liquid mixture into the dry mixture. Add the chocolate bits and mix very lightly until just combined, using a metal spoon. Be careful not to over-mix!
Quickly pour muffin mix into muffin tray, filling each well (or muffin liner) about 3/4 full.
Bake on the center rack of your oven for 20-25 minutes, or until the tops of the muffins spring back into shape when touched.
Let muffins stand for 5 minutes before removing them from the tray(s) and placing them onto a cooling rack.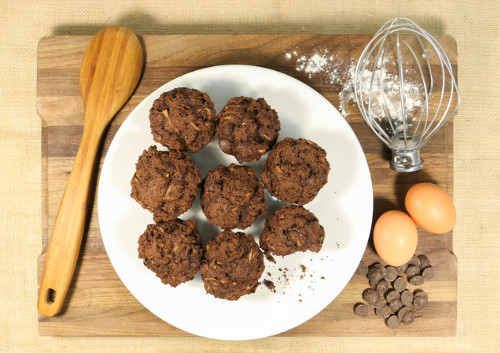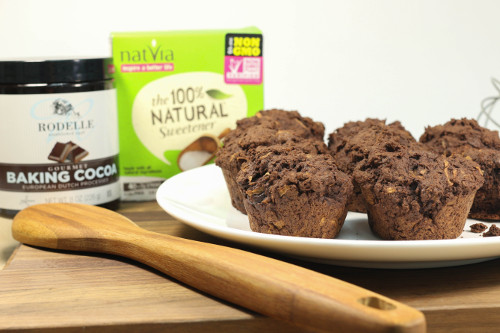 Bonus!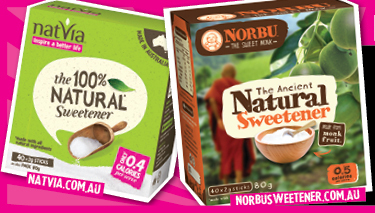 We're giving away a Natvia and Norbu Prize Pack to each of our two lucky winners! Natvia and Norbu are all-natural sugar substitutes that make your favorite foods (like these Heavenly Chocolate Muffins) taste even better. Our giveaway runs from now until February 22nd, 2015, at midnight so be sure to get your entries in ASAP. You don't want to miss out on this awesome prize!
What's your favorite muffin flavor?
Latest posts by FaveHealthyRecipes
(see all)