Desserts are always a treat, but let's face it, some are more of an indulgence than others. Layered, gooey, desserts dripping with chocolate or covered in caramel and topped with fluffy whipped cream are much more decadent than say a lemon bar or berry tart. Equally as delicious? Sure. But which one makes you feel a little more naughty? We're going with the gooey, oozy and oh so chocolaty side of life.
While we've got you with your mouth open, what's sexier than chocolate-dipped strawberries as an after dinner surprise? They're super easy to whip up and make almost any occasion that much more elegant, romantic and memorable. Whether it's Valentine's Day, an anniversary, or just an ordinary day of the week you feel like making a little more special, this easy recipe will show you how to make chocolate covered strawberries with ease. If you've got a spare hour, it's easy to spice up your normal dessert routine!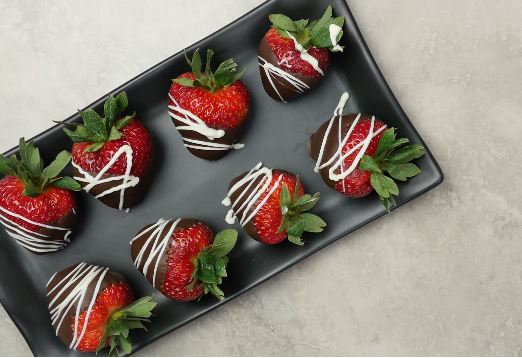 Ingredients
strawberries (as many as you need)
dark or milk chocolate, melted for dipping
Instructions
Microwave chocolate until it begins to melt, stirring every 15 seconds and monitoring so it does not burn.
Dip strawberries in melted chocolate and place them on a tray covered with parchment paper.
Refrigerate strawberries until chocolate hardens.
Drizzle strawberries with white chocolate (or another chocolate you prefer), and let dry. (optional)
Enjoy!
See the video for this recipe here.
6 Sexy Desserts
Try these other delectable dessert recipes when you're in the mood for something slightly sinful, but oh so enjoyable!
What is your favorite dessert to make for a special occasion?
Latest posts by RecipeLion
(see all)