Hi there! Holly here from Club Crafted again with one of my absolute favorite Christmas recipes!
There are a few things I have on my yearly Christmas checklist, and making/eating my weight in gingerbread is one of them. Today, I'll walk you through how to make perfectly soft classic gingerbread cookies with royal icing. First, I'll let you in one the secret to making a good gingerbread cookie: chilling the dough. If you've never heard this before, I'm here to tell you it really does make a world of difference not only does it keep the dough soft when baking but it keeps the dough from getting too sticky and reduces spreading, which ideal when making cut-out cookies like these.
So grab your favorite cookie cutters and let's get started!
For the gingerbread cookies:
3 cups + 2 tbsp all-purpose flour
1 ½ tsp ground ginger
1 ½ tsp ground cinnamon
¼ tsp allspice
Pinch cloves
½ tsp baking soda
½ tsp salt
½ cup + 2 tbsp butter, room temperature
½ cup light brown sugar
1 egg
1/3 cup molasses
1 tsp pure vanilla extract
In one bowl, whisk together the flour, baking soda, salt, cinnamon, nutmeg, ginger and cloves and set aside.
In the bowl of your mixer fitted with a paddle attachment, cream together the butter and brown sugar for about 2 minutes until light and fluffy. Beat in the egg, followed by molasses and vanilla, mixing until fully combined (about 30 seconds). Scrape the bowl and slowly mix in the dry ingredients a little at a time until just mixed, switching to a spatula if needed to mix properly. It should be soft but not sticky. If sticky, add flour 1 tbsp at a time until desired consistency is reached.
Move the dough to a large piece of plastic wrap, press it into a disc and chill in the fridge for at least 2 hours.
Line two baking sheets with parchment or a silicone baking mat. Remove the dough onto a lightly floured surface and roll it out until it is about 1/4 inch thick. Use a variety of cookie cutter to cut shapes out of the dough and move them to the prepared baking sheets.
Chill the dough for an additional 30 minutes. Then preheat the oven to 350 degrees F.
Once preheated, remove the dough from the fridge and bake for 8-10 minutes until the edges are barely brown (larger cookies may need to bake longer). Allow to cool completely on the baking sheet before moving.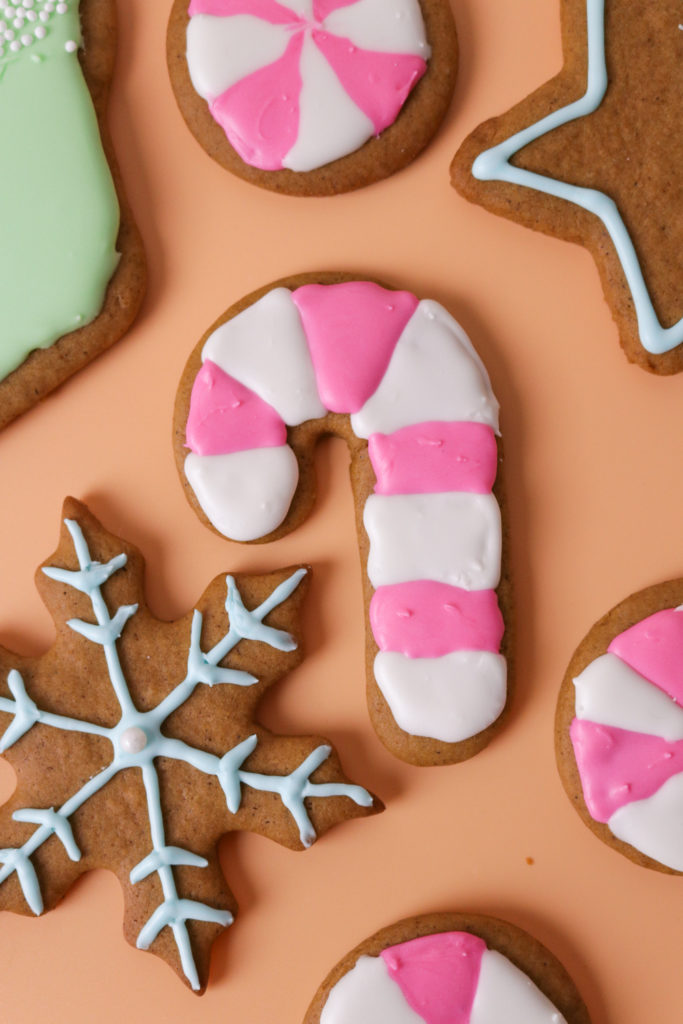 For the royal icing:
2 cups powdered sugar
2 tbsp meringue powder
2-3 tbsp water
1/4 tsp vanilla extract (or other flavoring)
Mix all ingredients in your mixer bowl with a whisk attachment until completely smooth. Add more or less water to reach desired piping and filling consistency. It should be thick enough to manipulate but thin enough that it can "flood" the cookies.
Separate and mix your desired colors and move the icing to pastry bags fitted with small round piping tips to pipe your desired designs on the cooled cookies. They should dry very quickly.
I'm clearly no expert decorator, but it's still so fun to decorate cookies! It always reminds me of doing it when I was a kid and I don't think I'll ever grow out of it. Happy Holidays!
Latest posts by Holly Wade
(see all)