Whether you're attending a Cinco de Mayo celebration, plan to throw a fiesta of your own, or just want to enjoy some delicious Mexican food in honor of the holiday, AllFreeSlowCookerRecipes.com has got some fabulous slow cooker Mexican recipes to share and help you celebrate! Whether you're in search of Cinco de Mayo dinner recipes, Cinco de Mayo appetizers, or just want some easy Mexican slow cooker recipes to try, the possibilities are endless with your slow cooker.
As with any slow cooker recipe, slow cooker Mexican recipes taste better, the longer you cook them–as your protein will just gain more flavor the longer it cooks, and Mexican spices are so vibrant! Below, we'll give you a sampling of slow cooker Mexican recipes you can try in honor of Cinco de Mayo.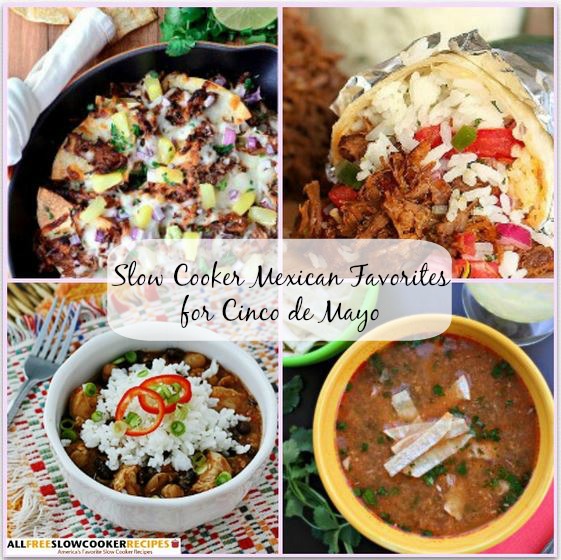 Cinco de Mayo Appetizers:
When planning slow cooker Mexican appetizers, it's fun to think outside the box. We have a variety of slow cooker nacho recipes, some traditional, others totally wacky! Take your pick!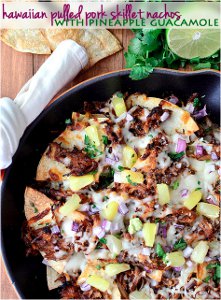 This slow cooker nacho recipe for Slow Cooker Hawaiian Pulled Pork Skillet Nachos with Pineapple Guacamole (shown above) puts a Hawaiian spin on the Mexican classic. Hawaiian pulled pork and homemade tortilla chips make this slow cooker appetizer recipe exceptional.
If you're planning on making slow cooker nachos, be sure to also check out our recipes for Ultimate Chicken Nachos, Slow Cooker Crazy Nachos, or even Slow Cooker BBQ Brisket Nachos. Any of these slow cooker nacho recipes are sure to impress your guests.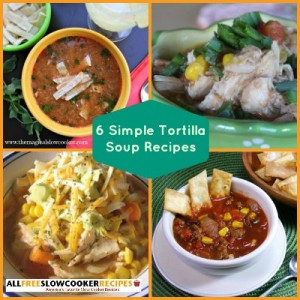 If you're looking for a more refined slow cooker appetizer recipe, slow cooker tortilla soup is also fantastic! Our collection, Authentic Tortilla Soup: 6 Simple Tortilla Soup Recipes, includes recipes for chicken tortilla soup, a vegetarian tortilla soup recipe, a healthy slow cooker tortilla soup, an easy tortilla soup recipe made with ground beef, and more.
Slow Cooker Mexican Chicken Recipes: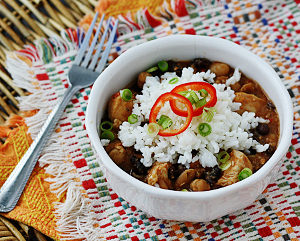 This recipe for 3 Bean Chicken 'n' Rice (shown above) cooks all day and it's simple to prepare. Jarred salsa makes this dish easy, while three types of beans (cannelini, black, and garbonzo) make this slow cooker Mexican chicken recipe hearty.
If you love slow cooker Mexican chicken, be sure to also check out our easy slow cooker chicken recipes for 3 Ingredient Slow Cooker Fiesta Chicken, All Day Southwest Chicken, All Day Tex Mex Chicken, Avocado Chicken Enchiladas, Cheddar Beer Tacos, Easy Enchilada Pizza, and Mexican Style Slow Cooker Beer Chicken.
 Slow Cooker Mexican Beef Recipes: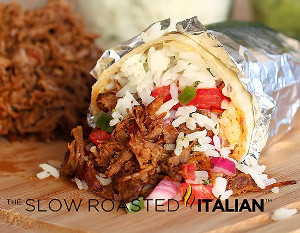 Chipotle fanatics will go wild for our Slow Cooker Chipotle Barbacoa Beef Copycat Recipe (shown above). Save yourself a trip to Chipotle and some money, and make this slow cooker Mexican beef dish at home.
If you want some more ideas for slow cooker Mexican beef recipes, we've got additional tasty options, such as our All Day Tamale Pie, Beefy Enchilada Casserole, Four-Step Salsa Verde Steak, and Meat Lovers' No Bean Chili.
Unique Slow Cooker Mexican Recipes: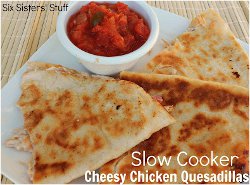 For more slow cooker Mexican recipes that are just unique or totally unbelievable, take a look at our recipes for Slow Cooker Cheesy Chicken Quesadillas (shown above), Slow Cooker Chili Cheese Fries, Slow Cooker Mexican Lasagna, Slow Cooker Mexican Meatballs, and Slow Cooker "Refried" Beans Without the Refry.
For even more slow cooker Mexican recipes, check out our collection, 18 Slow Cooker Mexican Recipes For A Fiesta Anytime.
What's your favorite Mexican dish?
Latest posts by AllFreeSlowCookerRecipes
(see all)