There's no better way to enjoy sweet, ripe, and juicy peaches than in this easy Old-Fashioned Cinnamon Streusel Peach Cake Recipe! It's perfect for breakfast, brunch, snack, or dessert and it comes together in just minutes (thanks to some help from a boxed cake mix)! But beware — this sweet treat yellow cake mix recipe disappears fast!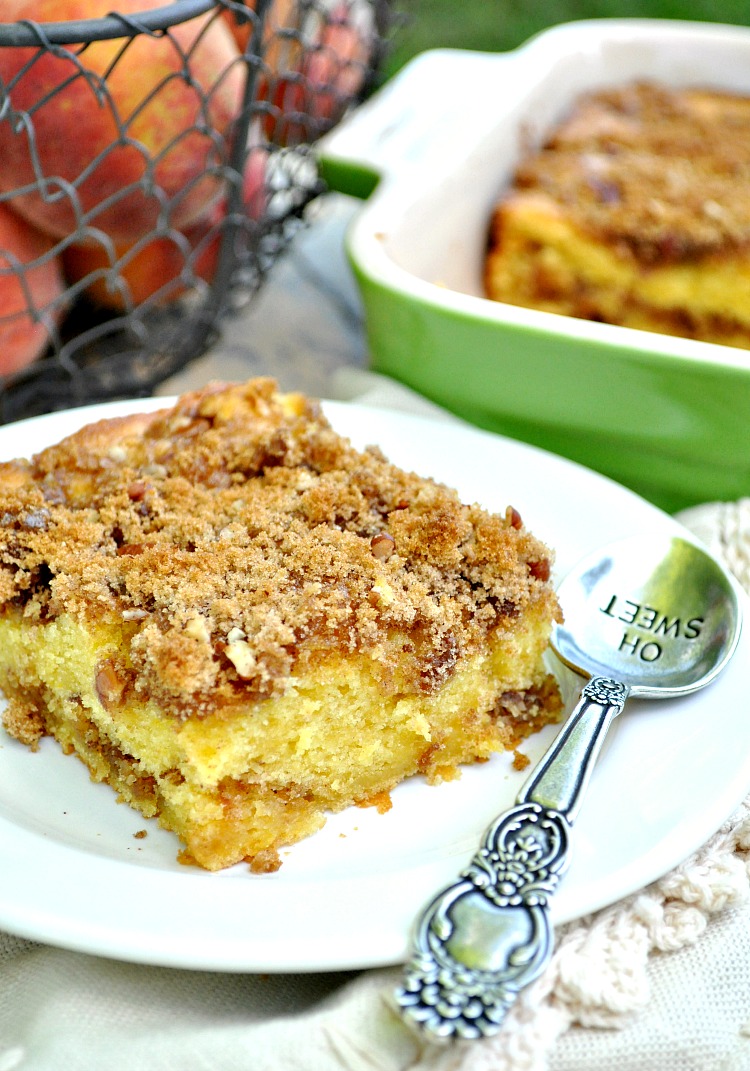 About 8 years ago, my husband and I moved into a 100-year-old farmhouse in rural Central Virginia. At the base of the Blue Ridge Mountains, we are surrounded by gorgeous farms and plenty of fresh produce. And while we often take advantage of the Farmer's Market and the various farm stands nearby, there is nothing quite like harvesting fruits and vegetables from your very own garden or orchard.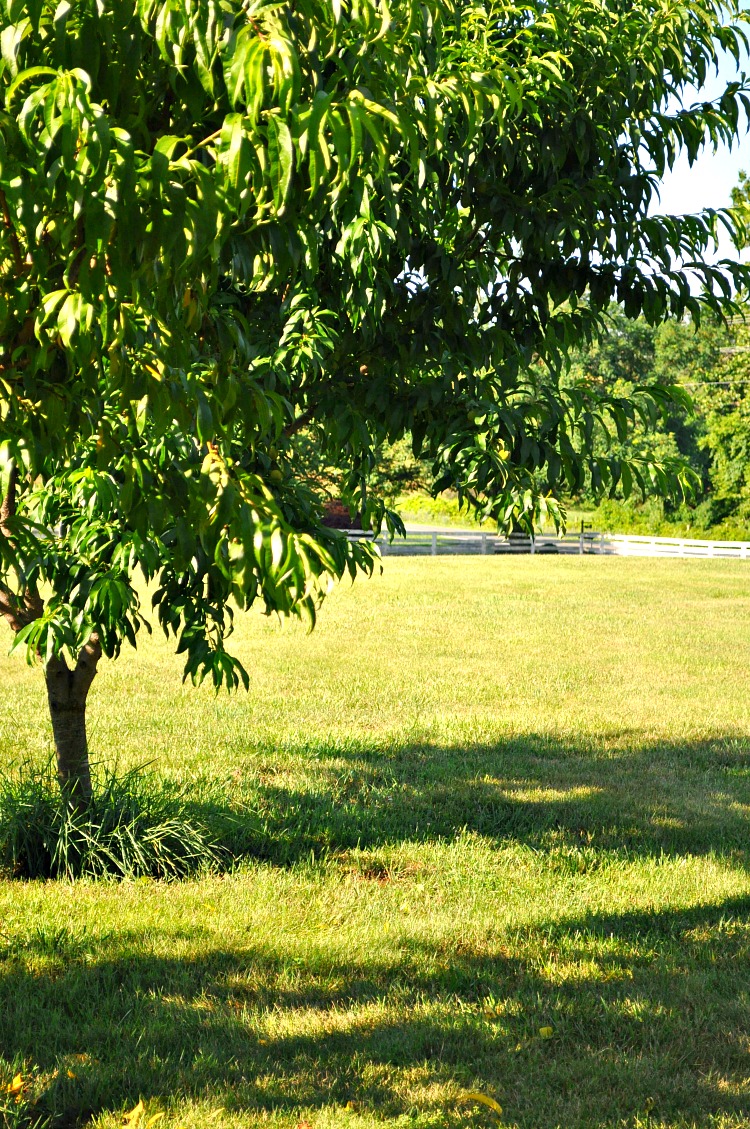 That's why Keith has spent the past few years carefully tending to his apple, peach, and pear trees. They started as tiny little twigs in the ground and this year they are finally bearing fruit. Our peach trees, in particular, have flourished this summer!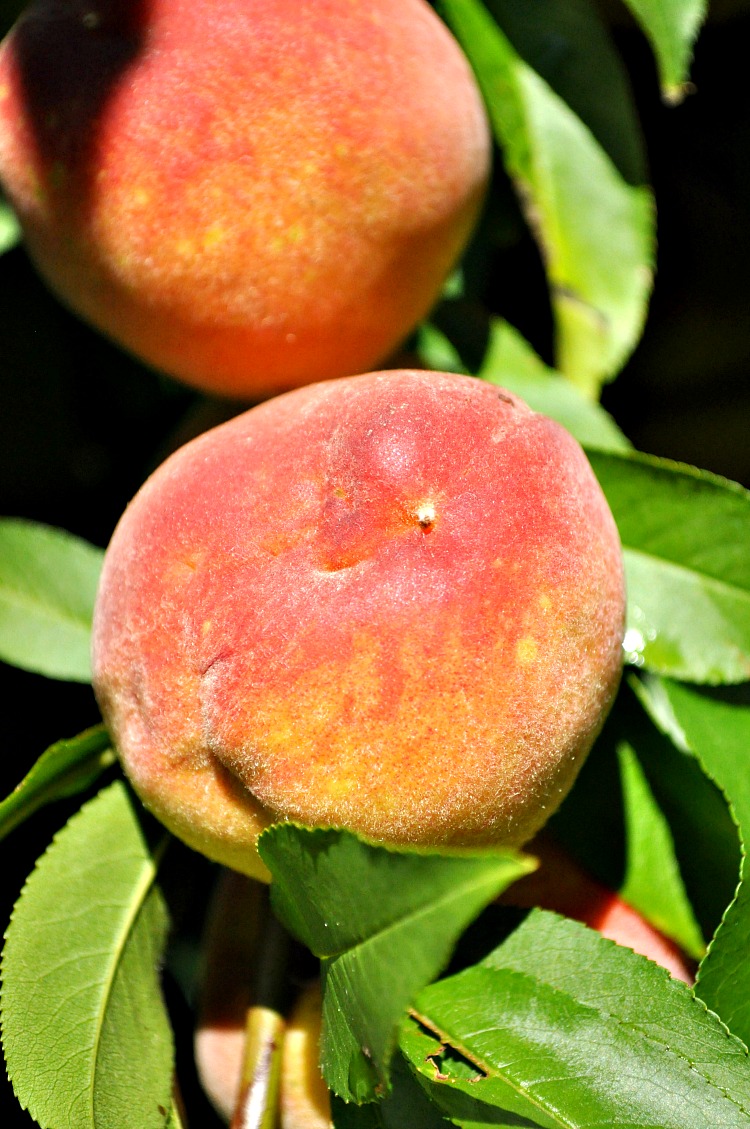 Keith and the kids have stayed busy picking the fruit and they have worked hard to haul in the ripe peaches before the bugs can get to them.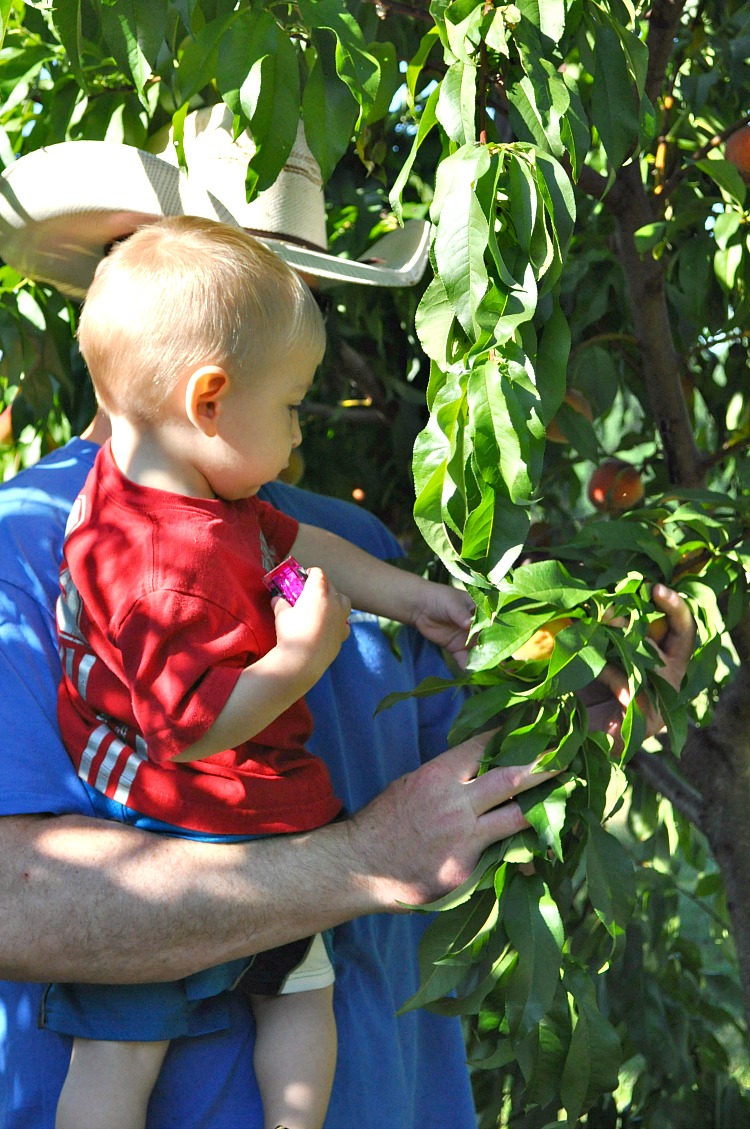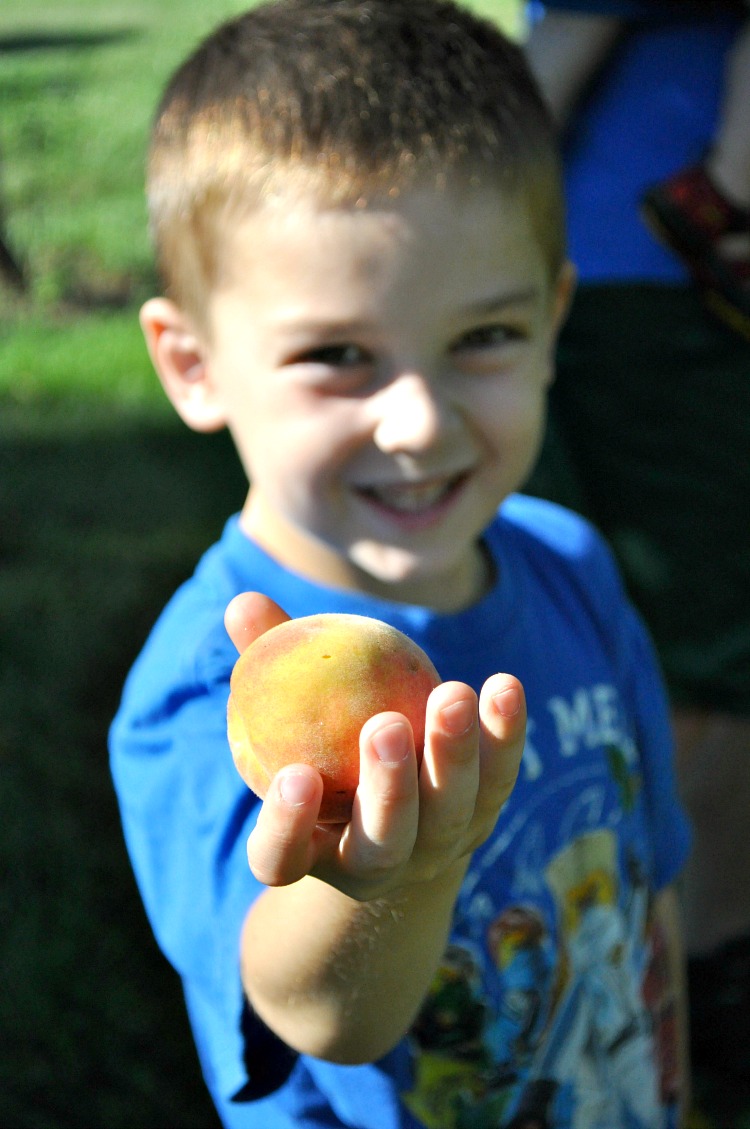 We have baskets and baskets full of juicy peaches, which means that I have stayed equally busy finding a variety of ways to enjoy the goodies. I have made freezer jam, salads, overnight oats, toddler muffins, and CAKE! We wouldn't want anything to go to waste…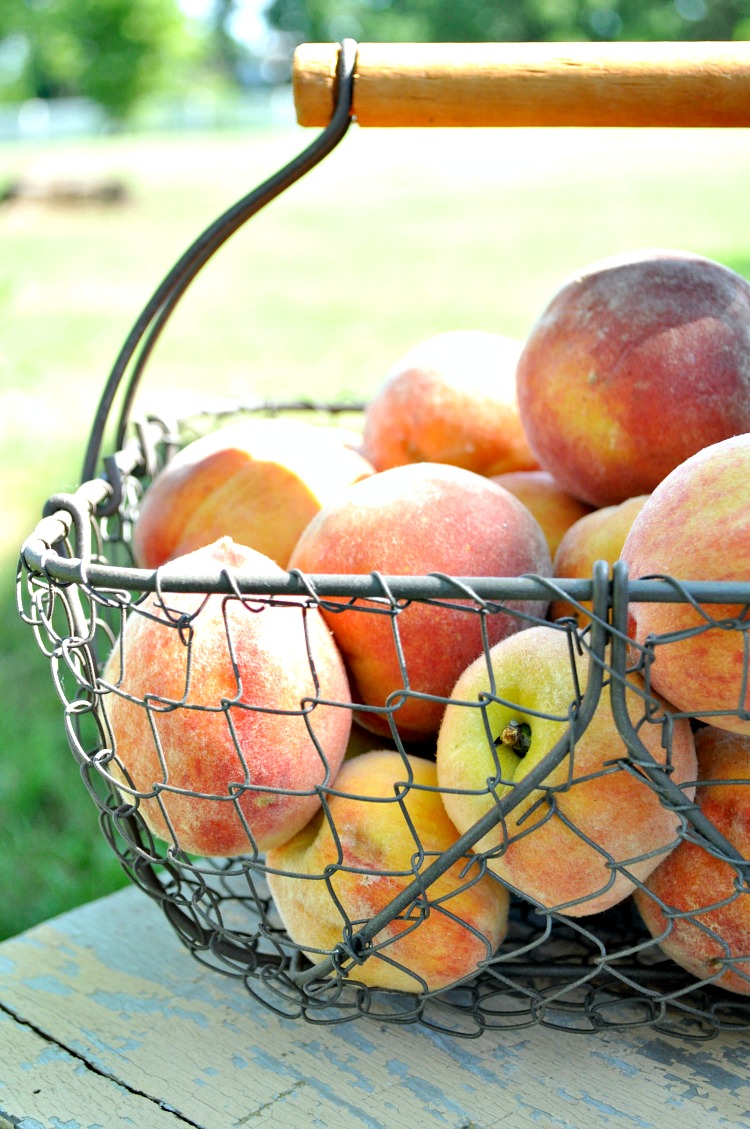 This Cinnamon Streusel Peach Cake was especially popular in our house. The first time that I made it, it disappeared in one day! It's so versatile that we found excuses to enjoy it with coffee (and milk) for breakfast, with some iced tea as a mid-afternoon snack, and of course…with vanilla ice cream for dessert! It's absolutely heaven on a plate, and it is perfect for the season.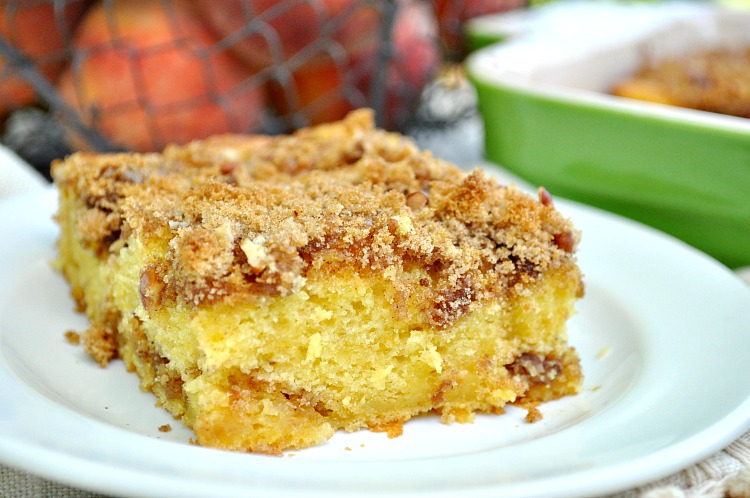 I started with a box of cake mix, because I'm always in a hurry and I love to take advantage of short cuts. But by adding some fresh peaches to the mix, as well as two layers of cinnamon-sugar streusel, you can trick anyone into thinking that this is made from scratch! Shhh…your secret is safe with me!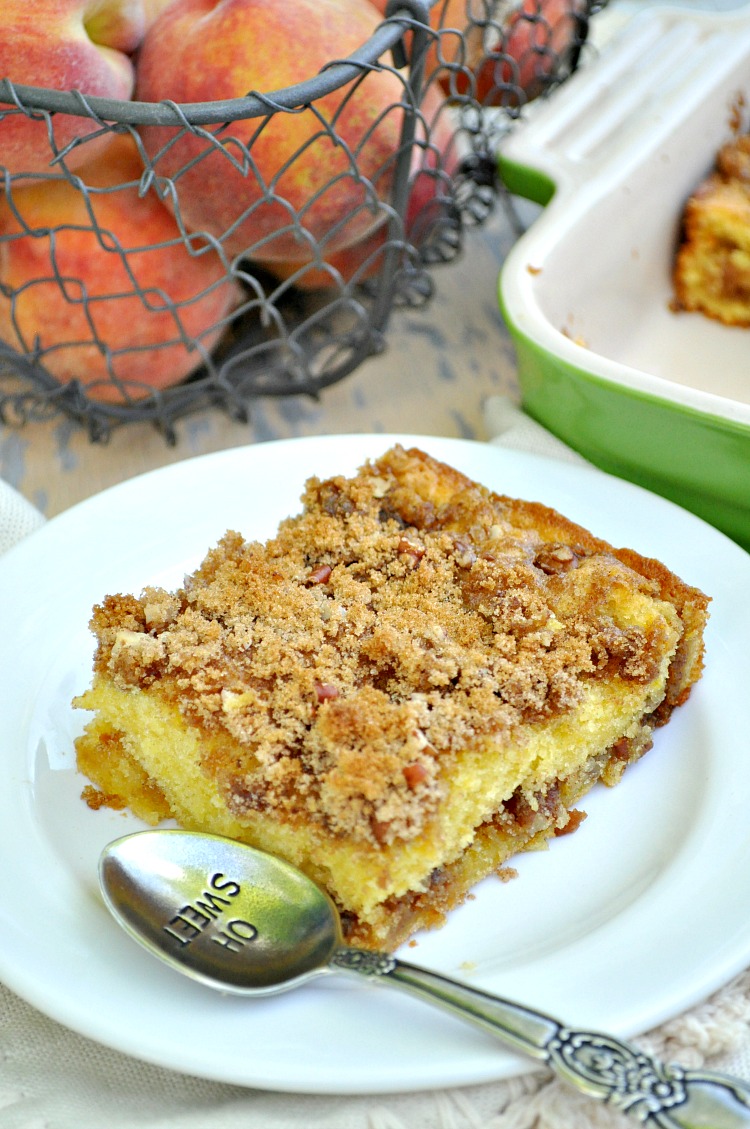 Old-Fashioned Cinnamon Streusel Peach Cake Recipe
Serves 12
Prep: 15 mins
Bake: 30 mins
Ingredients:
For the Cake:
1 (16.5 ounce) box yellow cake mix
½ cup canola oil
1 cup chopped peaches (I used fresh peaches, but you could also use frozen fruit. Just make sure that the frozen peaches are completely thawed before adding them to the recipe)
2 eggs
1 cup water, apple juice, or white grape juice (I used a White Grape-Peach juice blend)
For the Streusel:
1 ½ cups brown sugar
½ cup diced pecans
2 teaspoons cinnamon
Optional (for serving): whipped topping or vanilla ice cream
Instructions:
Preheat oven to 350 degrees F.
Spray a 9×13-inch baking dish with cooking spray and set aside.
In a small bowl, mix all of the streusel ingredients until completely combined. Set aside.
Using an electric mixer on medium-high speed, blend cake mix, oil, peaches, eggs and water for 2 minutes.
Pour half of the batter into the prepared baking dish. Sprinkle with half of the streusel.
Pour the rest of the batter into the dish and top with remaining streusel.
Bake for 25-30 minutes, or until a toothpick inserted in the center comes out clean.
Allow cake to cool in pan slightly before serving.
Note: This is delicious on its own as a coffee cake for breakfast, brunch or snack. It also works great as a dessert when topped with whipped topping or vanilla ice cream!
If you're looking for even more delicious ways to enjoy the sweet taste of peaches this season, be sure to check out these Peach-Glazed Chicken Kabobs and these 5 Star Peach Crumb Bars!
What would you drink with this amazing peach cake?
Latest posts by Blair Lonergan
(see all)