We have big news! One of our favorite healthy bloggers, Amie Valpone of The Healthy Apple, is hitting a milestone today by releasing her new cookbook, Eating Clean: The 21-Day Plan to Detox, Fight Inflammation and Reset Your Body.
If you're a fan of healthy recipes you can live with, Amie's cookbook runs the gamut from casual dinners to snacks to breakfasts and more. In fact, her new cookbook has over 200 detox-approved plant-based recipes free of gluten, dairy, soy, refined sugar, eggs, corn and processed ingredients. These simple healthy recipes are great for just about every 'body.' 😉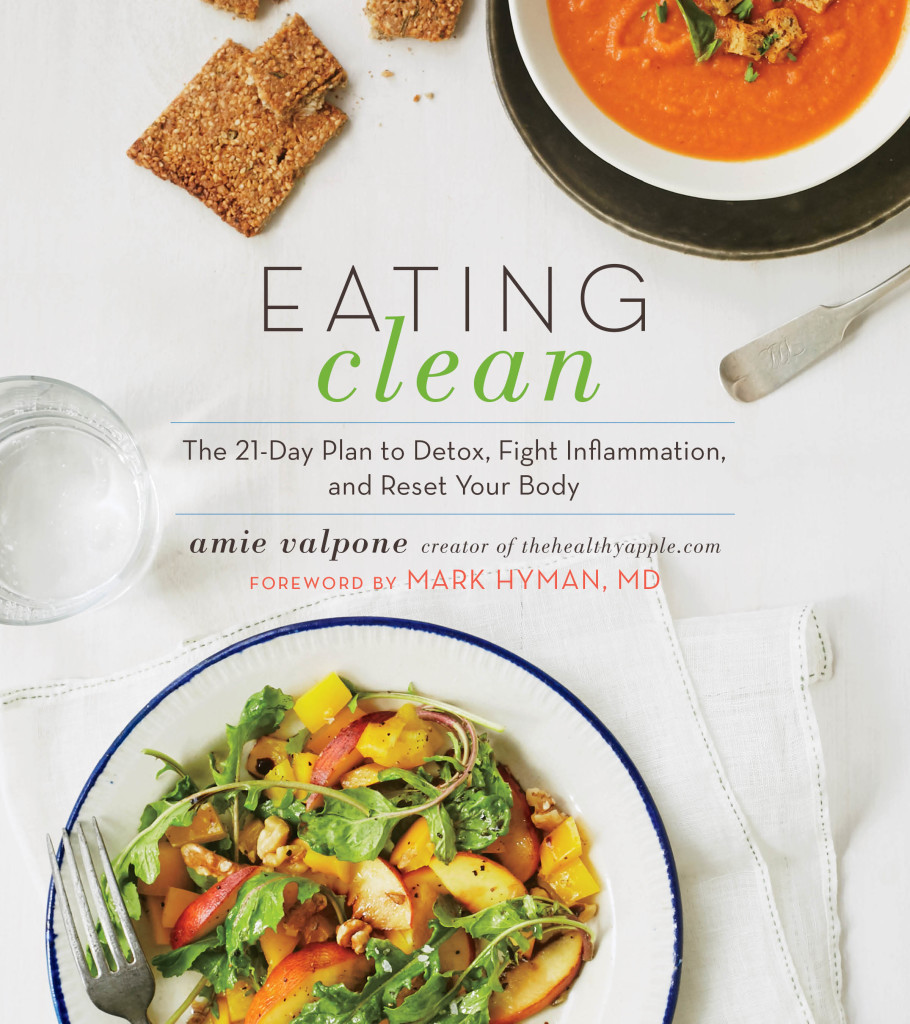 Amie was kind enough to share this healthy dinner recipe we just love – it's one of those secretly-not-pasta pasta recipes. With carrots, tomatoes and pumpkin seeds, these are ingredients you can live with (and probably already have at home!) Give it a try and you'll definitely be craving a copy of Eating Clean.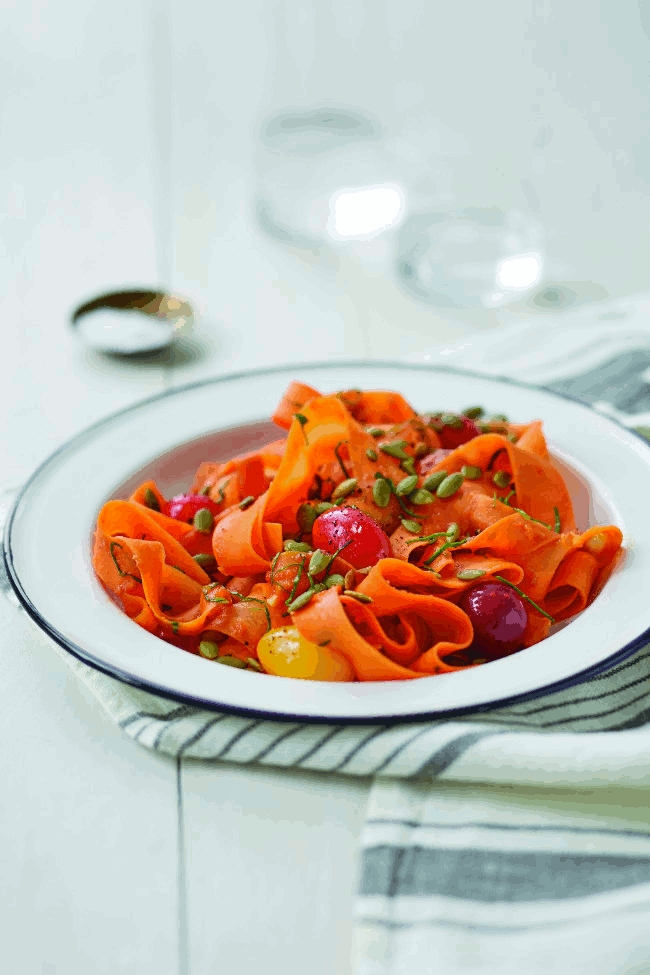 Coastal Carrot "Fettuccine" with Sun-Dried Tomatoes and Pumpkin Seeds
Serves 4
In this dish, the "fettuccine" is actually made from carrots shredded into ribbons with a vegetable peeler. I think you'll be surprised at how much it tastes like the real thing. The sauce clings to the ribbons, giving each bite a delectable, earthy flavor.
 Ingredients:
2 tablespoons extra-virgin olive oil
1 garlic clove, minced
½ cup grape tomatoes, quartered
2 ½ tablespoons finely chopped fresh basil, divided
3 large rainbow or orange carrots, peeled
1 cup Sun-Dried Tomato Sauce
¼ teaspoon sweet paprika
¼ teaspoon sea salt
¼ teaspoon freshly ground black pepper
2 tablespoons pumpkin seeds, toasted, for garnish
Instructions:
1. In a large skillet, heat the oil over medium-low heat. Add the garlic and saute until soft and fragrant, about 30 seconds. Add the tomatoes and 2 tablespoons of the basil and saute until the tomatoes burst and release their juices, about 5 minutes. Meanwhile, slice the carrots into ribbons, using either a spiral slicer (aka spiralizer) or a vegetable peeler (this is easiest when you hold the carrot down on a flat surface).
2. Add the carrots, Sun-Dried Tomato Sauce, paprika, salt, and pepper to the pan, and cook until the carrots are tender, about 10 minutes. Sprinkle with the remaining ½ tablespoon basil and the pumpkin seeds before serving.
Recipe text excerpted from EATING CLEAN, © 2016 by AMIE VALPONE. Reproduced by permission of Houghton Mifflin Harcourt. All rights reserved.
What healthy pasta alternatives have you tried?
Latest posts by RecipeChatter
(see all)