Hey there! Holly here from Revamperate again. Easter is just around the corner, and I don't know about you, but I was very excited to see the Easter candy sneak into stores as soon as Valentine's Day ended. It's even more exciting to make Easter dessert recipes.
To help you celebrate, I made these vanilla and coconut Easter egg hunt cupcakes! These super soft cupcakes are made with coconut oil and shredded coconut, and a little bit of pure vanilla extract makes the flavor really pop. Then they're topped with a pure vanilla buttercream and coated with green coconut shavings to look like grass and mini Cadbury chocolate egg candies.
Coconut Easter Egg Hunt Cupcake Recipe
One batch should yield 12-14 cupcakes and enough frosting to generously top each one.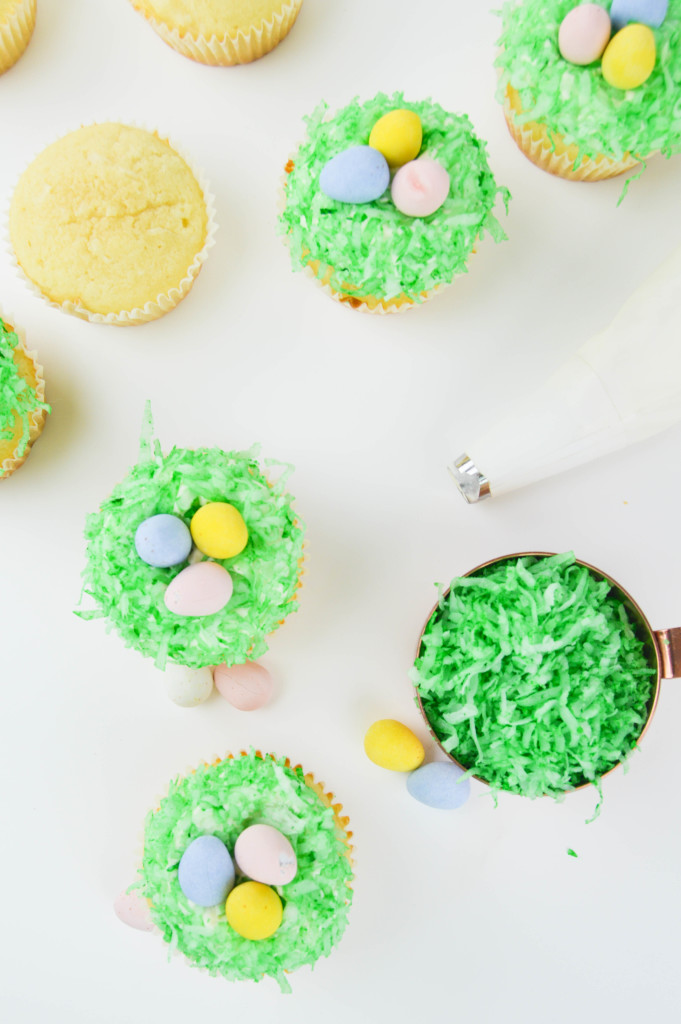 Cupcake Ingredients:
1/2 cup butter, room temperature
3/4 cup sugar
2 egg whites + 1 whole egg
1 tsp pure vanilla extract
1 1/2 cups all-purpose flour
1 1/2 tsp baking powder
1/4 tsp salt
1/4 cup coconut oil (solid)
1/3 cup milk (I used low fat)
1/3 cup shredded coconut (sweetened)
Instructions:
Preheat the oven to 350 degrees and line a cupcake pan with liners.
In one bowl, whisk together the flour, baking powder and salt and set aside.
In the bowl of your mixer fitted with a paddle attachment, cream the butter and sugar for about one minute until the butter is lump-free. Mix in the egg, egg whites and vanilla extract. Then add the coconut oil (should be solid if possible). Begin adding the dry ingredients in batches, alternating with the milk until smooth. Lastly, mix in the shredded coconut.
Distribute the batter among the lined cupcake cavities. Bake for about 18 minutes until an inserted toothpick comes out clean. Let cool completely on a wire rack before removing from the pan.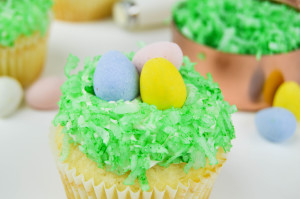 Homemade Frosting Ingredients:

1 cup butter, room temperature
2 1/2 cups powdered sugar
1 tsp pure vanilla extract
2 cups shredded coconut
Green food coloring
Mini Cadbury eggs or Easter M&Ms
Instructions:
First, move the shredded coconut to a Tupperware container with a lid. Add 3-4 drops of green food coloring and shake well until the coconut is green. Add more food coloring if necessary to reach your desired color.
Beat the butter for 1-2 minutes until smooth and fluffy. Then mix in the powdered sugar in batches, scraping the bowl as you go. Add the vanilla extract and beat until smooth. Either spread the frosting onto cooled cupcakes or use a round piping tip.
Roll the tops of the cupcakes in the green coconut flakes until completely covered. Top with 3-4 candy eggs.
Put a batch of these out after Easter brunch, and you won't regret it!
What are you serving this Easter?
Latest posts by Holly Wade
(see all)