A couple weeks ago, I was lucky enough to attend BlogHer '14, a blogging conference in beautiful San Jose, California. I got to learn a lot, meet plenty of great foodie bloggers face-to-face, including the wonderful Andi from Weary Chef, talk to some great food companies (stay tuned for some awesome future giveaways on RecipeLion!) and even had a couple celebrity encounters including Kerry Washington, Arianna Huffington, and Khloe Khardashian (but more on that later!).
But what I really want to talk to you about today is COFFEE, because let's be honest… who doesn't love coffee?  One of the sponsors of BlogHer14 was Nescafe Dolce Gusto and they hosted a super fun event where we got to learn how to make a couple of delicious coffee drinks perfect for entertaining. Oh, and did I mention they also have alcohol in them?!
Alie and Georgia, who you may recognize from Cooking Channel's show Unique Sweets, were the hosts of the event, and they showed us how to easily whip together a couple of coffee cocktails that will please pretty much everyone at the party.
Here they are demonstrating: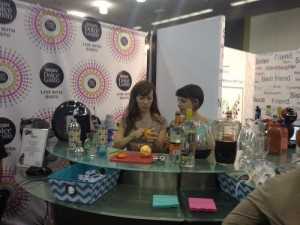 And here I am posing with them, just a tad bit star-struck: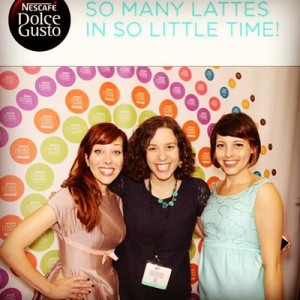 So let's talk about the drinks, shall we? This one is called the Spicy Chai Affogato and it's perfect for anyone who loves a good Chai Tea Latte from
Starbucks
.  I was head over heels for this drink!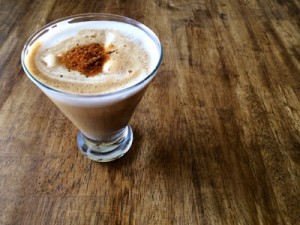 Here's how to make it:
Spicy Chai Affogato
*Courtesy of Alie Ward and Georgia Hardstock
Ingredients:
1 serving NESCAFE Dolce Gusto Chai Latte, brewed
1 scoop French vanilla ice cream
1-1/2 oz. Spiced rum
Cayenne pepper
Fresh black pepper
Directions:
1)  Add ice cream and spiced rum into a glass and pour one NESCAFE Dolce Gusto Chai Latte over it.
2)  Top with a dash of cayenne pepper and a crack of fresh black pepper.
3)  Enjoy!
Alie and Georgia weren't the only celebs at the conference. Like I mentioned earlier, I got to catch a glimpse of Khloe Kardashian from afar (love her or hate her, it was still exciting!), and we heard an inspiring speech from Arianna Huffington, of The Huffington Post fame. But the celebrity highlight for me had to be the keynote speech by actress Kerry Washington from TV's Scandal.  Here she is on stage talking to us: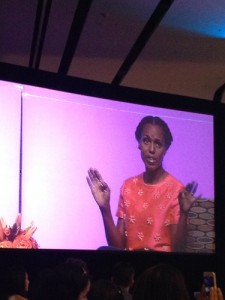 Pretty much everyone in the room went crazy when she came on stage, and if you're a Scandal fan, you know why.  This woman is eloquent, charming and funny… plus she let us in on some Hollywood gossip, so that was fun!
I had so much fun at BlogHer that I couldn't leave it all in California. I came back with a ton of great stuff from the conference that I want to share with you, our lovely readers.
The Swag Bag Giveaway!
***Update: This giveaway is now closed. T Michelle Trump has been selected as our lucky Swag Bag Giveaway winner! Congratulations!  Thanks to all who entered.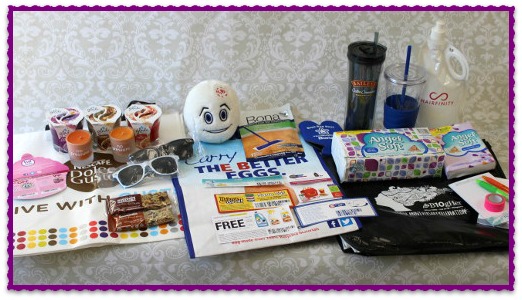 One lucky winner will take home this epic assortment of prizes gathered at BlogHer from the various sponsors. The Swag Bag includes:
3 reusable grocery tote bags
3 scented Glade candles
1 Bailey's Coffee Drink Container
Coupons for Angel Soft, Pledge, Baskin Robbins, Eggland's Best, McDonald's, and more
1 free 10X10 photo book from Artifact Uprising
And much more!
How to Win:
Just leave a comment and answer our question below and you'll be entered to win the Swag Bag. It's as simple as that! You have until August 18th to enter.
Giveaway Rules:
Contest open to US and Canada residents 18+
One comment/entry per person per blog post.
Contest closes August 18th at 11:59pm CST.
Leave a comment on this blog post answering the question below to be entered to win. The winner will be notified via email on August 18th.
How do YOU like your coffee?
Latest posts by RecipeLion
(see all)