On average, 100 million Americans drink at least one cup of coffee everyday, and most people drink a little more than three cups a day. I know I am one of those people. If the average sized cup of coffee is 9 oz, my mug holds more than two cups. And sometimes, I fill up twice. I love it; I love the jolt that the caffeine gives me in the morning to get moving. Some mornings, I can't even think before I've had my first couple sips o' joe. Coffee is simply a magical beverage. Whoever thought to ground up a coffee (or espresso) bean is definitely on my top ten favorite people of all time.
As great as it is to drink coffee, it's even better to bake and cook with it. There are quite a few recipes that use coffee beans and ground coffee to create a deeper level of flavor in the food. FaveGlutenFreeRecipes has some great recipes that use this wonderful ingredient, including ones for brownies, truffles, and even steaks (yes, steaks!). Coffee is used in a lot of chocolate recipes to deepen the chocolaty flavor of the baked goods. It adds a smokey flavor to meats.
Here are some great recipes that use coffee as a (not-so-secret) ingredient: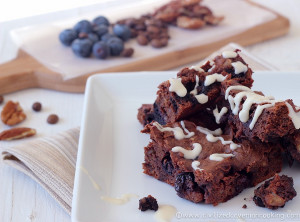 Get your afternoon energy boost with a chocolaty kick from these Blueberry Espresso Brownies. These espresso brownies from scratch have a delicious flavor and are easy to make.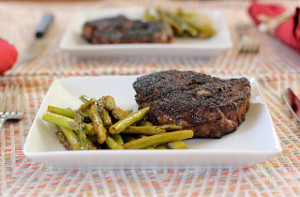 Coffee Rubbed Steak will definitely wake up your weeknight dinner routine. Espresso makes a wonderful, smoky crust that encases the tender steak and infuses it with amazing flavor. Serve this with something with subtle taste so nothing will take away from the beef's amazing flavor.

These Silky Dark Chocolate Truffles are deliciously decadent chocolate balls. Bite through their crunchy outer shells and the middle melts in your mouth. Just a little bit of sea salt sprinkled on top gives these truffles just a hint of saltiness which deepens the dark chocolate's flavor.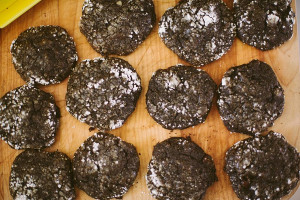 Chocolate Zucchini Cookies are a great way to make something decadent while sneaking in some nutrition. Cocoa powder and cocoa flour combine to create a wonderful chocolate flavor that completely masks any residual tastes of the zucchini.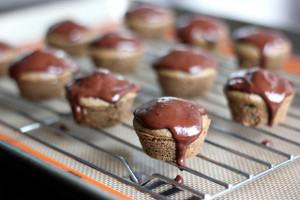 Are they breakfast or are they dessert? Luckily for you, you don't have to choose. Espresso Mini Muffins are the perfect cross between a muffin and a cupcake so you can eat them no matter what time of the day it is. Make these amazing chocolaty, coffee-flavored baked goods for after dinner or for the moment you wake up.
Bonus!
Check out these amazing blogger recipes that use coffee:
Dark Chocolate Donuts with Coffee Ice Cream from Pidge's Pantry
Flank Steak Nachos from The Perfect Pantry
Hazelnut Coffee Mousse Tartlets from All Day I Dream About Food
Coffee Roasted Almonds from Gluten Free Girl
Have you ever used coffee in a recipe before?
Latest posts by FaveGlutenFreeRecipes
(see all)