For the 12 Days of Christmas in July, RecipeChatter is giving you… a chance to win a brand new free recipe and free cooking prize, every day! Look for the current day to enter. Winners are announced on the blog daily. Scroll down for the current day's giveaway. Good luck!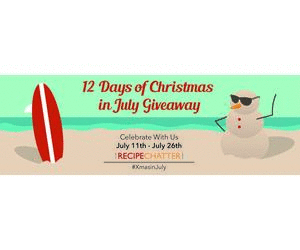 Bookmark this page and check the blog for daily updates about how to enter for each prize. Enter every day for more chances to win one of these festive, versatile prizes. Plus, you will have a chance to win a special SLEIGH OF PRIZES, consisting of every prize from each of the 12 days!

Below is the complete list of prizes from 12 fabulous brands!
Day 1 (Monday July 11): 5 Piece Silicone Kitchen Utensil Set

Sponsor: Starpack

Day 2 (Tuesday July 12): 11″ Non-stick Fry Pan
Sponsor: Swiss Diamond
Day 3 (Wednesday July 13): Stephen's Stovetop BBQ

Sponsor: Stephen's Stovetop BBQ
Day 4 (Thursday July 14): 5 Blade Spiralizer

Sponsor: Brieftons

Day 5 (Friday July 15): The Baller

Sponsor: Architec

Day 6 (Monday July 18): Entremet Baking Pan

Sponsor: Silpat

Day 7 (Tuesday July 19): Santa's Kitchen Cookie Stamp Set

Sponsor: Gourmac
Day 8 (Wednesday July 20): Sweet Treat Tub, Ice Cream Scoop, and the Strawberry Huller

Sponsor: Tovolo
Day 9 (Thursday July 21): Helen Chen's 14" Wok Set

Sponsor: Harold Import Co.

Day 10 (Friday July 22): Travel Tumbler

Sponsor: Zoku

Day 11 (Monday July 25): Ultimate Baking Set – 100% Pure Vanilla Extract, Madagascar Bourbon Vanilla Beans, Pure Almond Extract, Gourmet Dutch-Processed Baking Cocoa

Sponsor: Rodelle

Day 12 (Tuesday July 26): Epicurean Hexagon Display Board

Sponsor: Epicurean

SLEIGH OF PRIZES
The Sleigh of Prizes winner will receive a complete collection of the prizes offered throughout the contest (shown below)! Information about how to enter for the Sleigh of Prizes giveaway can be found on any of the individual contest pages.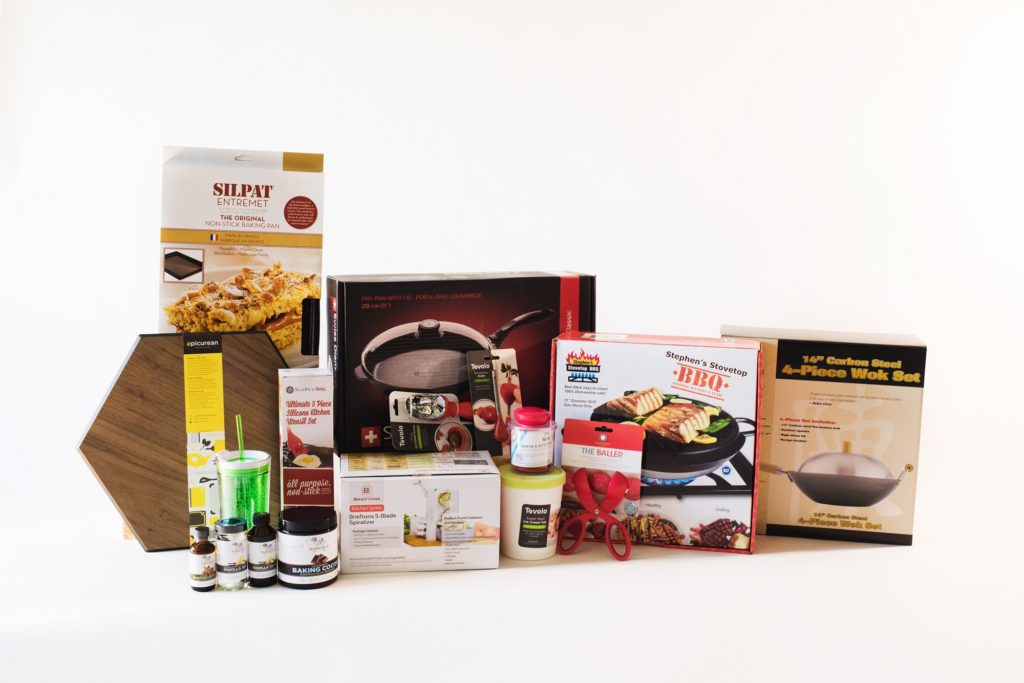 Don't Miss Out – Get Each Day's Giveaway In Your Inbox
Be sure to subscribe to our newsletter so you don't miss a single giveaway! Trust us, these prizes are something to get excited about, and you won't want to miss them. Sign up for our free email newsletter and be on the look-out for links to each day's giveaway (plus, get a whole bunch of great recipes while you're at it)!