Take a look around your home – how many cookbooks do you have that you've barely used for years? Wouldn't it be great to pass them on to someone who needed them, while simultaneously helping a great cause? Well, here's the perfect opportunity. (If you donate a cookbook, you could get a prize, too! Read more below.)
RecipeChatter is hosting our first-ever Cookbook Drive! From May 4-29, we'll be collecting cookbooks in order to donate them to WINGS Program, Inc.'s resale shops in the Chicagoland area.
Why should I donate my cookbooks?
Here are some fast facts: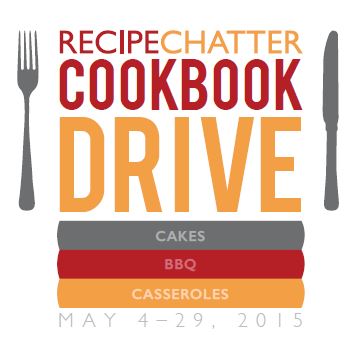 WINGS Program, Inc. is one of the largest domestic violence service and housing providers in the state of Illinois.
Single women and women with children are able to receive temporary safe shelter through WINGS housing while staff provides one-on-one, individualized assistance that allows women to set personal goals that will enable them to work, continue their education, and care for themselves and their children.
WINGS is 80 percent volunteer driven.
In the fiscal year 2014,  203 women and 339 children received 63,415 nights of shelter through WINGS housing.
Robin Bergbreiter has been working with WINGS for over three years, and said it's the most fun she's ever had. "Everyone you help has had a worse day than you could ever imagine, so there's that feel-good personal piece of helping someone," she said. As director of resale operations, Bergbreiter runs three WINGS resale shops.
WINGS resale shops bring in almost one third of Wings' $5 million annual budget, Bergbreiter said. "WINGS motto is 'giving flight to hopes and dreams,' and you have to have the funding and resources to provide that," she said. "The resale stores are WINGS' face to the community. For the protection of our clients, we don't publicize the housing, so the resale stores are the signs you see on the street."
Bergbreiter said the cookbooks from this drive can be placed in clients' homes or sold to provide funding for WINGS' services. "When you give us great stuff, we can do great things," she said.
Sounds great! How can I help?
It's so easy! All you need to do is mail us your gently-used or new cookbook. More than one is great! If you just want to send one, that's great too.
We will be collecting them at our offices in Northbrook, IL. Please make sure they're clean and not water-damaged or smoke-damaged.
Please have your cookbook delivered to:
Prime Publishing, LLC
Attn: Cookbook Drive
3400 Dundee Road, Suite 220
Northbrook, IL 60062
Please include your name, address, phone number and email address with your donation for contest entry. Cookbooks need to be postmarked no later than May 29, 2015.
If you're shipping us cookbooks from within the United States, look into sending via Media Mail at your Post Office for a lower cost (as low as $2.69).
I sent you a cookbook! Is that all?
Kudos to you! Doesn't it feel great to do a good deed? But there's one more thing: we're also offering a prize for one lucky person who sent us a cookbook. Anyone who sends us a cookbook will automatically be entered to win a $50 Starbucks Gift Card! Good luck, and thanks for the cookbooks. 🙂

 Are you ready to help? Tell us what cookbooks you sent!
Latest posts by RecipeChatter
(see all)