Hey again! Holly here from Revamperate with another recipe that uses everyone's favorite cookies…Oreos! This cookies and cream fudge recipe is super decadent and combines the best of both worlds with the softness of the fudge with the crunchiness of the cookies.
Oreos are pretty much the perfect addition to anything. Add it to cakes, frostings, brownies, cookies, fudge or anything else and I'm IN! If you remember those cookies and cream candy bars by Hershey's, think of this recipe as those candy bars in fudge form.
The recipe makes approximately 15 pieces of fudge.
Ingredients:
3 cups white chocolate chips
1 (14 ounce) can sweetened condensed milk
1 teaspoon vanilla
15-20 Oreos (I prefer using double-stuffed)
Chop the Oreo cookies into various sized pieces and set aside.
Line a small pan like a loaf pan with parchment and spray lightly with cooking spray. Set aside.
In a small saucepan on medium heat, bring the sweetened condensed milk to a slight simmer, stirring with a whisk. As soon as it becomes hot, turn the heat down before the bottom browns. Stir in the white chocolate chips until completely melted. Mix in about half of the chopped cookies and then pour the mixture into the prepared pan.
Sprinkle the top with the remaining pieces of cookies and move the pan to the refrigerator to cool completely for several hours or overnight.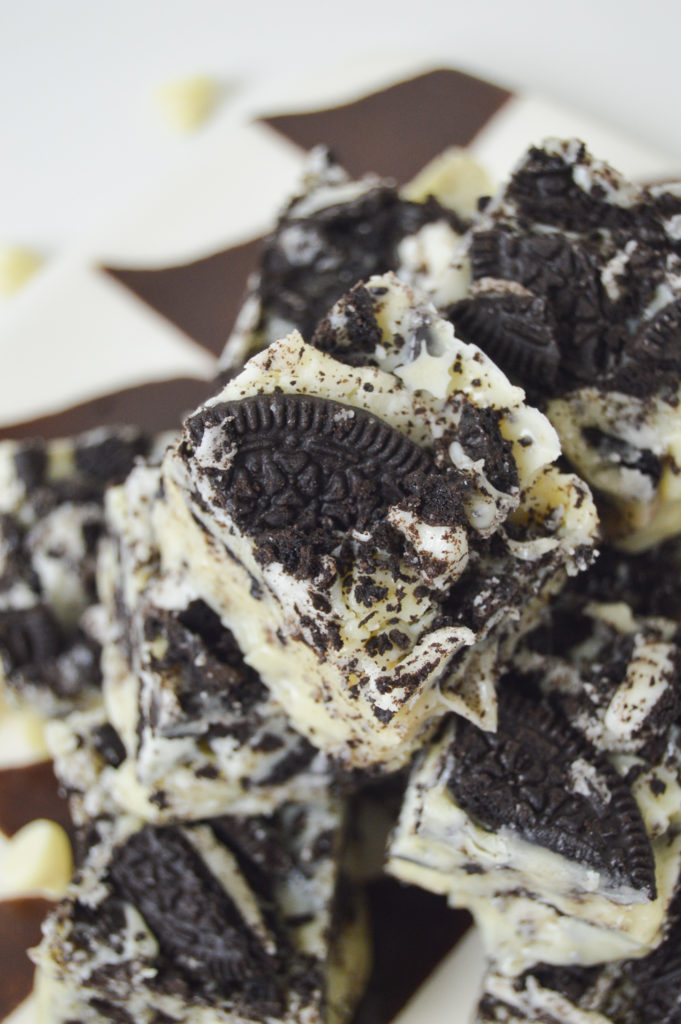 Carefully pull the fudge out of the pan by the parchment paper and cut into pieces with a sharp knife.
Quick tip: since fudge is sticky, try serving it in small cupcake liners. Bite and enjoy the fudgy crunchiness of the cookies!
Latest posts by Holly Wade
(see all)