Cooking for two can be difficult if you are used to a full house. If you find yourself eating out often because you are a household of two, you can change that easily. Copycat recipes will cost you a fraction of the price and will be more satisfying than the restaurant versions. Worry not, here at AllFreeCopycatRecipes.com we have scoured the internet for the best recipes that won't leave you with a bunch of waste and leftovers that will sit in your fridge untouched.
I often cook for two and once you start, getting the hang of it can be quite easy. Pasta recipes, salad recipes, chicken recipes, and meat recipes can all be great dinner choices for two. Be careful when reducing recipes from 4-6 servings to 2 servings. Often the amount of oil you need and other ingredients DO NOT get changed. If it is a chicken or meat recipe you would like to make then cutting down the amount of chicken breasts or steaks you are cooking is easy. For a pasta dish, cut back the amount of pasta you are boiling and use less sauce than called for on the pasta. These recipes from the blogosphere, luckily, do all the work for you since they are meant to serve 2 already.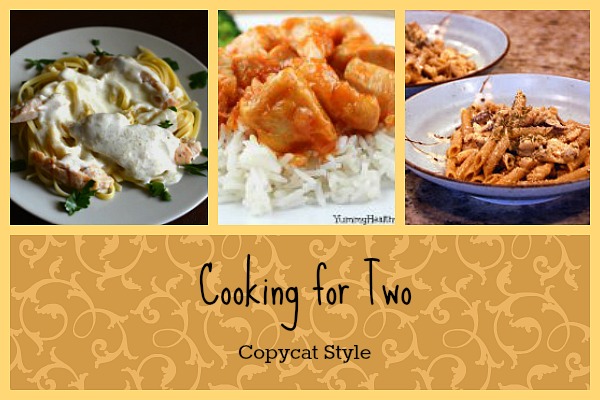 Easy Recipes for Two
How Many People Do You Usually Cook For?
Latest posts by AllFreeCopycatRecipes
(see all)