This past Tuesday, the editor of TheBestDessertRecipes, Danielle, and I drove up to the Milwaukee area to attend a Taste of Home Cooking School Demonstration. We had a blast. Taste of Home was a household name for me growing up, and I always enjoyed reading their magazine and making their recipes. I was thrilled to finally attend one of their cooking schools. We learned a lot of valuable cooking tips during the two hour demonstration, and I'm going to share some of those with you today.

Use applesauce as a substitute for half the fat in a recipe, such as oil and butter.
Use an ice cream scoop to drop batter into muffin tins.
Spray baking dishes with cooking spray into an opened dishwasher. This way, the excess spray goes into the dishwasher and will wash away the next time you wash dishes. *My favorite tip
Mini pies made in muffin tins are ideal for picky eaters because it's easy to customize each pie to the eater's tastes.
Use kitchen shears to "chop" green onions.
Cook bacon in the oven. It's less messy than doing it on the stove top and it frees up space on the range. Line cookie sheet with foil, place bacon on top, and bake 14 to 17 minutes in a 400 degrees F. oven.
When stuffing chicken, use an uncooked spaghetti noodle to hold it together/seal the chicken while it's baking.
Spray a measuring cup with cooking spray before measuring sticky ingredients such as corn syrup and honey. They'll pour out more easily that way.
Use the back of a spoon to frost cupcakes.
Pour toppings into a bowl and dip the frosted cupcake into it. This works better than sprinkling the toppings onto the cupcake.
For more kitchen tips, visit AllFreeCasseroleRecipes.com.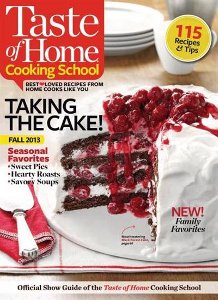 Throughout the evening, the Taste of Home chef Karen Davis made ten recipes up on the stage. All of the recipes were included in the Fall 2013 Taste of Home Cooking School Magazine, which we received in our goody bag, so it was easy to follow along and take notes. We watched the chef make dishes such as Impossibly Easy Mini Cheeseburger Pies, Spinach-Stuffed Chicken Pockets, an Appetizer Wreath, and a German Chocolate Cake. Chef Karen reminded us that "it's okay" to use convenience items such as refrigerated crescent rolls. She even had us say it aloud so we got the message.
When it was time for the last recipe, Chef Karen had us take an oath to not think about fat and calories and simply enjoy. The recipe she was referring to was the German Chocolate Cake. The cake was made from scratch and though not as easy as a cake mix cake, "certain recipes are worth the extra effort," according to Karen. I couldn't agree more. I just wish I could have tasted that effort. Every dish was raffled off at the end, but unfortunately neither Danielle nor I won any of them. That was disappointing, but everything else about the show was wonderful. If you have a chance to attend a Taste of Home Cooking School Demonstration, I recommend it.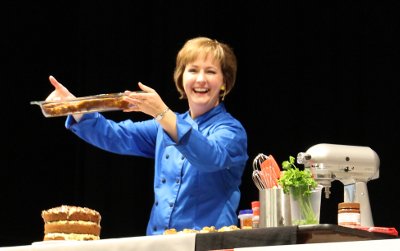 Here's Chef Karen holding up Heavenly Family Casserole above the German Chocolate Cake.
Which cooking tip did you find the most useful?
Latest posts by AllFreeCasseroleRecipes
(see all)